Questcor Pharmaceuticals (QCOR) is a classic example of stock that moves independently of its company. Its performance in the market is largely dictated by mere speculation instead of its financial position. Despite the company's strong financial profile, its current share price is substantially below 52-week highs. The company suffered a major blow when Citron made a press release on Questcor's flagship product, Acthar Gel. The press release broke the news about AETNA's decision to delist Acthar Gel from its list of reimbursable drugs for all indications except infantile spasms.
The news came in the wake of increasing sales and robust growth. However, panicked investors paid little attention to the present financial standings of the company, but traded based on the negative impact of the news. It has been six months now, since the news was released and there are still no signs of weakening sales. Instead, the year-end reports showed that the company became much stronger than before.
Immediately after the major plunge last September 2012, the stock prices gradually bounced back and partially recovered as investors' confidence was lifted by encouraging financial results. However, the question remains whether the stock can fully recover to its peak level or not. This is a question that must be addressed before buying QCOR stocks. Let's look at the company's financial profile.
QCOR Financial Profile
The fiscal years 2011 and 2012 were great years for Questcor Pharmaceuticals, Inc. The company experienced consecutive quarter growth in net income and revenues. In the fourth quarter of 2011, it garnered $75.53 million in revenues and posted a net income of $31.64 million with a profit margin of 41.89%.
By the first quarter of 2012, revenues were up at $95.97 million while the net income also increased to $38.54 million, but with a slightly lower profit margin of 40.16%. The second quarter also saw increases in both revenues and net income at $112.45 million and $41.50 million, respectively. But the profit margin dropped to 36.90%. Revenues grew by 17.16%, while net income grew by 7.42% compared to the previous quarter.
The third quarter was similarly impressive. Revenues were up at $140.34 million and so, too, was net income at $55.68 million with a profit margin of 39.68%. Finally, it ended the year without breaking its winning streak by posting net income of $69.94 million from $160.53 million revenues, with a 38.58% profit margin.
The company posted contrasting and unexpectedly stronger financial performance by posting impressive sales figures and remarkable sales growth. Those figures were achieved amidst negative news triggered by Aetna's exclusion of Acthar gel from reimbursable medicines.
It closed the fiscal year 2012 with net sales of $509.3 million; a staggering 133% jump from its net sales in 2011 at only 218.2 million. This impressive data proves that in spite of Acthar's non-exclusion in Aetna's insurance coverage, Acthar gel still has the confidence of many medical practitioners and medical experts. It is getting increasing scripts from doctors as shown by its good sales performance.
Earnings per share [EPS] are, likewise, inspiring at 160% increase from $1.21 to a whopping $3.33 per share. The company is scheduled to give out dividends on April 18, 2013, at $0.25 per share, and by April 24, it is set to announce its latest quarter earnings.
On top of its earnings, QCOR is a financially stable company with a market capitalization of $1.9 billion, with cash of over $80 million, and with no debt and zero debt-to-equity ratio.
QCOR Stock Profile
QCOR closed the first trading day of the fiscal year 2013 at $25.99, which was lower by $0.73 from its closing price on the last trading day of the previous year at $26.72 or a loss by 2.73%. This is not quite a good start for a financially strong company. Since then, it has been trading around $25 to $27 per share until February 14.
It finally broke the $30-level on February 19, when it closed at $31.01. Thereafter, it started to gain momentum and peaked on March 21, to close the day at $35.17, an impressive 35.32% year-to-date increase. However, it was short-lived, since the price rebounded to $32. 54 on the following day, which was still a remarkable 25.20% YTD increase. But if you compare it to its closing price on the same day in the previous year, it lost ground by 14.16% because the price at that time was $37.15 per share.
In the early part of 2012, QCOR was generally trading at $40 to $50. It peaked on July 9, at $57.64, but plummeted on the following day at $45.07 per share and plunged deeper to $34.92 on August 1. However, it eventually recovered and back on track to 50s on September 7, before the most dreaded day.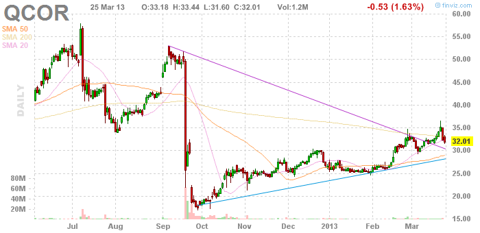 On September 19, QCOR suffered a major blow when its share price was cut by almost half from $50.52 to $26.35, a terrifying 47.84% plunge. This was, perhaps, a nightmare for traders who bought the stocks at the opening price of that day at $50.98. It even went to as low as $17.83 on September 27, its all-time low in 52-weeks.
On September 28, the company announced a quarterly cash dividend of $0.2 per share. However, the stock price only jumped by 2.92% from $18.47 to $19.01. But on the lighter side, it was also the start of its recovery because the share prices since then was in upward trend.
On October 23, the company reported its third-quarter results that showed very imposing financial performance. But it had no effect at all on its share price as it remained pinned at almost the same level from $25.93 to $25.92 on the following day.
The same thing also happened when QCOR released its strong fourth-quarter and full-year 2012 report on February 26. Despite the very inspiring results, the share prices made only a slight increase from $32.66 to $33, or an unimpressive 1.04% jump.
Projections and Recommendations
While QCOR has a relatively strong financial performance, investors don't seem to take the cue from financial and earnings reports but mainly rely on news and press release-inspired speculations. This could possibly be the reason why it has a low P/E ratio 10.23 versus the industry and sector P/E ratios at 27.71 and 27.42, respectively.
Most financial institutions have mixed recommendations ranging from hold, buy, to strong buy. But more are favoring strong buy. One thing for sure at this time, no one seemed to recommend selling. This is a good indication that it is buying time for QCOR and this is duly supported by its robust financial performance. Many speculate that it will reach $40 within this year, or even break its all-time high for as long as it maintains its strong financial standings. Our FED+ model also suggests that Questcor is highly undervalued with up to 60% upside potential.
Disclosure: I have no positions in any stocks mentioned, and no plans to initiate any positions within the next 72 hours.
Business relationship disclosure: EfsInvestment is a team of analysts. This article was written by one of our equity researchers. We did not receive compensation for this article (other than from Seeking Alpha), and we have no business relationship with any company whose stock is mentioned in this article.