Portfolio design is fun. I love doing it and since I do it professionally I want it to work as often as possible. A portfolio design should be 99% done before any purchasing takes place. Trading stocks and working with the market can be quite emotional, so having a design in place seems to dampen those feelings and allow for more success.
A good portfolio designed for income will have the highest possible quality and lowest risk and still meet the income goals. Often an investor will fail to properly assess the risk involved with extremely high yield. Even more often an investor will undervalue the power of dividend growth. Using a low income - high dividend growth model and comparing it to a high income - low dividend growth model it is easy to see that around eight years the high dividend growth model is far better for future income. This is worth a whole article, so as not to reinvent anything here is a recent solid work on comparing the two dividend ideas. Mr. Waller does a good job just laying it out there.
Maximum Current Income
Many clients come to me who are transitioning to retirement and need an income model that is designed for maximum current income. A portfolio that I design for maximum current income will have a dividend growth component targeted at 4.25%; I will not allow client flexibility on this design point, that is absolutely the lowest dividend growth I will build in. These high income accounts are often part of a household budget and must be high quality and highly stable. If this budget is needed five, or more, years in the future I start designing more for the higher dividend growth model and become less interested in stock price (but always have a healthy interest in price).
Current income portfolio goals.
Taxes are a part of maximum current income so please do your homework on taxes. Qualified dividends are taxed at 15% for most people if outside an IRA. I set 6% as an absolute ceiling for maximum yield. This is, of course, aggregate over all positions and beginning purchase prices and it all begins to change immediately as the market takes over the pricing of the equities. I simply will not go above 6% because of the risk level. I also want a portfolio to grow this income, without reinvestment, at a 4% per year. I have done much better than that 4% dividend growth rate this year because Wal-Mart (NYSE:WMT), General Mills (NYSE:GIS) and American States Water (NYSE:AWR) all announced big increases this year.
Wal-Mart's 18% dividend increase
General Mills' 15% dividend increase
American States Water's 27% dividend increase
I want a portfolio to have at least 10 positions and a maximum of about 20 positions. I also want almost every sector to be represented if possible. Recently I have reduced my bond allocations to basically zero percent. Some legacy accounts have managed bond ETF/CEFs. Cash accounts are using municipal bonds and tax sheltered accounts are using international sovereign and corporate bonds.
Let's recap the goals:
6% yield.
4% annual dividend growth.
Tax advantage.
Sector Diverse.
20 separate investments (10 minimum)
This is a set of goals that can be done without much trouble. Expectations should be firmly set, and can often be exceeded. One thing I would like to add is that 'dividends paid' do not lower cost basis. This is true with reinvestment and especially true when taking the dividends in cash to buy groceries and such. The inflow of cash into our accounts is new capital, it is often taxed as new capital and certainly always has new capital opportunity.
Holdings of a high yield portfolio.
I would like to thank the other authors for posting model portfolios on Seeking Alpha. I think it is important to discuss these things, I think Jeff Paul and Regarded Solutions are doing a good job sharing their models and discussing them and there are many others. I face the problems of building these things and maintaining them all the time. I would never just make a blind purchase of the model to fill a client account, that would make me a pseudo-mutual fund. I add components as smartly as I can, hitting as many value targets as time frame will allow.
High Yield Model, Target 6% yield, 4% Dividend Growth. Source is www.piermoney.com.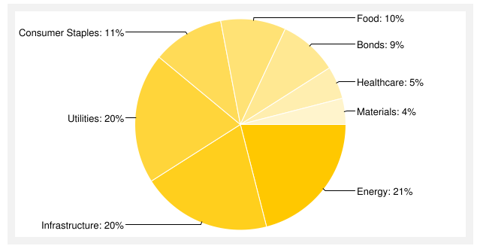 This is the sector breakdown for my high yield model. These are target holding levels. I have already stated that I'm using 0% bonds at this time for new accounts. Bond allocation funds have gone to REITs but I do not use mREITs. It's more important to plan, study and research this stuff than it is to zero in on precise percentages. It is easy to see that I lean toward energy, infrastructure and utilities. So let's start there
Energy
Linn Energy (LINE): 7.7% yield Status: Buy under $39
Vanguard Natrl Resources (NYSE:VNR): 8.5% yield Status: Buy under $30
Chevron (NYSE:CVX): 3.0% yield Status: Buy under $105
Baytex Energy (NYSE:BTE): **6.10% Status: Buy under $42
Infrastructure
Energy Transfer Equity (NYSE:ETE): 4.4% yield Status: Buy under $47
Plains All American (NYSE:PAA): 4.0% yield Status: Buy under $47
Holly Energy Partners (NYSE:HEP): 4.7% yield Status: Buy under $38
Utilities
Con Edison (NYSE:ED): 4.2% yield Status: Buy under $59
American States Wtr: 2.5% yield Status: Buy under $45***
CMS Energy (NYSE:CMS): 3.7% yield Status: Buy under $25
Consumer Staples
Coke (NYSE:KO): 2.8% yield Status: Buy under $40
Wal-Mart : 2.5% yield Status: Buy under $71
Intel (NASDAQ:INTC): 4.2% yield Status: Buy under $22.50
Altria (NYSE:MO): 5.2% Yield Status: Buy under $32
Food
General Mills: 3.2% yield Status: Buy under $43
Healthcare
Johnson & Johnson (NYSE:JNJ): 3.1% yield Status: Buy under $72
Becton Dickinson (NYSE:BDX): 2.1% yield Status: Buy under $83
Materials
Goldcorp (NYSE:GG): 1.8% yield Status: Buy under $35
Newmont Mining (NYSE:NEM): 4.1% yield Status: Buy under $47
REITs (Replacing bond allocation)
Whitestone (NYSEMKT:WSR): 7.5% yield Status: Buy under $14.50
American Capital (ARCP): 6.2 yield Status: Buy under $14.50
Healthcare Trust (NYSE:HTA): 5.0% yield Status: Buy under $11
Omega Healthcare (NYSE:OHI): 6.2% yield Status: Buy under $25
**Baytex is a Canadian company and this payout is distributed in Canadian dollars and is typically taxed up front by the brokerage for 15% of the dividend in a non-sheltered account.
*** Due to the rapid growth of AWR's facility management business further evaluation is ongoing.
Not many of these holdings are in the buy area, and I'm showing those that are being bought at current prices in italics. A high dividend growth account or some blended account (a five-year time horizon) would see more technology added with AT&T (NYSE:T), Microsoft (NASDAQ:MSFT) and even Apple (NASDAQ:AAPL).
When requested by a client I will reach for more yield and in that case I would add Prospect Capital (NASDAQ:PSEC) a business development company yielding 11% with some quality and a monthly payout.
Now developing the blend of the above equities needed to reach 6% is not that difficult but does have infinite variations and all portfolios are set up different. These can even be personal matters, as some investors are not comfortable with tobacco or even some energy companies. An investor may want to lean toward the growing healthcare industry, this could be done by going overweight Becton or Johnson & Johnson. An alternative to those two stocks but still in healthcare would be to add healthcare related REITs like Omega Healthcare.
Maintenance of a Dividend growth portfolio.
If an investor had a desire to add more diversification then this list can easily be expanded using David Fish's dividend Champions. Also, aside from adding diversity an investor may want to sell a position at times. Selling within the 'dividend growth' philosophy should be a rare and careful process.
Reasons to sell in a dividend growth portfolio:
Rapid specific capital gains.*
Dividend growth underperformance.
Eroding fundamentals (see Pitney Bowes).
Periodic rebalancing.
Mergers, divestitures and such (Abbot and Altria)
Life events not related to investing.
*In the case of rapid specific capital gains one should understand the tax implications of a short-term gain vs. a long-term gain. Also, it is important to understand your investment. I am having this problem with American States Water, big gains, some of them are short term and in cash accounts. The move up in AWR has unbalanced the yield on capital that I expect in the utilities sector for many of my accounts. We also sold Procter & Gamble (NYSE:PG) at $76 and moved that money to GIS and KO.
I'm not a fan of trading in these portfolios but an effective investor should not be on auto-pilot over the years. I will say that a long-term dividend growth investor can, and should, become very comfortable. Do your due diligence and get started early.
Disclosure: I am long GIS, KO, MSFT, INTC, AAPL, T, AWR, CMS, ED, VNR, LINE, BTE, HEP, ETE, JNJ, BDX, GG, NEM, ARCP, OHI, HTA, WSR, WMT, PSEC. I wrote this article myself, and it expresses my own opinions. I am not receiving compensation for it (other than from Seeking Alpha). I have no business relationship with any company whose stock is mentioned in this article.