Something very interesting has been happening lately with banking stocks, and it's illustrated by the chart below. The chart shows the change in price-to-book balues for four banks, two money center banks, two regional players.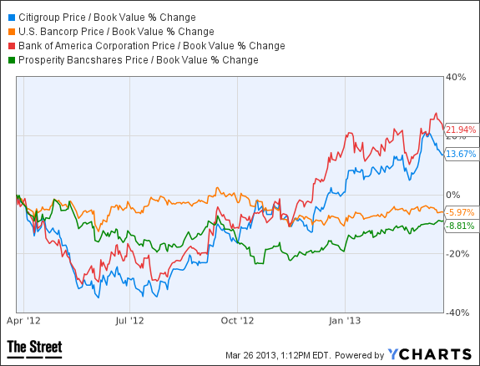 Notice the trend? Over the last year the ratios of the big bad banks have been improving, while those of the better regional banks have been fading a bit. Price to book is a basic metric for looking at bank management. After all, if your management is just sitting on assets, they should be worth their book value. But they're not always.
In the wake of the financial collapse, the price-to-book values of the largest money center banks plummeted to well below 1. At one point, Bank of America (NYSE:BAC), for instance, was worth just one-third its book value. That's what has changed over the last year. BAC is still worth just six-tenths of its book value, but the ratio has recovered. So has that of Citigroup (NYSE:C), another money center bank that was a drag on the market -- its price to book is now at .69.
The other large New York houses, JPMorgan (NYSE:JPM) and Goldman Sachs (NYSE:GS), have nearly reached book value, while Wells Fargo (NYSE:WFC) is all the way up to 1.34 times book value, a solid premium. That's similar to the figures reached by some of the smaller banks that were popular a year or two ago, like Prosperity Bank of Texas (NYSE:PB). Its price to book is now 1.28. And there remain regionals that are beloved on the Street, like U.S. Bancorp (NYSE:USB), which is already up to 1.78.
USB probably benefits from having a huge credit card portfolio -- the largest companies in that business have been skyrocketing for a long time now. Wells Fargo also benefits from a large credit card portfolio, but it's just as important to note that their mortgage business is again performing. As for BAC and C, both seem to be making efforts to become more like other banks. Both have made moves, under investor pressure, to limit executive pay. Both did well on the recent Fed "stress tests." Under CEO Michael Corbet, Citigroup also seems more focused on bank blocking-and-tackling, cutting its mortgage problems, and adding jobs at its back office center in Buffalo rather than at its trading desk in New York.
The point is that the last year has seen compression between the top-ranked banks and the lower-ranked banks when it comes to price to book. Those companies that were formerly seen as dogs are still barking, but they are gaining rapidly on the best-managed banks. The rules governing bank assets are now liberal enough that you can usually count on a bank to be able to lend deposits at a profit. That's what made the regional banks such hot stocks in the first place -- the fact that they were going basic banking, and not trading for their own accounts.
It would still make sense in my view for the money center banks to split from their trading desks. I think that would send their price-to-book ratios toward those held by banks like Wells Fargo and U.S. Bancorp. But they are recovering. If you have money in Bank of America or Citigroup you're doing alright now, and these shares have room to run.
This is a longer-term trend. Banks are becoming banks again. That means we should see less deviation in the price-to-book ratios they enjoy. Assets, after all, are assets.
Disclosure: I am long PB. I wrote this article myself, and it expresses my own opinions. I am not receiving compensation for it (other than from Seeking Alpha). I have no business relationship with any company whose stock is mentioned in this article.