North Atlantic Drilling Limited (NATDF.PK) is a name that is undoubtedly familiar to long-time investors in Seadrill (NYSE:SDRL) or to those that follow the financial activities of billionaire shipping magnate John Fredriksen. North Atlantic Drilling was formed via a 2011 carve-out of six harsh-environment drilling rigs from parent company Seadrill and since that time has acquired a further two drilling rigs and took over the management of one of Seadrill's rigs. The company effectively operates as Seadrill's harsh-environment drilling arm and this uniquely positions the company for growth due to the rapidly growing demand for harsh-environment offshore drilling rigs.
Drilling offshore in hostile environments such as the Arctic and the North Sea is an activity that requires very specialized equipment and expertise. Fortunately, this is an area in which North Atlantic Drilling shines. The company possesses one of the most modern fleets of harsh-environment offshore drilling rigs in the world.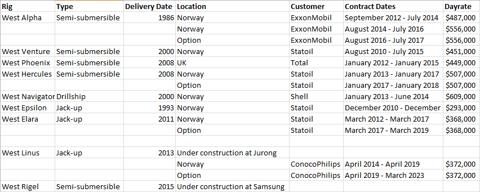 Source: International Hedges
The fact that this is a very modern fleet offers a significant advantage to North Atlantic Drilling. In total, there were 28 floating rigs and ten jack-ups operating in Norway as of February 2013. Of these 38 rigs, sixteen are 25 years of age or older. Six of the 28 floating rigs are thirty years of age or older. This clearly represents a sizable proportion of the total number of rigs operating in North Atlantic Drilling's largest market. A large number of these rigs will need to be replaced going forward due to both Norwegian regulations and customer preferences. North Atlantic Drilling stated in its recent fourth quarter earnings report that the costs involved in keeping these old rigs in compliance with regulations are becoming quite significant to their respective owners. Given this, the most financially sound move for the rig owners is to retire these rigs and replace them with new ones. Failure to do so could result in these old rigs becoming a financial burden to their owners.
However, there are not enough new rigs under construction to replace all of the old ones. There are currently four floaters under construction that have already secured firm contracts in Norway and there are a total of six floaters under construction that meet the requirements of the Norwegian "Acknowledgement of Compliance." This is clearly insufficient to replace all of the older rigs, although it may be enough to replace all of the floaters that are at least thirty years old if we assume that every single one of these rigs is awarded a contract in Norway. Most likely though, we will see the size of the Norwegian rig fleet shrink as these older rigs are retired without having a replacement.
However, rig demand in Norway is likely to increase going forward. This is due to the large number of offshore discoveries within the country in recent years. In 2011, a record amount of hydrocarbons were discovered offshore Norway. This record was broken in 2012 when a total of thirteen new discoveries were made. Three of these thirteen discoveries are located in the Barents Sea. According to the Norwegian Petroleum Directorate, this has revived interest in exploring the waters of the Barents Sea among oil companies and the agency noted the influence that this interest had during the 22nd licensing round. The Barents Sea is an incredibly harsh region and exploration of the sea will require modern harsh-environment rigs of the type that North Atlantic Drilling offers. In addition to this interest in exploration drilling, oil companies will require drilling rigs as they move to develop the large volume of resources that were discovered in 2011 and 2012.
Therefore, we have a situation in which the demand for rigs is going up and the supply of such rigs is static or decreasing. This is a perfect sellers' market, which should see rising dayrates for harsh-environment rigs due to bidding by oil and gas companies. This is, quite obviously, a very good state of affairs for North Atlantic Drilling.
North Atlantic Drilling is, in fact, positioned to take advantage of this situation. The company's only drillship, the West Navigator, comes off of its current contract in June 2014. The company also has two semi-submersibles, West Venture and West Phoenix, that will finish their current assignments and come off contract in 2015. Two of these are ultra-deepwater rigs and the third (West Venture) is a midwater. The fact that two of these are ultra-deepwater units is quite promising due to the high dayrates and operating cash flows earned by such rigs. North Atlantic Drilling has not yet secured new assignments for any of these three rigs to begin work on once their respective current assignments expire. The company thus needs to secure new contracts for these three rigs so that they have work to perform once their respective current assignments are complete. This is where the opportunity for North Atlantic Drilling can be found. North Atlantic Drilling should have no difficulty securing contracts for these rigs due to the aforementioned supply/demand imbalances. There is also a good chance that these new contracts will carry higher dayrates, also for the reasons that have already been discussed. Assuming that this thesis plays out, North Atlantic Drilling would see its revenues and cash flow rise in 2014 and 2015 due to the new contracts.
North Atlantic Drilling also has the opportunity to boost its cash flow in 2014 due to the completion of the newbuild harsh-environment jack-up West Linus. The West Linus has already secured a contract with ConocoPhilips (NYSE:COP) and so the revenue and cash flow growth here is effectively guaranteed. Beginning in April 2014, ConocoPhilips will be paying North Atlantic Drilling $372,000 per day over a period of five years while the rig performs drilling services for the oil company in Norway. A harsh-environment jack-up such as West Linus typically has operating expenses of approximately $85,000 per day. Therefore, the company could be looking at a cash flow increase of approximately $287,000 per day from this rig.
An additional opportunity exists for North Atlantic Drilling due to the company's management of the West Hercules drilling rig. West Hercules is controlled by Seadrill through a financial lease with Ship Finance International (NYSE:SFL). However, it will be managed by North Atlantic Drilling for the duration of its contract with Statoil (NYSE:STO) that began in January 2013. The terms of this arrangement are unclear but it is likely that North Atlantic Drilling will be receiving a management fee for its services. This will be nowhere near as high as it would be if the company controlled the rig itself but it should still generate positive cash flow for the company and thus deliver some incremental growth.
North Atlantic Drilling is not overly expensive at current levels. At the time of writing, the stock exchanges hands at $9.13 per share, which gives it a trailing P/E ratio of 8.50. The company is also fairly good-sized, boasting a market cap of $2.08 billion. North Atlantic Drilling pays a quarterly dividend of $0.225 per share or $0.90 per share annually. This gives the stock a dividend yield of 9.86%.
North Atlantic Drilling would be a good investment simply for the dividend and excluding the company's growth prospects. When both of these are combined, the stock looks quite appealing as an investment. All that is needed now is a short-term catalyst to push the price higher. In fact, there is one. Currently, North Atlantic Drilling trades over-the-counter in Oslo, a market which offers very little liquidity. This is evident in the volume, which rarely exceeds 200,000 shares per day. This is all about to change. On December 11, 2012, North Atlantic Drilling applied to have its shares listed on the New York Stock Exchange. The listing of these shares on the NYSE could provide a catalyst to push the stock price higher for two reasons:
Volume on the NYSE will certainly be higher than the volume on the pink sheets. This will allow improved price discovery and could reduce volatility.
A listing on the NYSE will open the doors to a large number of investors who previous either would not or could not invest in a stock that is traded over-the-counter. As these investors move in, the stock will see buying pressure that could drive up the price.
Similarly to parent company Seadrill, North Atlantic Drilling is highly levered. As of December 31, 2012, North Atlantic Drilling had total shareholders' equity of $843.7 million. The company had total short- and long-term debt of $1,750 million as of the same date. This gives the company a total debt-to-equity ratio of 2.07, well above Seadrill's ratio. This does not tell the full story, however. In addition to the debt already mentioned, North Atlantic Drilling also has $747.9 million of "related party" debt, most of which is owed to Seadrill. This raises the company's debt to equity ratio to 2.96. I do not view this as being as risky as other offshore drillers that have similar debt loads due to the presence of Seadrill as a major and controlling stockholder. Seadrill owns 73% of North Atlantic Drilling. Due in part to this large stake, it is reasonable to assume that Seadrill will step in to assist should North Atlantic Drilling encounter financial problems due to this debt. The company's connection to Seadrill also allows it to borrow at lower interest rates than other drilling companies which allows it to maintain and carry a higher debt load than other drillers.
Another potential risk to shareholders is stock dilution. North Atlantic Drilling has, in its short life, diluted shareholders through the issuances of new shares in order to pay down debt. This was done on March 28, 2012, when the company raised $300 million through the issuance of 150,000,000 new shares. There exists the possibility that a similar action could be taken in the future should the company once again need to raise capital.
Disclosure: I am long SDRL, STO. I wrote this article myself, and it expresses my own opinions. I am not receiving compensation for it (other than from Seeking Alpha). I have no business relationship with any company whose stock is mentioned in this article.
Additional disclosure: As Seadrill is the majority owner of North Atlantic Drilling, I also hold an indirect long position in NATDF.PK through my position in SDRL. I may also hold indirect long positions in COP or SFL through mutual funds.