Netflix (NASDAQ:NFLX) grew worldwide paid streaming subscribers by 41% in 2012 and new subscriptions were up a whopping 8.2% sequentially in the 4th quarter. This allowed Netflix to reasonably estimate 1st-quarter 2013 revenues of between $1.0 and $1.03 Billion. A Yahoo survey of 28 analysts estimates 1st-quarter revenues to be $1.02 Billion, a 16.9% increase over the 2012 quarter. If costs were somehow contained then Netflix could blow out the 1st-quarter estimates and report up to $1.00 a share in earnings. When the December quarter was reported, it provided a windfall for investors as the stock price has tripled from the lows in 2012 to a high of $197.62. It also benefited Wells Fargo (NYSE:WFC), the holder of rights to convert its loan to Netflix to common shares at a price of $85.50 a share. The $200 million loan provided to Netflix looks to provide Wells with a $230 million profit, which gives Wells a nice interest rate for its loan.
Although these investors have seen a tremendous windfall, Netflix as an operating company is looking at a year of struggle in 2013. The company is continually facing contraction of its operating profit margins as amortization costs related to its streaming content library rise rapidly. In 2012 amortization costs reached 44% of company revenues and this was the primary cause of earnings dropping from $4.16 a share in 2011 to $0.29 in 2012. The Netflix business plan has been directed at keeping its investment in content under control and within its profitability goals. However, the amortization costs Netflix faces in the coming 12 months are likely to overwhelm the other parts of Netflix's financial statements.
The following chart shows the relationship of revenues, streaming library amortization costs, technology costs, and earnings in $ Billions for the last 3 years: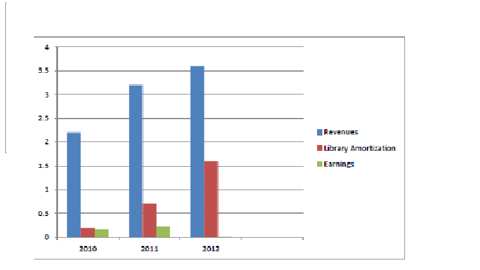 Revenues increased 70% from 2010 to 2012, and if Netflix could continue this level of growth, it could potentially grow its way out of its profit margin challenges. The issue that Netflix faces is that revenue growth has recently been falling off. Revenue growth decelerated in every quarter of 2012 when compared to the previous year's quarter until in the 4th-quarter revenue growth was up only 8% compared to the previous year's 4th quarter as shown in the following chart: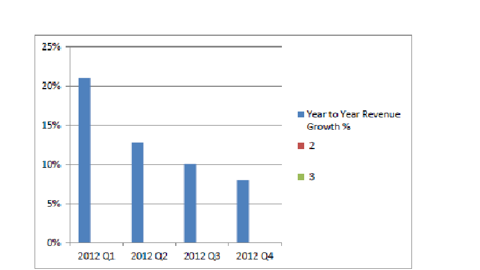 Revenue Growth Expectations
Netflix has provided guidance for the 1st quarter of 2013 that predicts year-to-year revenue growth rising back to the 15 to 18.5% level, primarily driven by an expected $31 to $43 million sequential jump in international streaming revenues from 2012's 4th quarter to 2013's 1st quarter. This sequential jump can be predictable based on the addition of Netflix's 1.8 million international customers sequentially in the 4th quarter. If Netflix achieves this revenue growth in the 1st quarter, and this acceleration in growth continues, then it represents a return to the high growth rates Netflix was seeing prior to the 2nd half of 2011. Netflix is likely benefiting from the current surge in sales of tablets as well as the cost competitive advantage it has in parts of Europe and Latin America for delivery of entertainment. However, the current jump in Netflix's customer base is not necessarily predictive of future growth rates and the drop off in growth we see in the 2012 revenue graph above may prove to be the dominant trend.
Upward Pressure on Content Costs
As shown on the first graph above, amortization costs for video streaming acquisition are growing more quickly than revenues and putting pressure on margins. For 2013 Netflix is already committed to pay $2.3 Billion in streaming content acquisition costs compared to 2012's $2.5 Billion. The 2013 figure will almost certainly be larger than this by year end as Netflix is aggressively seeking additional content licenses deals for both English and foreign language productions and as it invests in original content (original programming). In addition, certain open-ended licenses may require Netflix to pay significant additional acquisition costs in 2013.
Additional Content Outlays Means Higher Amortization Costs
Amortization costs from streaming content acquisition were huge in 2012 at $1.6 Billion and rapidly growing. It's unlikely that a trend of this magnitude will be easily reversible and we should anticipate that these costs will exceed $2.5 Billion in 2013 shrinking gross profit margins further. Why do amortization costs continue to climb so sharply? Netflix content licenses are funded on a straight line basis and the amortization is constant through the life of the license. So the additional amortization from new licenses coming on stream in 2013 is essentially additive to the existing amortization cost of 2012. (The termination of exclusive contracts with EPIX, SONY, and MGM and the elimination of Starz will provide some reduction in amortization cost, but this is partly offset by increased prices in renewal of existing licenses.) For a growing entertainment provider, amortization costs are always trying to catch up to outlays for content and the Netflix outlays for 2013 were already baked into commitments of $2.3 Billion at the beginning of the year and sure to go higher as the year progresses.
The problem with Netflix's slowing revenue growth we saw in 2012 and the accelerating content amortization is that these are large numbers, and the trends are hard to reverse.
Change in Profit Margin Levels with New Business Direction
Netflix continues to see a shift in revenues from the high profit margin in it sees in its U. S. DVD rental business (50%) to the lower margins from its streaming business (19%). This causes a further compression on margins.
Business Competition Pressure on Revenue Growth
The competition Netflix faces in 2013 for subscribers is intense. To acquire and retain customers Netflix strives to provide superior streaming content. As many have already noted the much larger Amazon (NASDAQ:AMZN) offers Amazon Prime streaming content in competition with Netflix. This offering is seen as a growing disruptive force intruding into the video streaming business. Amazon can afford to operate Prime at a significant loss in order to funnel customers into its profitable e-commerce business. The competition with Amazon may be one primary reason why Netflix seeks differentiation and is moving into developing original content.
Netflix also is at a disadvantage in that it relies on others to carry its service to customers. As the 10-K for 2012 reports in its Risk Section, cable companies that carry Netflix also offer a selection of movie options that are in competition with Netflix. They have an economic incentive to restrict the bandwidth cap provided to Netflix or to otherwise slow Netflix's streaming.
In Conclusion
Netflix's profit margin pressures from rapidly increasing streaming content amortization costs and the shift to less profitable streaming and away from DVD rental are major factors to cause 2013 operations to slip into the red.
Disclosure: I am short NFLX. I wrote this article myself, and it expresses my own opinions. I am not receiving compensation for it (other than from Seeking Alpha). I have no business relationship with any company whose stock is mentioned in this article.