Gilead Sciences, Inc. (NASDAQ:GILD), with a market cap of $68.16B, is a research-based biopharmaceutical company, which develops and markets therapies to treat life-threatening infectious diseases with the core portfolio focused on HIV, liver diseases, such as hepatitis B and C, and cardiovascular/metabolic and respiratory conditions. GILD was down 1.16% and closed at $44.98 on March 25, 2013. GILD continues to be bullish and has gained 10.90% since my last focused article of "Gilead Sciences: A Great Long-Term Buy And Heading Bullishly Into Earnings." In this article, recent development will be updated for GILD and new investing strategy will be presented.
Stribild Recommended
As reported by Zacks, GILD announced that the European Medicines Agency's Committee for Medicinal Products for Human Use (NASDAQ:CHMP) recently rendered a positive opinion on its HIV combination pill, Stribild (formerly known as Quad). Stribild is a combination of elvitegravir, cobicistat and Truvada (combination of Viread and Emtriva). As quoted, "The CHMP recommended the approval of Stribild for treating HIV infected adults who are either antiretroviral-naïve or are HIV infected without known mutations associated with resistance to any of the components of Stribild." The CHMP's positive recommendation will be reviewed by the European Commission, which has the authority to approve medicines for use in the 27 countries of the European Union (NYSEARCA:EU).
GILD expects a final decision on its Marketing Authorisation Application (NYSE:MAA) for Stribild in the coming months. As reported by Business Wire, Stribild has received marketing approval in the United States, Canada, South Korea and Australia. Gilead has also granted its Indian manufacturing partners and the Medicines Patent Pool the right to develop and distribute generic versions of Stribild in 100 developing countries.
Analysts' Calls and Estimates
On March 25, 2013, Maxim Group reiterated a buy rating with a target price of $48 (from $43) for GILD. Analysts currently have a mean target price of $49.13 and a median target price of $49.00 for GILD, suggesting 8.94%-9.23% upside potential. Analysts currently are estimating an EPS of $0.50 with revenue of $2.57B for the current quarter ending in March, 2013. For 2013, analysts are projecting an EPS of $2.02 with revenue of $10.73B, which is 10.60% higher than 2012.
Fundamentally, there are a few positive factors for GILD:
Higher operating margin of 41.3% and net margin of 26.7% (vs. the industry averages of 25.9% and 13.7%)
Stronger ROE of 32.3 (vs. the industry average of 13.5)
Lower P/E of 27.4 (vs. the industry average of 48.5)
GILD generates an operating cash flow of $3.19B with a levered free cash flow of $2.89B
GILD has a very low beta of 0.47
Technically, the MACD (12, 26, 9) indicator is showing a bearish trend, but the MACD difference has been stabilizing in the last two trading days. The momentum indicators, RSI (14), is declining but still indicating a bullish lean at 59.44. GILD is currently trading above its 200-day MA of $34.17 and 50-day MA of $41.99. The next resistance is $45.72, the R2 pivot point, as seen from the chart below.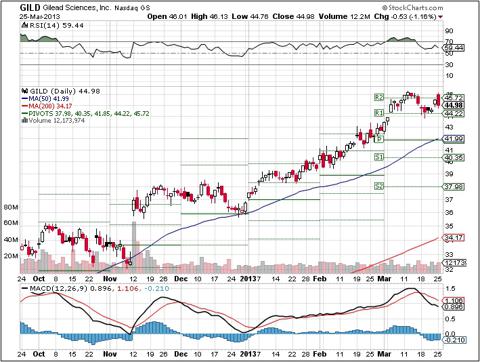 Source: StockCharts.com
How to Invest
With its high margins and estimated 19.70% annual EPS growth for the next 5 years, GILD still has more upside potential for long term. Any short-term pullback will be a good buying opportunity for GILD. For bullish investors, a credit put option spread of June 22, 2013 $39/$41 put can be reviewed, which will allow investors to gain some upside credit premium or to acquire GILD share at a price below $41 upon options expiration. Investors can also review the following ETFs to gain exposure to GILD:
Note: All prices are quoted from the closing of March 25, 2013. Investors and traders are recommended to do their own due diligence and research before making any trading/investing decisions.
Disclosure: I have no positions in any stocks mentioned, but may initiate a long position in GILD over the next 72 hours. I wrote this article myself, and it expresses my own opinions. I am not receiving compensation for it (other than from Seeking Alpha). I have no business relationship with any company whose stock is mentioned in this article.