By John Spence & Tom Lydon
Many investors worried about the prospect of rising interest rates are taking a second look at ETFs that invest in floating rate debt.
The Federal Reserve's bond buying and investors' desire for safety has pushed 10-year Treasury yields below 2%. However, bond investors could get hurt if interest rates finally start to rise after years of rock-bottom Treasury yields.
Floating rate notes are investment grade bonds that pay a floating rather than fixed rate coupon, which protects investors from rising interest rates.
ETFs in this category include Market Vectors Investment Grade Floating Rate Bond Fund (NYSEARCA:FLTR), SPDR Barclays Capital Investment Grade Floating Rate ETF (NYSEARCA:FLRN) and iShares Floating Rate Note Fund (NYSEARCA:FLOT).
Investors should keep in mind that floating rate note ETFs are currently paying little in the way of yield. For example, FLOT has a distribution yield of 0.71%, according to manager BlackRock.
Additionally, if rates stay low, these bonds could underperform their fixed-rate counterparts. Floating rate ETFs can also have heavy concentrations in the financial sector.
"Fixed-rate bonds have fared well so far in 2013, but a sudden jump in yields - as occurred in 1994 - would hammer pension funds and insurer portfolios, which have loaded up on fixed-rate debt in recent years," Reuters reported. "As a precaution, some fund managers worried about a sustained sell-off in the bond market have been replacing some of their pricey fixed-rate rate debt with floating-rate."
Separately, bank loan ETFs have also been popular with investors who are concerned about rising interest rates.
iShares Floating Rate Note Fund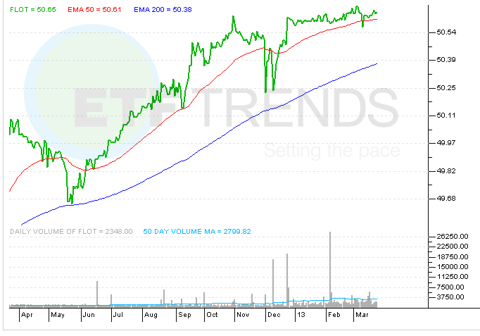 Disclosure: I have no positions in any stocks mentioned, and no plans to initiate any positions within the next 72 hours. I wrote this article myself, and it expresses my own opinions. I am not receiving compensation for it. I have no business relationship with any company whose stock is mentioned in this article.