A rally in tech stocks and news of the merger between homebuilders Pulte (NYSE:PHM) and Centex (CTX) (in a $1.3b deal, creating the largest homebuilder in the US) propelled stocks to a positive close yesterday. This was despite cautious earnings guidance and the minutes from the Federal Reserve's March meeting showing that members are worried about a sharply slowing global economy.
Today's Market Moving Stories
Overnight, Japanese machinery orders for February saw core orders unexpectedly rise by 1.4%, inflated by a one-off order of railway trains. However, the underlying trend remains weak. And Japan eco watchers survey showed sentiment improved to 28 as consumers respond to Government stimulus measures and firms get rid of excess stocks. Meanwhile, the government published details of its latest stimulus package, valued at 56.8tr Yen, including 15.4bn Yen in actual spending and tax cuts. Note the Bank of Japan governor said that it is highly likely that the country's economy will get worse.
With a long Easter weekend on the horizon, the markets are likely to be thin today, as many participants pack up early. Though Asian markets were bolstered by the prospect of another Japanese stimulus package, the prospect of a series of nerve jangling Q1 earnings figures, starting with Goldman Sachs, Johnson and Johnson and Intel on Tuesday, look set to keep all markets on red alert.
The Sage of Omaha Warren Buffett lost his triple A at Berkshire Hathaway (NYSE:BRK.A), cut by Moody's to Aa2 from Aaa. Note that Berkshire Hathaway are actually the largest shareholder in that rating agency! Some rumours yesterday suggesting that Berkshire Hathaway was about to take a larger stake in Swiss Re. I wouldn't rule that out – the credit market will have dragged down Swiss Re's Q1 earnings for sure.
Article in The Times suggests that the BoE is exploring the possibility of forcing banks to separate their retail and investment banking operations. A lot of politics at play – BoE's views lining with Tories and FSA with Labour. Doesn't sound like a game you want to be in the middle of. Any move down this road would have implications for funding i.e. retail deposits might not be available to fund wholesale banking activities. Given where we are at the moment, hopefully both sides will see that changing the game plan right now would not be too clever. At the very least, we should expect the rule book for banks to come under a new round of scrutiny.
Reports are that Barclays (NYSE:BCS) have agreed to sell iShares to CVC for £3bn, broadly as expected, with a formal announcement possible later today. I reckon that still leaves Barclay's capital light to the tune of £7bn which could of course come via earnings, but shares are up 6% on the news.
Hypo Real Estate has found its rightful place in the bosom of the German taxpayer. The German state is reported to have offered to buy the property lender for €1.39 a share moving it ever closer to the first nationalization since the 1930's. Shares are up 16%. Note JC Trichet's comment yesterday that it was "inevitable" that states will take over banks.
Some unhelpful comments to AIB's share price from the CEO of Poland's Bank Zachodni who was yesterday quoted as saying that the Q1 results from Polish banks could be "very bad" due to high financing costs and the erosion of margins due to the slowing economy.
So much for deflation in Ireland! FBD has announced plans to increase the cost of motor premiums this year by 10%. This increase comes after Quinn and Hibernian Aviva also recently confirmed increases. Levies introduced in the Irish budget are also not exactly going to help the sector.
Dr Doom Nouriel Roubini echoed his bearish forecast Monday at a press conference in Toronto. "There will be a light at the end of the tunnel somewhere down the line, later rather than sooner."
Good to see that US regulators are still setting a shining example on how to spend Joe the Plumber's money. They spent nearly $4 million on a "restacking project".
Cramer Versus Dr Doom. Only one winner methinks.
Earnings Season - Taking A Step Back

As we enter the US earnings season it is worth reflecting again on risk. Consensus bottom-up earnings projections for the S&P have come down, but they still look outrageously bullish. Large gains from IT, materials and (very cyclical) consumer discretionaries are expected. This does not fit with an economy where the primary driver of growth will simply be a turn in the inventory cycle.
One sector, of course, the financials, has captured the most attention, and although it is regarded as rare for the sector that leads the downturn to lead the recovery, at least some recovery in financial earnings is needed to provide a platform for the rest of the economy. The consensus for Q4 2009 has financial earnings back to levels last seen in Q3 2007. That goes with CEO bank guidance for January and February, but ignores the massive deterioration on the asset side of the balance sheet. That is, banks can be profitable, very profitable in fact, without the assets that are a legacy of the bull market!
The IMF is set to project that global toxic debts could spiral to $4trillion. Even without the absent detail and the final numbers, we can still make four observations:
Losses are growing at a staggering pace, led by loan books rather than more exotic/risky debt instruments;
Banks are not nearly close to the half-way point in taking the losses that are in the pipeline;
European banks are on the hook for much larger losses than previously assumed;
Contagion has reached the emerging financial world.
The Bigger Picture
Equity markets are taking a bit of a reality check after a month-long bullish run that lasted into the first days of this month. In all likelihood, it will prove to have been a bear market rally driven by a closing of short positions. I think it will take several more months before a more durable improvement in investor confidence can emerge.
Investor confidence will face some formidable headwinds in the coming months. Even the more optimistic forecasts envision a significant rise in corporate defaults and unemployment rates. Consumers will get a measure of relief from decelerating inflation, but this will not be able to offset the greater sense of job insecurity and financial uncertainty. Against this background, it will be hard to see the more mixed tone of the macro data as anything more than a statistical correction after the precipitous drop of the last two quarters. The economy will hit the bottom with a "thud" rather than a "boing". Believing in the effectiveness of policy measures will still seem more like an act of faith than a rational expectation.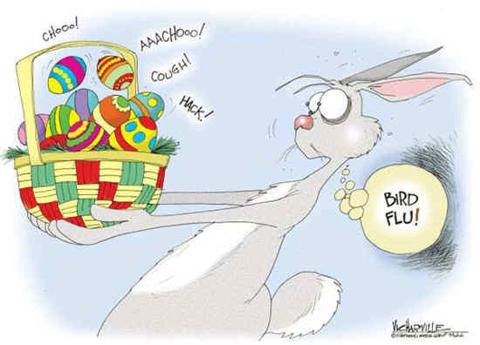 Data Today
March UK PPI is released at 09:30 (all times GMT) this morning. The PPI should rise by 0.1% (2.1% yoy) as survey data point to a moderation as demand falters. The core PPI should rise by 0.1% (3.2% yoy). There's also a Bank of England rate decision at noon. This is likely to be something of a non-event as the bank rate should be left at 0.5% and the MPC should vote unanimously to continue with quantitative easing.
German industrial production for February is out at 11:00. The weakness in PMI orders does not bode well, and production should fall by 5%.
The US trade balance figure is due at 13:30. The deficit should continue to improve, shrinking to $34bn. Real net exports should boost Q1 GDP by less than 0.5%. The weekly report on new jobless claims is also out this afternoon. The worry is that new jobless claims will top 700,000 and the number of workers getting jobless benefits will push above 7 million.