"It seems that laughter needs an echo." - Henri Bergson
While the U.S. honey badger stock market continues to not care about seemingly anything negative on the global macro front, European shares have been under pressure as nervousness over the Cyprus precedent builds. The concern was never Cyprus itself, but rather the implications of a bailout funded partially though bank deposits. Conflicting statements regarding whether or not such actions would be a template for future bailouts have put into question whether we are in a "whatever it takes" world or a "whatever can be taken" one.
Italy (NYSEARCA:EWI) and Spain (NYSEARCA:EWP) have taken a beating so far this week, with the last few months of price action reminiscent of the April-May correction of 2012. Take a look below at the price ratio of the iShares Italy ETF relative to the S&P 500 (NYSEARCA:SPY). As a reminder, a rising price ratio means the numerator/EWI is outperforming (up more/down less) the denominator/SPY.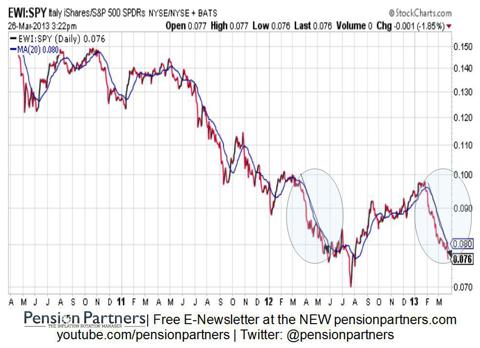 I have highlighted the similarity the most recent period of underperformance has to the late March-May 2012 period. Much of this has been driven by U.S. averages having the benefit of $85 billion/month being pushed into the system by the Fed, causing our markets to dramatically diverge from the rest of the world.
I do wonder, however, if QE alone can stave off correction risks in 2013, and if what is happening in Europe will result in another scare here. For now absolute price does not seem to be concerned, although intermarket trends have deteriorated once again in recent weeks. Our ATAC models used for managing our mutual fund and separate accounts turned defensive, and are likely a few weeks away from a potential change coming. Either stocks correct soon, or emerging markets (the "next fat pitch") lead risk assets higher. For now, we remain cautious.
Disclosure: I have no positions in any stocks mentioned, and no plans to initiate any positions within the next 72 hours. I wrote this article myself, and it expresses my own opinions. I am not receiving compensation for it (other than from Seeking Alpha). I have no business relationship with any company whose stock is mentioned in this article.
Additional disclosure: This writing is for informational purposes only and does not constitute an offer to sell, a solicitation to buy, or a recommendation regarding any securities transaction, or as an offer to provide advisory or other services by Pension Partners, LLC in any jurisdiction in which such offer, solicitation, purchase or sale would be unlawful under the securities laws of such jurisdiction. The information contained in this writing should not be construed as financial or investment advice on any subject matter. Pension Partners, LLC expressly disclaims all liability in respect to actions taken based on any or all of the information on this writing.