Every two weeks Nasdaq releases the outstanding short positions for various equities. Sirius XM (NASDAQ:SIRI) came in today at nearly 400 million shares sold short, a decrease of over 14 million shares from the last data point. Have these shorts wised up and heeded my repeated advice to cover?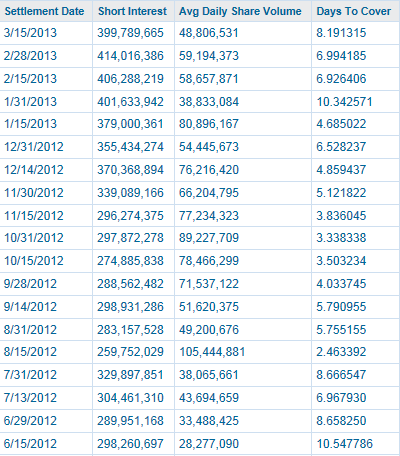 In the past I have been criticized in the comments of my articles for questioning the sanity of these short positions. Suggestions have been made that the shorts are "smarter" than longs, because some may be hedged vs. Sirius XM's outstanding $1.875 convertible notes. Suggestions have also been made that the shorts may be "smarter" than longs because some feel Sirius XM is destined for failure.
I'd argue that no, this is not the case. Shorts have not been smarter than longs in recent history:

And taking a short position in Sirius XM is akin to playing with fire. The reason? Sirius XM's $2 billion buyback program that, in my opinion, has already begun.
Consider my recent article discussing Sirius XM's trend support. Holding the line? Doing just fine. And I expect that it is in Liberty Media's (LMCA) best interest to maintain this support line which is increasing at a modest rate of roughly a half cent per day.
As the share price flirts with danger near this trend line, sellers come out of the woodwork, and $2 billion in purchasing power can serve to vacuum up these shares as they fall out of investors hands due to impatience, or panic. Those who become bold and short? You're likely shorting to the company itself, with those shares effectively coming out of the float and, in essence, being retired.
This is dangerous for these shorts. If you assume the stock is due to appreciate along with company performance, and you assume the stock is due to receive benefit from the large scale buyback, then where's the downside? Where do you cover? Higher. Uh oh.
Those who are hedged don't have to worry about the share price appreciating, but it may be a slap in the face when the realization hits that not hedging short would have resulted in significant gains. And of course, at some point, unless the company disappears, all shorts must cover.
That should be good news for longs. Shorts that already exist are essentially future buying pressure, and as a long holder of Sirius XM you should welcome each and every short. As a long holder of Sirius XM, slow appreciation of the share price along with an overall increasing short position is simply a pressure cooker slowly building steam. Shorts which are not hedged can, and will, contribute to positive share price movement at some point when they hit "buy."
For now, patience rules the day, and it is my opinion that eventually long holders will be rewarded. Be sure to thank a short when the time comes.
Disclosure: I am long SIRI. I wrote this article myself, and it expresses my own opinions. I am not receiving compensation for it (other than from Seeking Alpha). I have no business relationship with any company whose stock is mentioned in this article.
Additional disclosure: I am long SIRI January 2014 $2 calls.