On February 20, 2013, Chelsea Therapeutics (NASDAQ:CHTP) was given new life. The company received guidance from the FDA that its drug, Northera, could be resubmitted for approval based on the company's "Study 306B" data. Shares jumped over 150% following this news. CHTP seems ready to continue higher after consolidating its gains for more than a month. I expect investors will revisit CHTP as the company submits its NDA in the second quarter of 2013. Shares could trade up another 100% over the next 9 months.
Northera is a drug for the treatment of symptomatic neurogenic hypotension (NOH) associated with Parkinson's disease. The company has had its issues getting Northera on the market. On February 23, 2012, Northera was given an up vote from the FDA Panel by a 7-4 vote. However, the FDA decided to issue a complete response letter (CRL) on March 28, 2012. The FDA wanted more data to support efficacy and demonstrate durability over a 2-3 month period. CHTP went back and received guidance from the FDA in 2012 and it was determined that its 306B trial would not be suitable or able to be modified. The company and investors believed a new trial to confirm efficacy would be needed before any chance of approval.
Then suddenly, on February 20, 2013, CHTP was informed by the Director of the Office of New Drugs at the FDA stating that the Study 306B can serve as the basis for resubmission of Northera. The Director states (in the letter linked above):
"…data strongly demonstrating a short-term clinical benefit (e.g., improvement in symptoms or ability to function) of droxidopa in patients with NOH would be adequate for approval, with a possible requirement to verify durable clinical benefit post-approval."
When a Director at the FDA states "adequate for approval" in a direct comment, it gives me full confidence that CHTP has a shoe-in approval in late 2013 or Q1 2014. When the FDA issued a CRL in 2012, the issue was solely based on efficacy. The FDA never raised questions about safety, and it now appears CHTP has fully satisfied the FDA on both safety and efficacy for a future approval. As we enter Q2 in the next few days, shares of CHTP should rise into its resubmission of its NDA later in the quarter.
The market for Northera could be quite large for this tiny company. In 2011, the company believed it could generate $300-$375M in sales after 3-5 years of the drug being on the market. This might be aggressive considering there could be a black box warning for possible hypertension. However, if CHTP could garner peak sales of just $100M down the road, shares could soar well above $6.00/share (4x peak sales of $100M). As the company approaches its FDA PDUFA date (hasn't been set yet) in late-2013, shares could trade north of $4.00. After the February guidance from the FDA, both Needham and Ladenburg Thalmann upgraded CHTP with a $4.00 and $3.50 price target, respectively. They are likely to revise their targets even higher after the NDA is accepted by the FDA and then eventual approval.
The company had $28.4M in cash at the end of 2012. Management believes this is enough cash to finance operations into Q3 2014. However, if shares rally significantly to the $4 range, it would be prudent for the company to sell stock and raise cash. The good news is, new investors into CHTP shouldn't worry about a capital raise in the near-term.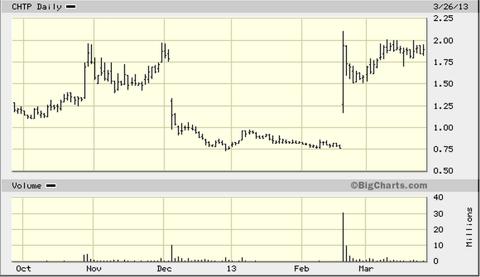 CHTP has been trending higher in March, consolidating into the recent run-up. It appears the stock is getting ready to take off higher. Momentum investors are likely to buy the stock as CHTP breaks through $2.00, which has been recent resistance. I believe a break of $2.00 would send shares to $3.00 very quickly. CHTP has shown impressive strength having held its entire rally from February instead of fading back towards $1.00, telling me smart investors are continuing to buy shares in preparation for a rally to much higher levels. However, looking at Keryx Biopharmaceuticals (NASDAQ:KERX) and Opexa Therapeutics (OPXA), which also had massive moves over the past 2 months, neither has been able to hold near its highs.
Disclosure: I am long CHTP. I wrote this article myself, and it expresses my own opinions. I am not receiving compensation for it (other than from Seeking Alpha). I have no business relationship with any company whose stock is mentioned in this article.