I have previously written about how Nokia (NYSE:NOK) is a buy based on the belief that the sum of its parts is worth more than its whole. I suggested that while the stock was a buy there was a technical support around $3.25 to $3.4 that would prove to be a great spot to double down on the stock. The stock is now down around this level, which was the resistance level from the summer of 2012. I think the stock should be purchased aggressively right now.
In looking at the sum of its parts, the one bright spot that keeps standing out to me is the Nokia Siemens Network division and this is what I want to focus on in this article.
Nokia recently released its 20-F and in this report guidance calls for long-term operating margins of this segment to be between 5% and 10%.
Per the 20-F:
In November, 2011, Nokia Siemens Networks announced its strategy to focus on mobile broadband and services and the launch of an extensive global restructuring program. Nokia Siemens Networks continues to target to reduce its annualized operating expenses and production overheads, excluding special items and purchase price accounting related items, by more than EUR 1 billion by the end of 2013, compared to the end of 2011. While these savings are expected to come largely from organizational streamlining, it has also targeted areas such as real estate, information technology, product and service procurement costs, overall general and administrative expenses, and a significant reduction of suppliers in order to further lower costs and improve quality.

During 2012, Nokia Siemens Networks recognized restructuring charges and other associated items of EUR 1.3 billion related to this restructuring program, resulting in cumulative charges of approximately EUR 1.3 billion. In total we now expect cumulative Nokia Siemens Networks restructuring charges of approximately EUR 1.3 billion by the end of 2013, virtually all of which have now been recognized. By the end of 2012, Nokia Siemens Networks had cumulative restructuring related cash outflows of approximately EUR 650 million related to this restructuring program. Nokia Siemens Networks expects restructuring-related cash outflows to be approximately EUR 450 million for the full year 2013, and approximately EUR 200 million for the full year 2014 related to this restructuring program.
In looking at the results for this segment, after backing out restructuring charges, the entirety of which (EUR 1.3 billion) was applied to 2012 earnings, earnings for this segment were EUR 500 million on sales of EUR 13.8 billion. Operating income was 14.4% of sales. If we convert this into US Dollars using a 1.30 conversion rate, then this segment produced $18 billion in sales, $2.58 billion in operating profits, and $650 million in net sales.
In determining the valuation of this division, I prefer looking at the valuation of Ericsson (NASDAQ:ERIC), this division's closest competitor. ERIC currently trades at a market cap of $40.48 billion and it had sales of $30.2 billion in 2012. Operating profits were $2.45 billion and net profits were $1.67 billion. Operating margins and net profit margins were 8.11% and 5.53%, respectively. Below is a chart that compares the two: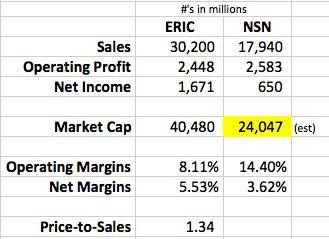 I used the price-to-sales ratio for ERIC in assigning a value of the NSN division. While NSN's operating margins are higher, it had lower net margins as a result of high interest expenses. In using the same price to sales multiple, I arrive at a valuation of $24 billion for the NSN division, of which NOK owns 50%. So on the open market, it's reasonable to expect that this division could be worth up to $12 billion. I'd rather be conservative, though, and will assign a multiple that is only 80% of that of ERIC or $9.6 billion for NOK's share of this joint venture.
This is significant because the value of the entire company right now is only $12.25 billion. That means the entire remainder of the company is worth $2.6 billion according to the market. This includes the following:
(1) $5 billion in net cash
(2) Patents that produce $600 million in annual royalty payments
(3) Devices & Services division that has a worldwide market share of 19% and is expected to generate 10% operating margins, as stated in Nokia's 20-F.
(4) Mapping division that owns a 90% share of the automobile market.
Is a Spinoff of NSN in the works?
As I mentioned in the past, with sum of parts turnaround stories the key is finding a hidden asset that is underappreciated by the market. Typically the market assigns a below market multiple for this hidden asset because it focuses too much on other assets that are doing poorly (i.e., the devices & services segment which is getting its butt kicked by Apple (NASDAQ:AAPL) and Samsung). The Nokia Siemens Network division is just that asset. And the best part is investors may not have to wait long for some type of monetization event.
Siemens announced last week that it is likely to exit from its joint venture with Nokia this year. The shareholder pact between the two companies expires in April 2013 and with Siemens looking to exit, there is a short-term catalyst for NOK shareholders. NOK has the right to purchase the remaining 50% stake in the joint venture; however, given its focus on cash conservation, I believe NOK and ERIC will opt to try to spin off the division in an IPO and create value for shareholders and also allow the company to focus on its other divisions. In an IPO, I think the NSN joint venture will be able to realize a fuller potential than staying private. If the division were to be valued at the same multiple on sales as ERIC, then NOK's share would be worth the entire value of its company right now in the open market.
The future for NSN is quite promising because of the demand coming from emerging countries upgrading their mobile networks. I believe this segment alone makes NOK a very undervalued stock. I still believe the stock will trade up to $8 over the next year as the market begins to realize that the sum of its parts are worth a lot more than the whole company and as NOK makes moves to realize its full potential through continued asset sales and spinoffs like the one that I think will happen with NSN.
I would recommend purchasing shares below $5. I think the stock can get to its full value of $8 within the next 12 to 24 months.
Disclosure: I am long NOK. I wrote this article myself, and it expresses my own opinions. I am not receiving compensation for it (other than from Seeking Alpha). I have no business relationship with any company whose stock is mentioned in this article.