One of the classic forms of investment that hedge funds and sophisticated investors employ is known as a long/short strategy. This strategy attempts to limit volatility in the position and portfolio. The basic idea, is to be "long" (buy) the stronger company, and "short" (sell) the weaker company. A key when using this strategy is to make sure the positions are equal in size.
Generally, when using stocks, the companies used in this strategy are in the same industry. Ideally, if the market or industry is somewhat directionless, the stronger "longed" company increases in value, while the weaker "shorted" company declines, and there is a profit on both positions. When the market or industry advances strongly, both stocks may increase as well, but the stronger company should increase more than the short, providing a marginal gain. Likewise, if the market or industry declines, the weaker shorted company should decrease more than the strong "longed" company.
So this strategy can provide gains in many scenarios and limit risk on the downside. Of course, it is possible that your choice of stocks to use as long and short are based on an incorrect analysis. This is why solid analysis is so important. Also, unexpected events, such as the announcement of a major business deal or other news, can change everything. This makes proper capital exposure to the trade, relative to portfolio value, very important as well.
I thought I would use two stocks that I have been monitoring recently to demonstrate this strategy. They are FedEx Corporation (NYSE:FDX) and United Parcel Service (NYSE:UPS).

FedEx vs United Parcel Service
FedEx Corporation's most recent quarterly results show a slowdown in global shipping (especially to China), reflecting the continued global economic slowdown. Additionally, they noted increased use of lower-priced ground shipping domestically, instead of the higher-priced express air shipping. This is an issue because FedEx's "bread and butter" is express shipping.
As the many differing views of commentators and analysts since the quarterly results have made apparent, it is: 1) unclear whether the changes are part of a longer-term decision by customers to spend less on shipping (or whether the choice was more transitory); and 2) unclear how long the global slowdown and its effects on shipping companies will last. FedEx lowered its earnings estimates during the conference call as a result.
My opinion on these changes is basically that FedEx is still the superior company in this industry, and it will make changes to mitigate customer decisions. The CEO stated:
... beginning April 1, FedEx Express will decrease capacity to and from Asia and will aggressively manage traffic flows to place low yielding traffic in lower-cost networks.
I also believe that the changes in the shipping space will affect UPS in most areas as well. Its a comparison strategy after all, so this should work relatively well. In terms of using FedEx and UPS as the stocks in this long-short strategy, FedEx can still be the "long" and UPS the "short." This is especially true if using a longer time frame because it gives FedEx time to use its superior financial condition and management to adjust to changes.
FedEx is in excellent financial condition. Margins at FedEx are higher than UPS. FedEx has a gross margin of 25% versus UPS' 15%. FedEx has an operating margin of 7.08% versus UPS' 2.45%. FedEx has higher quarterly revenue growth than UPS. FedEx has a long-term debt to equity ratio of .12, while UPS' is 2.38.
FedEx also provides better value than UPS. While neither company has a very low PEG, FedEx's is 1.36 versus 1.72 for UPS. That shows that price relative to future growth rates is less for FedEx. Comparing forward P/E ratios, FedEx's is 12.82 while UPS' is 14.87. That shows that FedEx's price relative to the future year's projected earnings is lower than UPS' price. Comparing price to book value, FedEx's is .7, while UPS' is 1.49. FedEx is therefore priced below book value. Comparing enterprise value to revenue we find that FedEx's is .69, while UPS' is 1.59. This indicates that FedEx is valued far cheaper than UPS when you compare their revenue. Any way you slice it, FedEx is not valued highly when compared to UPS. The market may be discounting FedEx for long-term industry changes, but analysts are not.
For reasons of value and strength of management, FedEx is the best choice for the long component in the long-short strategy, while UPS should be the short.
Charts
You can see the gap down in the FDX chart below. It seems to be holding the 100-day moving average. If that does not hold, the next level of support is between $94-92, where the 200-day moving average is located ($93), and where there was heavy buying volume.
Also, note that the UPS January earnings announcement led to a gap down, but it rallied since that time. FedEx could do the same.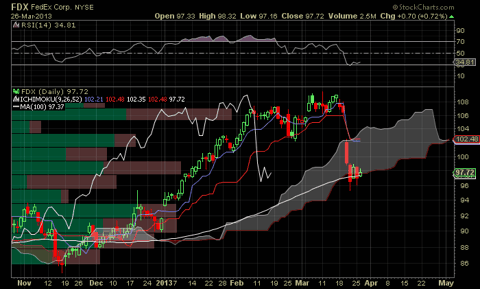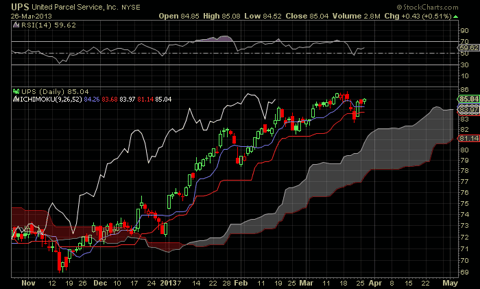 Disclosure: I have no positions in any stocks mentioned, and no plans to initiate any positions within the next 72 hours. I wrote this article myself, and it expresses my own opinions. I am not receiving compensation for it (other than from Seeking Alpha). I have no business relationship with any company whose stock is mentioned in this article.
Disclaimer: We do not know your personal financial situation, so the information contained in this article represents an opinion, and should not be construed as personalized investment advice. Past performance is no guarantee of future results. Do your own research on individual issues.