Introduction
It seems rather unfair for companies the size of Suncor (NYSE:SU), BP PLC (NYSE:BP) and Occidental Petroleum (NYSE:OXY) to be completely at the mercy of global commodity prices when they have invested billions in the production and refining of oil and gas. That being said, which of the three companies stands the best chance of making their investors a healthy profit? Is it Suncor, which has the largest oil sands reserves, British Petroleum, which rolled out a staggering $5.3 billion in dividends in 2012, or perhaps it is one of America's biggest oil and gas companies, Occidental Petroleum.
Recent News and Events
Suncor is Canada's largest energy company and has been in the news recently under the banner of merger. The company has been producing an excess of $350,000 barrels of oil per day in Alberta and has a large amount of free cash on its hands, which is the primary reasons for interest in the company. Whatever merger or acquisition offer might be on the table, it will need to be approved by the Canadian government before it goes through, as was decided in 2009 as Petro-Canada was acquired by Suncor. The company's production contains 88% crude oil and its proven and probable reserves contain 95% crude oil. In fact, Suncor is expected to divest more natural gas assets due to prevailing low prices. Currently, Suncor's share price seems depressed after the impairment charge it had to offload in Q4 2012.
BP announced that it would be selling a 50% stake in TNK-BP to Rosneft and promised an $8 billion share buyback program to be initiated from that amount. The deal with Rosneft, worth $55 billion in total, gives BP a near 20% stake in Rosneft. The $4.48 billion balance remaining from the Russian sale, after the buyback, is planned to be used to reduce its debt. As things stands, BP might have to spend more on its fines than the initial $8.5 billion it had set aside for compensation for the people affected by the Gulf oil spill.
Occidental Petroleum has geographically diverse operations, which range from the U.S. to Oman. ,46% of the company's 2013 capital expenditure is planned to be spent in the U.S., which goes to show that it prioritizes its operations in the U.S. over potential international returns. It currently has 3.18 billion barrels of oil equivalent, which allows it to consistently produce high levels of oil. In the last two quarters of 2012, the company's production costs decreased by $1.04 per barrel. The company headed into 2013 with the expectation of generating cash flow from operations of $12.7 billion, and investing $9.6 billion in capital spending.
Stock Performance
The pictures below illustrate the performance of these three companies over the course of 5 years and 1 year. The performance comparison is aided by adding S&P500 and the DJIA. In the 5 year picture, Occidental Petroleum has largely remained clear of its competitors and even the two market averages. Recently, however, it has converged with S&P500 and the DJIA, leaving its 5 year stock price growth to be below the market average, at 11.20%. Suncor and BP, on the other hand, have been absolutely miserable and seem highly affected by the global demand slump. Though it happened in 2009, the two companies have not been able to recover from the drop in demand. Perhaps restructuring and reducing their costs would have been a good alternative. In the case of BP, specifically, it had to raise more cash to pay for its oil spill in the Gulf, which further deteriorated its position on the stock market, as is shown by the steep drop in price in mid-2010.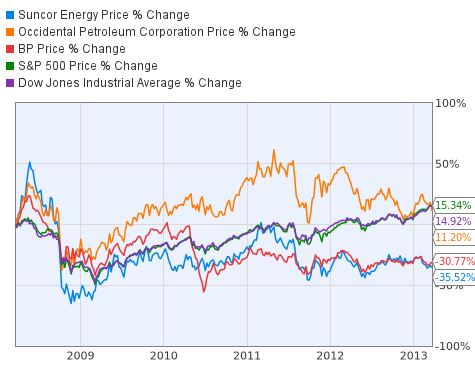 The 1-year graph provides a clearer picture. Initially, Occidental seemed to be a winner, but it is obviously is on a looser footing than initially perceived. The integrated oil and gas sector has been bleeding all throughout the previous year, but Occidental is more affected by weak economic conditions than the rest - so much so that it has lost 20% of its price over the past year. BP and Suncor are identical with the 9% loss in price, but their paths have been vastly different. Where Suncor seems to be dipping, BP looks to be finally gaining traction and heading for an upswing after announcement of its $8 billion share buy back.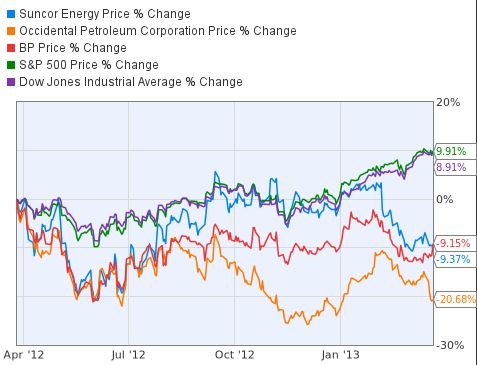 Tracking Financials and Fair Stock Value
Suncor's current stock price is $30.28 with a 52-week range of $25.95 to $35.82. British Petroleum has a 52-week range starting from $36.26 to $46.26, with a current price of $41.99. Occidental's tumultuous price of $78.68 is underlined by a 52-week range of $72.49 to $99.88.
There are many ways to estimate the fair stock value of a company. For this purpose, we applied the discounted-earnings-plus-equity model developed by EFS Investment analysts to these competitors.
Indicator

Price/Earnings ttm

17.3

11.6

13.8

Price/Book

1.2

1.1

1.6

EPS Growth

(3 Year Avg.)

23.5

-11.6

16.6

Dividend Yield, %

1.70

4.86

2.87

Debt/Equity

0.3

0.3

0.2

Return on Equity

7.2

10.1

11.8

Current Price

$30.28

$41.99

$78.68

$44-$70

$44-$81

$106-$156

Stock Valuation

Undervalued

Undervalued

Undervalued

Upside Potential to Reach Fair Value

44%

5%

35%
Data from Morningstar and Financial Visualizations on March 25, 2013
The calculations based on this model allow us to suggest the following: currently, all stocks are undervalued. In addition, EFS's fair stock price valuation indicates that Suncor is trading at the most attractive discount.
Out of the three companies, perhaps BP PLC should be the most concerned with its debt levels and ability to provide shareholders profits based on their investments. This is due to its impending courtroom verdicts and the expected hike in fee payments to the affected parties. Though the company's debt/equity level is fairly manageable right now, I expect it to bring down its debt/equity ratio further, after the sale of its TNK asset to Rosneft. Most importantly, BP has a stellar yield, which makes it undoubtedly a dividend investor's favorite. Another point of concern for BP is the aging reserves it has, as it only replaced 6% of its 2012 oil production.
Suncor on the other hand, has the least impressive yield of the three, but makes up for it on the back of a strong EPS over the past 3 years. Large reserves and high production will always allow Suncor to take the lead in growth as long as it controls its costs. However, the company's ROE needs to be improved for continued interest, and this means its ability to turn its endless reserves into shareholder profit instead of the mergers and acquisitions route.
Lastly, Occidental Petroleum could perhaps do better by divesting riskier assets, such as those in Libya and Yemen, which witness uncertainty and instability. Out of its competing stocks, Occidental has an advantage of offering a decent yield while continuing with an impressive EPS, even at a time when its stock has been having a tumultuous ride toward the bottom. That being said, the company does have strong credentials to boast about, as its cash flow continues to increase yearly.
Bottom Line
Morningstar provides the following ratings for the three listed stocks: SU - 13/17 buy, 3/17 outperform, 1/17 hold. BP - 4/10 buy, 1/10 outperform, 5/10 hold. OXY - 3/6 buy, 1/6 outperform, 2/6 hold.
I expect Suncor and BP to both be good for investors at this point in time because of their strong production potential. I like Suncor in particular, as it is fueled by speculatory buying as well as a strong showing in growth, and also BP, as it looks to buy back shares and resolve its long standing problems in the Gulf. Both these stocks would fit right into any organic growth oriented portfolio.
Disclosure: I have no positions in any stocks mentioned, and no plans to initiate any positions within the next 72 hours. I wrote this article myself, and it expresses my own opinions. I am not receiving compensation for it (other than from Seeking Alpha). I have no business relationship with any company whose stock is mentioned in this article.