Atossa Genetics (NASDAQ:ATOS) has had a huge run up. It went from $6.93 on March 13, 2013 to $11.30 at the time of this writing.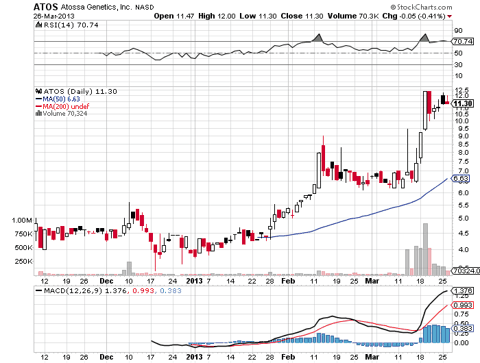 This was the press release issued on March 13, 2013 that coincided with the surge in shares:
Atossa Genetics, Inc. (ATOS), The Breast Health Company, has entered into a contractual agreement with FedMed, Inc., one of the largest proprietary Preferred Provider Organization (NYSE:PPO) networks in the U.S., for diagnostic laboratory testing. FedMed's network is comprised of more than 550,000 providers, including 4,000 hospitals and more than 60,000 ancillary facilities, serving over 40 million Americans.

Atossa's agreement with FedMed will give FedMed's participating providers and its clients' members greater access to Atossa's tests, including the ForeCYTE Breast Health Test and the ArgusCYTE Breast Health Test.
The press release does not say a single word about potential monetary reimbursements that Atossa Genetics would receive from FedMed. I called investor relations to dig deeper on the specifics, but the investor relations officer said he didn't have anything more to add. You would think that if there were substantial PPO reimbursement for Atossa products, they would release it in the press release.
Despite the lack of specifics, investors bid up Atossa like crazy to the tune of $56 million in added market cap.
The 56 Million Dollar Question: Is this warranted?
A company is only as good as its management. Great CEOs can turn almost bankrupt companies into world leaders (Steve Jobs and Apple (NASDAQ:AAPL)) and bad CEO's well you know... (Steve Ballmer and Microsoft (NASDAQ:MSFT)). So let's turn a critical eye to the CEO Steven Quay:
According to Atossa Genetic's website,
Dr. Steven Quay, MD, PhD, FCAP is certified by the American Board of Pathology in Anatomic Pathology and received his training at The Massachusetts General Hospital, Harvard Medical School, Boston, MA. He is a former faculty member of the Department of Pathology, Stanford University School of Medicine, Stanford, CA.
That's very impressive. But being smart doesn't lead to shareholder returns. Let's take a look at Dr. Quay's track record as CEO:
According to this article, Dr. Quay was the CEO of two companies - Sonus Pharmaceuticals and Nastech Pharmaceutical:
Sonus Pharmaceutical IPOed at $7.00 on October 12th, 1995 and was subsequently was bought out by OGXI on May 29, 2008 for under 30 cents. Nastech Pharmaceutical (MDRNA) merged with Cequent Pharmaceuticals in 2010 to be Marina Biotech (OTCQB:MRNA)
Here is what the stock of MRNA looks like: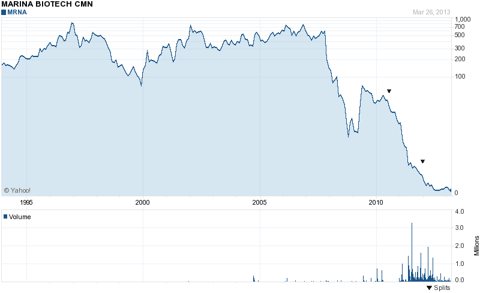 Not exactly inspiring. Atossa is now Steven Quay's third company as CEO. What else do we know of Atossa?
What about the revenues?
According to the 10-Q, since April 30, 2009 (inception) to September 30, 2012, Atossa has had total revenue of $384,886. Why? According to Atossa itself in the prospectus:
our ability to commercialize the MASCT System may be limited because Medicare and certain insurance carriers are not expected to provide reimbursement for the NAF sample collections which are necessary for our tests

Although we have received reimbursement from insurance carriers and Medicare for our ForeCYTE test, any lack of Medicare or insurance coverage for the NAF collection procedure will require patients to bear the full costs of the NAF sample acquisition process used with the MASCT System, which may result in physicians and other healthcare professionals not adopting the MASCT System or recommending its use in patients

Alternative Diagnostic Tools. We also anticipate that the MASCT System will face challenges in market adoption due to the reliance of physicians and other medical professionals on existing diagnostic tools for breast cancer, including mammograms, ultrasound examinations, magnetic resonance imaging, or MRI, fine needle aspiration and core biopsies, among others. These methods are currently more widely used and accepted by physicians, and may continue to be more widely used than our proposed products and services because they are currently reimbursed by third-party payors.
Atossa Genetics Needs to Raise Money Soon
Atossa is registering a cash burn of 1.1 million dollars a quarter (as of the 3 months ended September 30th 2012). It raised 4 million during the IPO, and it's almost been 2 quarters. (In fact, according to the 10-Q, Atossa has only $885,453 of current assets)
Atossa itself states:
We expect to incur substantial expenses and generate ongoing operating losses for the foreseeable future as we prepare for the scale-up manufacturing and ongoing launch of the MASCT System, complete the development of and launch the FullCYTE and NextCYTE Tests, and build and operate our planned diagnostics laboratory in the Fred Hutchinson Cancer Research Center. To fund our operations for at least the next 12 months under our current business plan, we estimate that we would need between $4 million and $6 million of additional capital. We expect that the proceeds from our initial public offering, together with our existing resources as of the date of this report, to be sufficient to fund our planned operations for at least the next 6 months. If we are unable to raise this amount of capital, however, we could be forced to curtail or cease operations
Conclusion
Atossa Genetics has had a great run-up, but in my opinion, the run-up is unwarranted. There are questions about the past performance of the CEO and Atossa's liquid assets relative to cash burn. The revenues since inception are not exactly inspiring. In my opinion, there will most likely be a secondary offering that will dilute stockholders and send the stock lower. Atossa Genetics is a strong sell.
Disclosure: I have no positions in any stocks mentioned, and no plans to initiate any positions within the next 72 hours. I wrote this article myself, and it expresses my own opinions. I am not receiving compensation for it (other than from Seeking Alpha). I have no business relationship with any company whose stock is mentioned in this article.
Disclaimer: I do not have any positions in this stock. It is solely for informational purposes only.