Linkedin Corporation (LNKD) has been one of the top performers this year with a 46% gain year to date. It also performed very well last year, nearly doubling from $63 to $123. Since its IPO it has been marked as clearly overvalued, but that did not stop it from putting in stellar share price performance. It also shows the dangers of short selling a stock just because it is overvalued. What is the reason behind LinkedIn's great stock performance?
The main reasons are surging revenue and substantial earnings surprises in last two reporting periods. Linkedin reported earnings in the last two quarters that were 100% and 84% above consensus estimates. Revenue growth in the last eight quarters was in the 80% to 125% range. Revenue quadrupled in two years, as it was $243 million in 2010, and $972 million in 2012. It seems that analysts underestimated the growth prospects of the company. I see that as the main reason for the substantial increase in the share price recently. Growth in range with expectations would not bring a surge in price, as it was clearly expected by analysts, investors and traders.
Now, it is clear that the explosive growth cannot last forever. But there might be positive surprises in the future, as analysts are not very good at predicting long term growth of a company, especially if it is innovating heavily and if it might be more aggressive with its acquisition policy in the future. And that might be the reason for such an excessive valuation.
The management noted at the Q4 conference call that Linkedin made many changes in 2012. Product innovation has been built around themes of simplify, grow and every day. The company introduced more new products in the last four months of 2012 than during any other similar timeframe in the company's history. Those products and innovations include a redesigned homepage, which brought a 70% increase in homepage page views since its introduction, while status updates, sharing, liking and commenting are at all-time highs. Deeper integration of LinkedIn Today into the homepage was also made, which made it simpler for members to access professional content. SlideShare is also seeing record traffic, with over 47 million unique users in Q4. There is also a new version of LinkedIn profile, which makes it easier for members to build their professional brands and discover new opportunities and engage with their networks.
International growth is becoming more meaningful for the company. In the fourth quarter, international revenue was 38% of total revenue versus 33% a year ago. Three years ago it was only 25%, and LinkedIn had only one location outside the U.S, compared to 20 offices it has abroad now.
It was reported recently that LinkedIn is about to acquire Alphonso Labs, the developer of popular news reader app Pulse. The deal is said to be in $50 million to $100 million range. That would be a first meaningful acquisition since May 2012, when the company bought SlideShare for $119 million.
Regarding competition, there are recently new product launches that might prove as a danger. Facebook (NASDAQ:FB) has recently launched a job search app, called Social Jobs. It includes job listings from Monster (NYSE:MWW), Branchout, DirectEmployers Association, Work4Labs and Jobvite. Job seekers can search for positions based on industry, keywords and location. It remains to be seen how much of a threat this poses to LinkedIn.
What may cause a significant drop of LinkedIn share price?
The share price of LinkedIn will be very much dependent on its ability to grow its revenue and earnings in the future. It will be very important for the company to keep beating earnings and sales consensus estimates. A weak earnings report, weak guidance or even an in-line report could make a negative impact on the share price. So, it is crucial for the company to keep delivering great results. Other possible negative impacts are macro in nature, such as a severe general market correction or a prolonged bear market.
Price action
LinkedIn gapped up on massive volume after reporting stellar earnings in early February. It has managed to move higher without a meaningful correction. There are no troubling signs as the stock is near its all time highs. It might need a consolidation, which could mean only a horizontal movement of price through time, which would bring its moving average lines closer to the price. The stock is extended at the moment, and dangerous to purchase right now, especially for investors with a longer term perspective.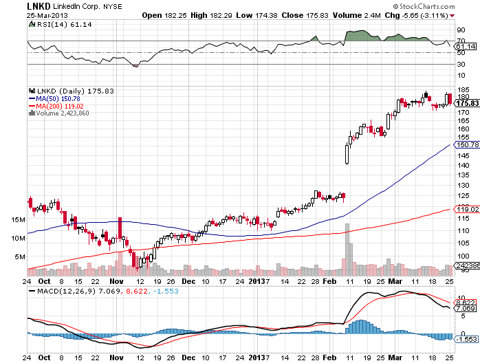 Source: Stockcharts
Conclusion
LinkedIn presents one of the most compelling growth stories at the moment. It delivered substantial growth in past several years, and is expected to deliver above average revenue and earnings gains in the future. The company is working hard to innovate and bring new values and products for their users and clients, and its international expansion is on track, with international revenue representing a much bigger part of total revenue over the last few years. On the other hand, it will need to deliver results above analyst expectations in order to maintain its high valuation. It is still overbought technically and there might be a better entry in the near term. Shorting is very dangerous at this time, as the company has strong earnings and price momentum, and no signs of distribution.
Disclosure: I have no positions in any stocks mentioned, and no plans to initiate any positions within the next 72 hours. I wrote this article myself, and it expresses my own opinions. I am not receiving compensation for it (other than from Seeking Alpha). I have no business relationship with any company whose stock is mentioned in this article.