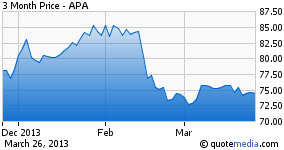 The S&P 500 has gained almost 7% and Dow Jones Industrial Average has lodged a solid 8.5% gain so far in 2013.
Despite this superb rally in equities, there are stocks out there that are well positioned in their industries and have strong fundamentals, and yet, they have not enjoyed the run.
Apache Corp. (NYSE:APA) is one such example. Apache's stock has grossly underperformed the market, losing almost 8% of its value since the start of this year. This stock is very undervalued at its current price of $74.40 (as of 26-Mar-2013), and even if there are market pullbacks in the coming weeks or months, there are reasons why accumulating this stock could prove highly profitable in the long run. Let us discuss why.
Recent Headwinds: Reason for underperformance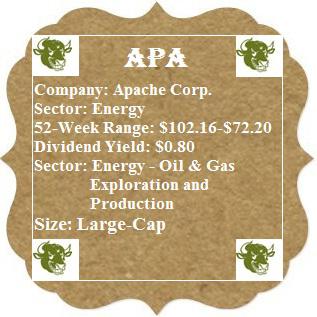 Apache released its Q4 2012 results on February 14, 2013. The company disclosed an earnings miss, lower-than-anticipated production growth goals and a disappointing guidance on costs. The stock's slide thus commenced - the stock has registered a 7.3% loss since this announcement so far. Before this date, Apache was actually up 4.45% for the year. The cut in guidance in the company's otherwise historically impressive production growth was too much for the Wall Street to stomach, and many must have questioned the company's growth prospects.
Tailwinds ahead: Huge Prospects
Apache is one of the biggest crude oil and natural gas exploration and production companies with operations in the U.S., Canada, Egypt, U.K., Australia and Argentina. It has a significant producing asset base along with several large long-term projects and is very well positioned to benefit most as drilling and exploration shifts its focus to targeting oil and liquids-rich gas.
More importantly, Apache is focusing heavily in the North American region, with huge chunk of its capital spending targeted towards the liquids asset bases in the region. The North American region's growth is more predictable than the other regions that the company operates in, and it is less prone to sovereign risk as well. Canada, Australia and Egypt region operations have disappointed so far due to temporary issues such as downtimes (related to external forces such as third party processing) and weather, but going forward into the second half of 2013 as well the year 2014, Apache is poised to benefit due to the growing importance of North American oil and gas production as well as the high energy demand - the U.S. Energy Information Administration (or EIA) sees considerable growth in global energy demand.
An important production metric for companies like Apache is MBOED (Million Barrels Oil Equivalent per Day). Since 1992, Apache has had a solid CAGR of 12% net MBOED, and production growth in 32 of the last 34 years.
Apache is first in rank among the drillers in the Permian Basins, among the oil producers in Egypt, among companies involved in LNG in the Liard, Horn basins and among U.S. based exploration and production companies based in Argentina. It has strategically improved its position in the Anadarko Basin drilling business and has maintained a balanced production distribution as shown below.

Apache's partnership with Chevron in two major LNG projects - Wheatstone in Australia and Kitimat in Canada is poised to reap huge monetization opportunities and first mover advantages to the company. The Kitimat LNG project will make Apache the first mover in Canada.
Apache plans to accelerate growth in the North American region in 2013, according to an investor presentation on March 18, 2013 at the Howard Weil Energy Conference. 55% ($4.6 billion out of $8.3 billion) of the capital allocated for FY 2013 is dedicated towards accelerating this North American onshore liquids growth. The anticipated growth in this region is 25 YoY.
Apache has a strong track record of profitable growth and solid cash flows. Their 2012 cash flow of $10.2billion was 2nd highest ever and 4Q2012 cash flow was best ever in a single quarter.
The company has plans to lower its drilling and completion costs significantly in 2013 by using various optimization measures such as new well designs and completion techniques.
Since Apache's business is capital intensive, focus on longer term projects are important. The company plans to direct $2.2 billion in 2013 for mid to longer term projects.
A big chunk (12%) of current global productions are by Apache LNG projects. With the Wheatstone and Kitimat projects that will come to fruition in the next few years, Apache is poised get a much bigger chunk of this market.
Last but not the least, Apache has discovered and confirmed three additional exploration opportunities in Egypt. In 2012, the company's production performance in the Egypt region has been disappointing due to external and uncontrollable factors, and these exploration opportunities give a hint that there is huge potential of growth in this region as well.
Valuation and Fundamentals
Apache at its current price is very attractively valued. Taking the company's expected EBITDA, Cash flow and earnings for 2013 into consideration, Apache trades at 3.2 times EV/EBITDA, 2.8 times its Price/Cash flow and only 7.9 times Price/Earnings. The company is trading way below its historical multiples due to the recent heavy decline in the stock price.
Apache has reported cash flow numbers that largely beat analysts' estimates.
Risks
Like any other investments, buying Apache's stock has its risks too.
Political and sovereign risk in the company's Egypt based operations negatively affect the company's productions as well earnings.
Weather is another important risk factor to consider in this business.
Apache will benefit as long as there is a rising demand in global energy. Recessionary global macro-economic environment will negatively impact the stock, as these circumstances usually drive down prices.
Conclusion
I have a corollary to the January Barometer theory. Since past few decades, in the years when the January performance correctly predicted the year's performance, the leading sectors in January led the annual outperformance and the lagging laggards underperformed relatively. If this theory proves true for 2013, Energy sector will enjoy a major rally - the sector has logged the best January gain in 2013. A comprehensive list of January performance of all sectors can be found here.
Of course, past performance does not guarantee future results. That is why one must look at factors such as growth prospects, portfolio balance, valuation and fundamentals and risks when picking stocks of companies involved in capital intensive businesses. Looking at all these factors, Apache happens to be one investment that will take your portfolios to new heights in the next couple of years. Happy investing, folks!
Disclosure: I am long APA. I wrote this article myself, and it expresses my own opinions. I am not receiving compensation for it (other than from Seeking Alpha). I have no business relationship with any company whose stock is mentioned in this article.