Introduction
In the energy sector, the oil and gas equipment services industry has always been in news for both good and bad reasons. For Halliburton (NYSE:HAL), the news has mostly been bad due to one reason or another, be it the Gulf oil spill or the supposed $39.5 billion made from the Iraq war. All the controversy aside, the company has thankfully kept its head up and continued to perform strongly across the years. Its competitors include the world's largest oilfield services company, Schlumberger (NYSE:SLB), which overtook Intel (NASDAQ:INTC) for the 27th spot on the S&P 500, when sorted by companies with the largest market capitalization. Not only that, the world's third largest oilfield services provider, Baker Hughes (BHI), is also in with a take no prisoners approach, investing $120 million for its facilities in the state of North Dakota.
In this article, I will be comparing the three giants of the oil and gas equipment services industry with the aim of finding the best services solution for the portfolio of an average individual investor.
Stock Performance
What drives the demand for services? The demand is derived from the prices of commodities, such as oil and gas. As it becomes more profitable for oil producers and refiners to provide commodities to the customers, the oil and gas equipment services become more and more involved. Below, I've compared the three companies with the S&P 500 and DJIA. Over the past 5 years, the stock performances, revenues and profits have been largely determined by global demand. As the world economy has slowed down due to recession, the trend lines of the three companies can be seen drifting down with the S&P 500 and DJIA. Safe to say, this industry has a high beta and continues to be highly vulnerable to world affairs. Overall, Baker Hughes has been the big loser over the past 5 years, as its stock value deteriorated by a whopping 31.11%! Schlumberger also stands in the negative with 8.49% loss in price. Halliburton's modest 6.91% increase over the past 5 years serves as an indicator that perhaps this industry is not the best option for achieving high returns over a long period of time.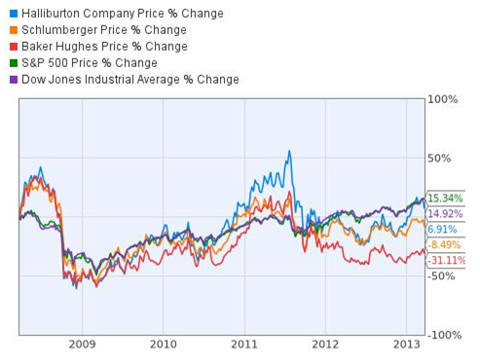 That being said, Halliburton has taken the lead over its competitors over the past year. Its current trend again seems to be towards the bottom, and investors need a sense of optimism from the company's ability to break away from the mold and its competitors. Potential investors in Schlumberger and Baker Hughes need to question whether it is worth investing their money in these companies when there are better energy options available on the market.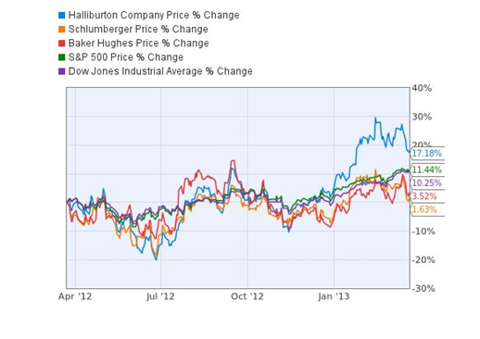 Tracking Financials and Fair Stock Value
Of the three stocks listed above, Halliburton is the cheapest at $39.64 and has a 52 week range of $26.28 to $43.96. Schlumberger is the most expensive stock at $73.85 and has a 52-week range of $59.12 to $82.00. Baker Hughes trades at $44.88 and has a 52-week range of $37.08 to $50.97.
There are many ways to estimate the fair stock value of a company. For this purpose, we applied the discounted-earnings-plus-equity model developed by EFS Investment analysts to these competitors.
Indicator

Price/Earnings ttm

14.26

18.19

15.11

Price/Book

2.3

2.8

1.2

EPS Growth

(3 Year Avg.)

30.8

16.6

29.7

Dividend Yield, %

1.01

1.53

1.33

Debt/Equity

0.3

0.3

0.2

Return on Equity

18.2

16.6

8.0

Current Price

$39.64

$73.85

$44.88

$73-$90

$103-$129

$98-$137

Stock Valuation

Undervalued

Undervalued

Undervalued

Upside Potential to Reach a Fair Value

85%

39%

119%
Data from Morningstar and Financial Visualizations on March 26, 2013
The calculations based on this model allow us to suggest the following: currently, all stocks are well undervalued. In addition, EFS's fair stock price valuation indicates that Baker Hughes is trading at the most attractive discount.
Halliburton is the most efficient profit making organization out of the three under review today, which is reflected by the recent jump in its stock price. As the company continues to be engulfed in the BP-Halliburton oil spill, it seems that none of the courtroom doubts and blame are shown in the company's financial performance. The three year EPS average suggests an ability to transform growth in revenue to increasing shareholder wealth. Furthermore, with a payout ratio of only 13%, investors could demand more from the company, which has made billions off the Iraq war. The company has announced a 39% increase in its quarterly dividend, which is payable on March 27th. However, expectations should remain in check as the continued involvement in litigation and the blame game can influence research and financial muscle available for future investments. The $36.5 billion company has a yield of 1.01%, which is less than its competitors, making the stock less attractive.
Schlumberger offers the healthiest yield of the three competitors and is less dependent on one single geographical area for growth. However, inconsistent results in North America are still expected to restrict the company's growth for Q1 2013. It continues to aim for double-digit earnings growth in 2013, hoping that North American returns will be more in line with company expectations. Schlumberger also requires a proper solution in Venezuela, where the company experienced a major slowdown in payment collection in the last quarter, while the reduction in work continues through today based on a recent report. While the company is beaten by Halliburton on multiple financial metrics, its advantage of sustaining global shocks better position Schlumberger to stay ahead of Halliburton in my books. The 1.53% yield offered by the company is perhaps not the most attractive of hard asset stocks.
As can be gathered from the situation of Schlumberger and Halliburton, the conditions in North America for oil and gas services are worse than the rest of regions of the world. That being said, Baker Hughes is affected more by the North American slump than any of its rivals. The number of drilling rigs exploring for natural gas in the United States has fallen to a 14-year low, as weak natural gas prices continue to discourage oil and gas companies from drilling new wells. The company's profitability might continue to be weakened by the pressure pumping market. The firm derives over half its revenue from the North American market and the firm is the world's second largest provider of fracking services. The firm must find gains by improving its operational efficiency and transitioning some of its fleet from diesel fuel to natural gas. Perhaps this will also help to secure a better ROE for its investors. The rest is dependent on global commodity prices and the demand for oil and gas, both of which are factors beyond the company's control.
Morningstar provides the following ratings for the three stocks discussed above: HAL - 6/8 buy, 1/8 outperform, 1/8 hold. SLB - 6/7 buy, 1/7 hold. BHI - 3/8 buy, 1/8 outperform, 4/8 hold.
Bottom Line
Personally, I don't like this industry due to the inherent risky nature. At a time when technology and conglomerates are providing much better returns to investors, oil and gas services just doesn't cut it. That being said, Schlumberger clearly maintains an edge over both Halliburton and Baker Hughes because of the international exposure it has. As the developed world demand suffers, the developing world continues to provide strong results for Schlumberger and consequently for its investors.
Disclosure: I have no positions in any stocks mentioned, and no plans to initiate any positions within the next 72 hours. I wrote this article myself, and it expresses my own opinions. I am not receiving compensation for it (other than from Seeking Alpha). I have no business relationship with any company whose stock is mentioned in this article.