As the market continues to rally the big question becomes: Is this rally for real or is this another one of those dreaded bear market rallies? While I am sure everyone would prefer the former, the leading indicators seem to be painting a different picture. In my last article, I spoke about some aspects of the market that still looked bleak, but many of them are considered to be lagging indicators. Therefore, I decided to look at the leading indicators, to see if they are painting a different picture that could bring some more clarity to the situation. I am going to examine the Index of Leading Indicators and its components to see just where this economy might be headed and figure out whether or not this is a rally to believe in.
The Components of the Index
1. The Average Weekly Hours Worked By Manufacturing Workers - Since March 2008, the average weekly hours worked by manufacturing workers has declined by 4.6% and is still registering declines. The average work week fell from 39.5 to 39.3 hours on a seasonally adjusted basis from Feb 09 to Mar 09. The total number of hours worked in the private sector also declined in March to 33.2 hours (a new low) from 33.3, after not registering a decline in 3 months. This signals that there is still some slack in the labor markets that has yet to work its way through the system. While the unemployment rate is a lagging indicator, the fact that the average hours worked is still coming down is a big concern for the future employment, income and spending outlook in the economy. Bears 1, Bulls 0.
2. The Average Number of Initial Applications for Unemployment Insurance - For the week ending March 28, initial claims for unemployment increased by 12,000 to 669,000. The 4 week moving average, which helps smooth out extreme one time impact shocks, also increased by 6,500 to 656,750, indicating continuing deterioration in the labor market. The drag that this will create on consumers as they continue to deleverage is just going to decrease spending . Furthermore, this will have a positive impact on the savings rate as the economy as a whole tries to adjust to the fact that we can no longer live with the a total debt to income ratio above 140%. Bears 2, Bulls 0.
3. The Amount of Manufacturers' New Orders for Consumer Goods and Materials - New orders for manufactured goods were up 1.8% in February after 6 straight months of decline. This was one of the more positive reports that has come out of the economy in the past few weeks. Throughout the month of February it seems as though the industrial sector might have seen some type of bottom, but it is going to take more than one month of data to prove that it has truly bottomed out. Bears 2, Bulls 1.
4. The Speed of Delivery of New Merchandise to Vendors from Suppliers - This part of the index, which is the Index of Supplier Deliveries - Vendor performance, has gone from a cycle high of 51.8% in September to 46.7% in February 09, which marks an increase from the January 09 number of 45.3%. It seems as though the industrial sector had a solid month in February, but it still remains to be seen if this was a bounce of the bottom or a one time anomaly. Since the latest number is positive this one goes to the Bulls. Bears 2, Bulls 2.
5. The Amount of New Orders for Capital Goods Unrelated to Defense - New orders for capital goods increased by 7.1% to $52.2 billion in February, from $48.7 billion in January, as the leading indicators for industrial activity saw a broad range of positive data come out. Next month's data on this front will be very telling in terms of whether or not we have seen a bottom in industrial production and demand. Since this data looks promising, chalk another one up to the bulls. Bears 2, Bulls 3.
6. The Amount of New Building Permits for Residential Buildings - The amount of new building permits for residential real estate has been on the decline for 7 straight months as it has collapsed by more than 50% from its most recent high of 1.138 million in Jun 08 to 564,000 in Feb 09. While there was a slight increase in February, there is no data in the housing market, especially the new sales market, to suggest that this number has bottomed at all. With sales of new homes still taking almost 10 months, I do not think we have seen the bottom and feel as though there is still significant downside pressure to this number. Bears 3, Bulls 3.
7. The S&P 500 Stock Index - Clearly one of the biggest reasons for the most recent optimism is the strong performance in the equity market as it has had a strong bounce from the lows and has rebounded over 20% in the past few weeks. Much of this has been due to the fact that economic data has come out better than expected, while the market ignores increasingly bad payrolls data. Either way, if data keeps coming in better than expected, then it will all depend on earnings season to see if this rally will be a sustained one. But for now, the bulls seem to have the upper hand in the equity market. Bears 3, Bulls 4.
8. The Inflation Adjusted Money Supply (M2) - The M2 money supply has been steadily increasing pretty much since the data started being calculated. Since M1 and M2 have to do with savings, I will turn this one into an analysis on the savings rate. The savings rate currently stands at 4.2%, as it has been steadily increasing throughout the deleveraging cycle as consumers unwind from debt positions that they can no longer sustain. This is an extremely deflationary development for the short to medium term. In addition, it does not paint a good picture for future consumer spending or even the success of the consumer based aspect of some of the government programs as people will be much more averse to spending in the next 6 months. Since our economy depends on this spending and not the savings rate, this one goes to the bears. Bears 4, Bulls 4.
9. The Spread Between Long and Short Interest Rates - While credit spreads have improved over the past month, spreads are still at extremely high levels relative to historical norms as the economy goes through the deleveraging process. The TED spread is still at levels that are three times the norm of about 30 bps. The one that the Leading Indicator Index focuses on is the spread between the 10 year Treasury and the effective federal funds rate. As you can see from the chart below, while this has eased up from the highs that were established after the Lehman collapse and the credit freeze, this spread is still extremely high relative to historical levels. Even relative to July 2008, these levels are higher. So there still seems to be significant improvement that is necessary in the credit markets before we can consider ourselves out of this mess. Hopefully the Fed's program of buying treasuries will help lower this spread and the spread between treasuries and corporate bonds, but the credit markets still have a lot of thawing to do. Bears 5, Bulls 4.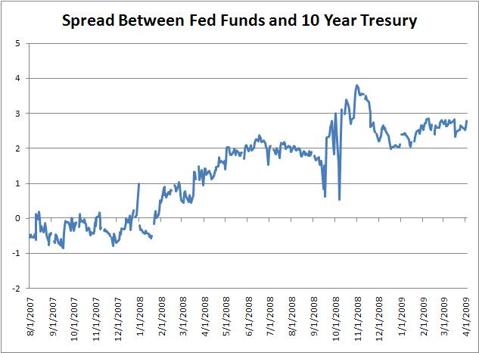 10. Consumer Sentiment - While consumer sentiment improved slightly in March versus February, ticking up to 57.3 from 56.3, it is still at extremely depressed levels. Furthermore, it has shown no consistency in terms of the development of a bottom, as it seems as though consumers are still extremely mixed on how they feel about the economy going forward. If consumer sentiment does not improve, there is no way we will see the spending necessary to get out of this recession. As the chart on the right shows, this has been one of the worst recessions in terms of consumer sentiment. In addition, there has been no bottom that has formed, even though it looked like there might have been one earlier on in the year, only to collapse again later. Clearly, the consumer is still unsure, but the score does not lie. Bears 6, Bulls 4.
Outlook
While it seems like the bulls are making a little bit of a comeback, I would have to wait and make sure that all the industrial numbers are not just some type of one time anomaly before even considering the fact that the bulls look good in the Leading Indicator Index. I would love to turn bullish right now, but nothing is compelling me to do so, especially with earnings season coming up. That is going to be the biggest driver going forward, as we listen to what the CEOs have to say about the rest of 2009 in terms of their expectations. I would not expect them to be all that rosy, but I for one hope they are. At this point, nothing is compelling me to turn completely bullish with this market.
Disclosure: None