With the recent deal where Hercules Technology Growth Capital (NASDAQ:HTGC) lent up to $30M to OCZ Technology (NASDAQ:OCZ) for a load of warrants, investors might be better off investing with the BDC that got the sweet deal. The temptation in this scenario is to buy the low-priced technology stock hoping for a large rebound.
With the BDC sector heating up, as investors are attracted to the high yields, Hercules Tech Growth Capital has mostly flown under the radar. The company provides a solid 8% yield while the investment in a public company provides more visibility than the normal unknown private firm. It focuses on providing senior secured loans to venture capital-backed companies in technology-related markets.
As a previous owner of stock in OCZ Tech, the deal is especially interesting as the company was in dire needs of a bailout. The cash balance had shrunk to $9M at year-end and the company is in the midst of a turnaround. Clearly in a such a scenario, Hercules Tech is likely to have gotten the better deal.
OCZ Future
The producer of solid-state storage drives provides a promising future if the company could ever turnaround operations impacted by past financial reporting. The company just announced a new CFO and plans to regain compliance with Nasdaq listing rules by April 8th.
OCZ Tech plans to build a profitable business in Fiscal 2014 that started in February. The plan includes expectations that the company will grow between 20-30% on a year over year basis. The 688,073 warrants priced at $2.18 obtained by Hercules could become valuable if OCZ meets these goals.
Other Hercules Investments
Hercules makes interesting investments in mostly small companies such as the following:
On March 26th, Neuralstem (NYSEMKT:CUR)

agreed

to $8M in debt financing to fund the company's capital budget through 2014. The small company has a patented technology enabling the ability to produce neural stem cells of the human brain and spinal cord in commercial quantities. The company also issued Hercules 648,798 warrants to purchase shares at $1.08 per share.
On March 22nd, Medrobotics agreed to a $10M debt financing. The company is developing the groundbreaking robotic system that enables surgeons to gain single-site access to anatomical locations.
On November 8, 2012, Merrimack Pharmaceuticals, Inc. (NASDAQ:MACK) entered into a Loan and Security Agreement with Hercules Tech pursuant to which Merrimack received loans in the aggregate principal amount of $40.0 million. The Loan and Security Agreement provided for an initial term loan advance of $25.0 million, which closed on November 8, 2012, and an additional term loan advance of $15.0 million, which closed on December 14, 2012. The term loans bear interest at an annual rate equal to the greater of 10.55% and 10.55% plus the prime rate of interest minus 5.25%, but may not exceed 12.55%. Merrimack received net proceeds of $39.7 million from the term loans during the fourth quarter of 2012.
As of year-end, Hercules had over 98% of the debt investments in a senior secured first lien position priced at floating interest rates. The adjusted effective yield for the fourth quarter was 13.6%, down approximately 30 basis points.
Another interesting point is that the company owns warrants in 116 portfolio companies at a fair value of $29.5M. Two portfolio companies, iWatt and Paratek Pharmaceuticals, filed S-1 Registration Statements in Q4 in contemplation of a potential IPO that could be lucrative to Hercules Tech.
Dividends
As with most BDCs, the dividend was crushed during the financial crisis. In the case of Hercules Tech, the dividend quickly rebounded to $0.20 by 2010 and has slowly moved to the current $0.25. The current dividend is good for an 8.2% yield. See the below chart: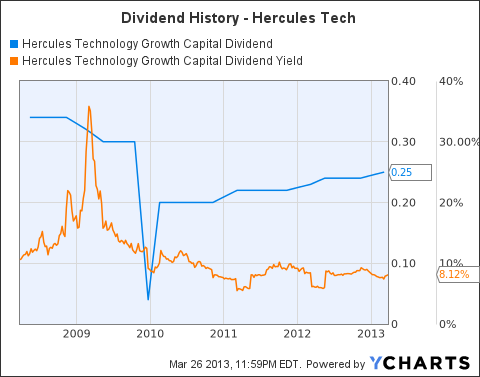 HTGC Dividend data by YCharts
Conclusion
Instead of investing in the risky stocks that have questionable futures, investors can buy Hercules Tech for access to high-yield, secure loans in those firms. In addition, the company has potential upside from a lucrative portfolio of warrants. As traditional banks move farther away from investing in small, private firms the BDCs such as Hercules provide intriguing investment options.
Anybody interested in buying OCZ Tech, Neuralstem, or Merrimack Pharmaceuticals should consider investing directing in the BDC that lent money and obtained attractive warrants.
Disclosure: I have no positions in any stocks mentioned, but may initiate a long position in HTGC over the next 72 hours. I wrote this article myself, and it expresses my own opinions. I am not receiving compensation for it (other than from Seeking Alpha). I have no business relationship with any company whose stock is mentioned in this article.
Additional disclosure: The information contained herein is for informational purposes only. Nothing in this article should be taken as a solicitation to purchase or sell securities. Before buying or selling any stock you should do your own research and reach your own conclusion or consult a financial advisor. Investing includes risks, including loss of principal.