Medtronic (NYSE:MDT) executives are well known for their keen eye for spotting emerging technology trends and capitalizing on them early on. Their acquisition of Ardian, in the renal denervation space, is a case in point. However, sometimes it is interesting to speculate on what is next on the acquisition agenda.
Medtronic is the global leader in the $1.8 billion per year fast growing Aortic Endografts Market where it controls over 36% and is gaining market share from the two leading contenders, privately owned Cook Medical and Gore Medical.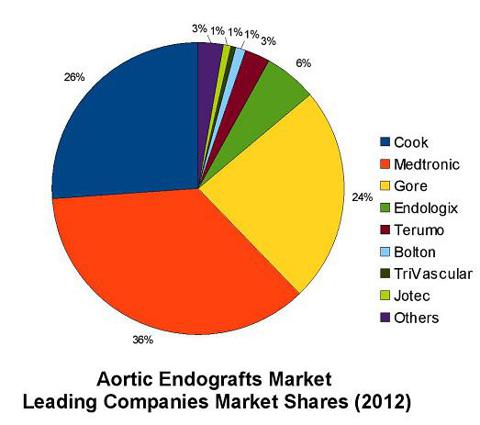 The aortic endografts market is very difficult to enter with extremely high barriers to entry. However, it is a great place to be in if you are one of the leaders in the space.
Almost all companies involved have a close relationship with their clients, the vascular surgeons and the interventional cardiologists, so for a company to gain market share it either has to fight it tooth and nail or acquire an existing contender with a small share to add to its own.
The market, which is maturing rather fast, is also ready for consolidation with many acquisition candidates available for the taking. So the question is which acquisition candidate is the best match for Medtronic? And how such an acquisition might impact Medtronic's long-term value?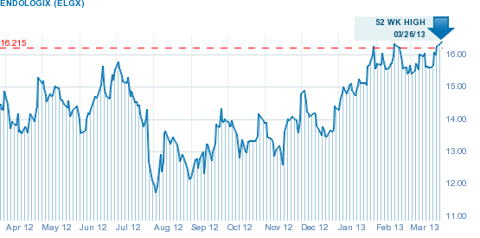 The Case for Endologix (NASDAQ:ELGX)
Endologix comes to mind as the first and most logical choice for Medtronic's embrace. Endologix, which currently controls 6% of the global aortic endograft market, could jolt Medtronic's market share to a dominantly untouchable 42%.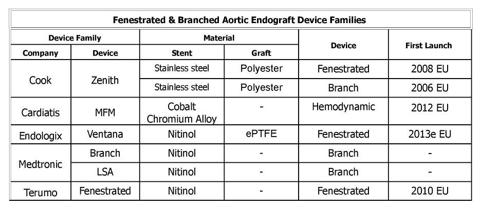 Source: Aortic Endografts Market Report
Endologix could also provide Medtronic with a ready to launch fenestrated aortic endograft, the Ventana, which Medtronic badly needs to plug a hole in its portfolio.
Medtronic has been slow to recognize how fast the fenestrated endograft segment of the market has been evolving and the two fenestrated devices that the company is currently developing are still in early clinicals.
However, by acquiring Endologix, Medtronic will have on its hands a duplicate device, the AFX, which Medtronic will have to dispose of since it competes with its Endurant II, the leading next generation technology infra-renal aortic endograft. So the exercise will be a simple acquisition of client accounts.
With 2012 sales of the AFX touching $106 million, cash burn and a recent valuation of over $1 billion Endologix is priced for an acquisition. Add an acquisition premium and Medtronic will be expected to pay between $1.5 and $1.7 billion for ELGX. That is rather rich for a 6% share of the market, specially if Medtronic had to ditch the AFX.
Such an acquisition would be dilutive of value to Medtronic's shareholders since the company is already gaining market share with its two leading aortic endografts, the Endurant abdominal and the Valiant thoracic.
Lombard Medical Technologies, a UK public company listed on London's AIM, received FDA approval in February 2013 for Aorfix, a niche aortic endograft that targets patients with angulated infra-renal aortic aneurysms. The Aorfix has been available in Europe since 2005.
Lombard has a current market value of slightly over $40 million, so it is a relatively small acquisition that can provide Medtronic with a complementary niche product.
However, the Aorfix currently generates an estimated annual sales of $6 million, less than 0.5% of the total market, hardly an interesting proposition in terms of expanding Medtronic's share of the Market.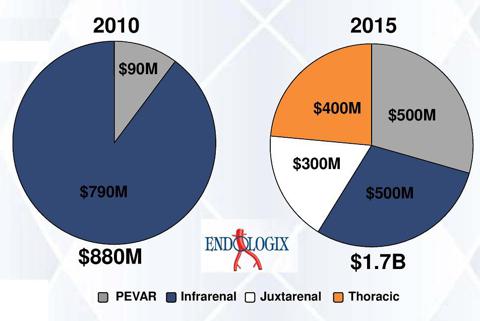 Source: Endologix
The Case for Cardiatis
Cardiatis, a privately owned Belgian company, has developed the Multilayer Flow Modulator (MFM), a disruptive technology that targets the juxta-renal segment of the aorta.
the MFM is considered the ultimate fenestrated stent graft and is used to treat patients with thoraco-abdominal aneurysms who need to preserve collateral circulation to the kidneys, spinal cord, the intestines and other vital organs. It was launched in Europe in 2012 and received US Investigational Device Exemption in 2013.
Medtronic has been slow to address this segment of the market which current participants predict will reach $300 million by 2015. It is also expected to become the fastest growing segment in the space.
Cook Medical, Terumo (OTCPK:TRUMY) and Endologix have all developed, and are commercializing, fenestrated stent grafts that address this under-served patient population. However, the MFM has the advantage of causing zero rate paralysis in treated patients, compared to a rate of up to 10% for other traditionally fenestrated devices.
Cardiatis technology platform is also reasonably broad, it allows for the endovascular repair of cerebral aneurysms as well. That is a $1.2 billion per year market.
Both Covidien's ev3 (NYSE:COV) and Stryker (NYSE:SYK) have validated the disruptive aneurysm hemodynamic repair technology when they acquired Chestnut Medical and Surpass Medical for $150 million and $135 million, respectively.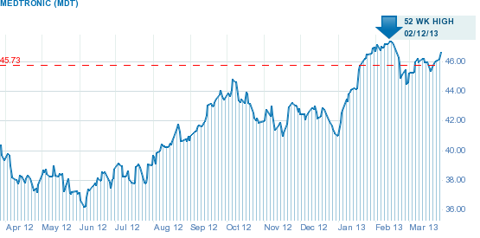 Acquiring Cardiatis would allow Medtronic to totally dominate the aortic endografts market with up to an extra 18% market share coming from the $300 million juxta-renal segment. This option could reignite growth in Medtronic's share price which has already reached its peak for the year.
But the icing on the cake, with the Cardiatis option, is Medtronic's access to the exclusively lucrative endovascular cerebral aneurysm repair market.
Disclosure: I have no positions in any stocks mentioned, and no plans to initiate any positions within the next 72 hours. I wrote this article myself, and it expresses my own opinions. I am not receiving compensation for it (other than from Seeking Alpha). I have no business relationship with any company whose stock is mentioned in this article.