My last article, which focused on Cliffs' (NYSE:CLF) North American operations, generated a great deal of discussion regarding the future of iron ore. I thought I would follow up with a more general discussion of global iron ore supply/demand.
It's impossible to discuss one particular region in regards to iron ore without discussing the future of Chinese demand and Australian supply. Coincidentally, China's National Development & Reform Commission (NDRC) recently released their forecasts for domestic demand, production and imports.
China's iron ore consumption increased in 2012 to yet another record level - 743 million tonnes. That's over 30 years of record consumption levels. This is, of course, good news for iron ore producers such as Vale (NYSE:VALE), Rio Tinto (NYSE:RIO), Cliffs Natural Resources, Fortescue Metals Group (OTCQX:FSUGY), and BHP Billiton (NYSE:BHP). However, the NDRC also announced that domestic production should increase by 20 million tons in 2013 and that the above major producers will add another 100 million tonnes of production. This, in and of itself, may not be too much cause for concern. However, the agency also forecasts up to 300 million tonnes of supply coming on line in the next two years. This rate of supply growth far surpasses Chinese demand, which they forecasted would increase by 4% in 2013 (again, another record but lower than the 8% increase seen in 2012). In addition, it's still apparent that China is making efforts to develop the efficiencies of their domestic production; which currently sits around $120/tonne on the cost curve.
I came across the below chart that was recently presented by Citi (built from company data) on future planned projects and expansions in Australia. It seems to align with what the NDRC has forecasted.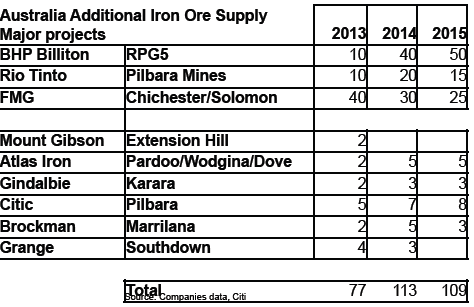 Iron ore prices are still bouncing around the $135-140/tonne price level (Tianjin, CFR 62% fines) - which is 55% higher than the 2012 low of $87.50/tonne. However, I would expect this supply/demand imbalance to start having an impact late-2013 and to begin to have a significant impact by next year.
The above graph (from BHP Billiton) nicely illustrates the future of iron ore. For a period of time, Chinese demand far outpaced supply. This led to an increase in prices as higher-cost mines came on line to fulfill the need. However, as lower-cost projects will be coming on line we will begin to see the high-cost mines idled or shut down and the cost curve will adjust accordingly. In terms of investing, as I stated in my last article, for a long-term investment I would look to the low-cost producers. Of the iron ore mines with cash costs of under $50/tonne; Vale accounts for 9, Rio Tinto for 9, and BHP Billiton for 5. You'll notice that Cliffs does not show up on that list. Of course, in any investment you'll want to consider other major factors (Vale's large capital expenditures and transport costs, for example). However, the fundamentals are fairly straight forward - if you're in the business of mining iron ore, the companies with the lower cost mines tend to be the most profitable in the long run.
Disclosure: I have no positions in any stocks mentioned, and no plans to initiate any positions within the next 72 hours. I wrote this article myself, and it expresses my own opinions. I am not receiving compensation for it (other than from Seeking Alpha). I have no business relationship with any company whose stock is mentioned in this article. I recently closed a short position on CLF