On March, 26 a Raymond James analyst upgraded Peabody Energy (NYSE:BTU) to "Outperform" with a price target of $25. He cited that Peabody has underperformed its peers, the index and the broader market as a whole. The stock failed to deliver a remarkable performance at the day of the upgrade, adding only 0.87%. The analyst's take is worth examining.
First, let's compare this year's BTU's performance to its peer coal companies. BTU lost 24.01% YTD, Arch Coal (ACI) is down 28.31% YTD, Alpha Natural Resources (ANR) lost 21.24% YTD, Walter Energy (NYSE:WLT) is down 24.08% YTD. S&P 500 gained 9.65% since the start of the year. I would not state that BTU's performance significantly differs from that of the peer companies.
Let's explore dividend yields of the companies. ANR does not pay dividends. ACI yields 2.17%, WLT yields 1.70% and BTU yields 1.59%. Peabody Energy does not present the best value in terms of dividends.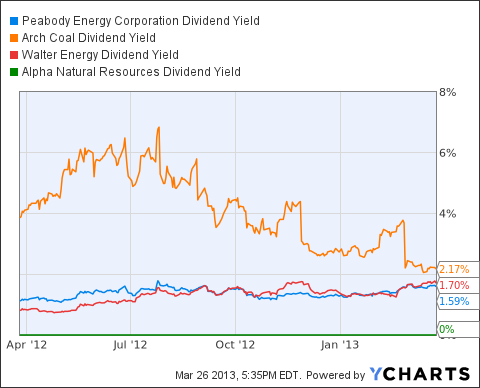 BTU Dividend Yield data by YCharts
Coal companies are currently under pressure because of low coal prices and fragile economic recovery in the world. This is why it is difficult to compare valuation of the companies based on the P/E ratio, because the "E" - earnings - is negative. I would not use forward P/E either. I think that currently there is too much uncertainty in the sector, so estimates can have trouble meeting reality. Instead, I want to compare the price of BTU and its peer companies with what they actually have, so I would use Price to Book ratio.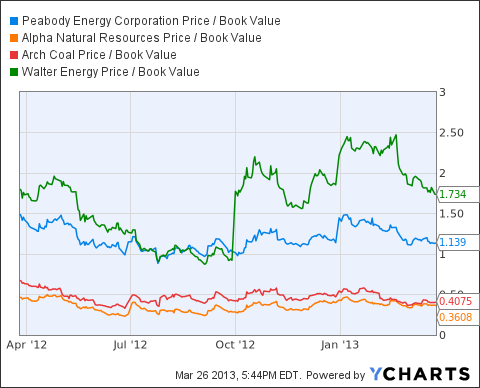 BTU Price / Book Value data by YCharts
As you can see, Peabody Energy is not the cheapest one if compared by P/B metric. It is important to remember that no metric is a silver bullet, and you should note take such results as an immediate call to action.
The last metric that I would use when examining whether Peabody Energy has significant differences from other coal companies would be a liquidity ratio called current ratio. It compares the current assets of a company to its current liabilities. With the industry facing headwinds, such as the coal industry right now, liquidity is very important for the companies.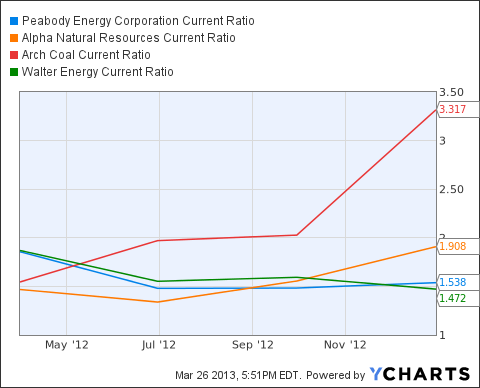 BTU Current Ratio data by YCharts
Peabody Energy does not stand apart here either. I think that separating Peabody Energy as a distinct stock in the coal industry is a misconception. Although each company has its own story, its personal strengths and weaknesses, they all face the same problem - low coal prices. I would wait to see the economic recovery pick up and coal prices to rise before making serious bets both in the Peabody Energy and the whole coal industry.
Disclosure: I have no positions in any stocks mentioned, and no plans to initiate any positions within the next 72 hours. I wrote this article myself, and it expresses my own opinions. I am not receiving compensation for it (other than from Seeking Alpha). I have no business relationship with any company whose stock is mentioned in this article.