Noble Energy (NYSE:NBL) recently concluded the Leviathan 4 appraisal well which is under the Rachael license, raising the natural gas estimate from 17 trillion cubic feet to 18 TCF. The Leviathan 4 appraisal well was drilled 16,992 feet deep which came across 454 net feet of natural gas pay in multiple intervals. This well happens to be the thickest net pay of all the wells drilled at Leviathan to date. However, the partner approval is yet to come through and meanwhile the Ensco 5006 rig is to be relocated to the Karish prospect under the Alon C license. At the Karish prospect there is a pre-drill gross mean resource estimate of 3 TCF which will reach its total depth in the second quarter. In this article, I will focus on Noble's developments in the Eastern Mediterranean and discuss how they will benefit investors in the long-term.
Noble in the Eastern Mediterranean
In 2011, Noble Energy helped Israel to discover huge oil reserves off the Coast of Cyprus which lies in the twelfth block of the Exclusive Economic Zone. These natural gas reserves were called "Aphrodite" with deposits amounting to 991 billion cubic meters. Turkey being a neutral stable country with a sincere governing body ruling did not interfere with its neighbor's trade treaties. But tension between Turkey and Cyprus only got stronger with the finding of the gas reserves.
With the discovery of additional oil reserves in Leviathan, Noble Energy and few more of the Leviathan partners are still in negotiations with Woodside Petroleum (WPL) for a probable partnership. Noble Energy has future plans of spending $400 million in 2013 in the Eastern Mediterranean operations.
Importance of a Stable Israel for Oil Business
Israel will soon become the sought out country for oil production companies to invest in. The country's reserves are estimated to hold 250 billion barrels of oil shale reserves (according to the World Petroleum Council) which is almost equal to the amount of reserves Saudi Arabia is estimated to be left with. It is a known fact that the reserves in Saudi Arabia and Persian Gulf are getting harder to extract and Israel will be the new energy producing country for the world. Western Europeans are already viewing Israel in a new light, strategizing and planning better partnership deals.
The exploration of the third major gas discovery in December 2011 by Noble Energy in the Eastern Mediterranean, offshore Cyprus Block 12, estimated a gross mean resource of 7TCF. Again, in February 2012, more reserves were discovered offshore Israel at the Tanin Prospect. In total, there are six new gas fields in the Levant Basin that have been discovered by Noble Energy and its partners, which amount to an estimate of 35 TCF.
Noble Energy will not be the only firm vying at the opportunity to invest in Israel. Further to the discovery of these oil reserves, Israel is keen on inviting foreign investments to make the best use of these findings. With less resources and low technology, oil production can be accomplished at 100%, resulting in wastage of resources.
Fundamental Impacts of the Eastern Mediterranean on Noble
Natural gas prices are increasing in the U.S. dramatically. At $4 per thousand cubic feet of natural gas, the price has increased by almost 73% since last year. Noble had announced that its Leviathan 4 field contains 17 trillion cubic feet of natural gas. Now, it has upped that estimation by 1 trillion cubic feet to 18 trillion cubic feet, worth $72 billion at current rates and an increase in $4 billion from previous estimates.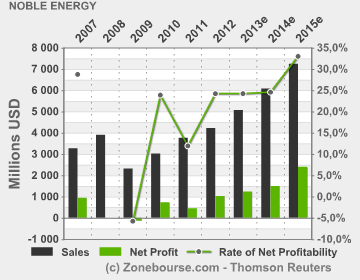 The projects in Israel will help Noble to cash in immensely as net profits are expected to increase almost 30% by 2015.
The companies which are most likely going to be a compete with Noble Energy are companies like Chevron (NYSE:CVX), Shell (NYSE:RDS.A), Exxon Mobil (NYSE:XOM) and British Petroleum (NYSE:BP). These companies are not far behind and they will stand neck to neck to be a part of Israel's energy reserves. Currently, Noble Energy is but the company which investors should watch out for.
Chevron has always been exhibiting exceptional record highs in its earnings growth. The company has increased its earnings per share 6 times and has increased its equity quadruple times. With the investors backing the company all the time, it has no fear to enter unexplored territories. Unfortunately for Chevron, the company was not as lucky as Noble Energy having invested in Turkey. In a recent development the company had to pay a penalty of $100 million for not going by the terms of the contract in drilling more wells. This the company decided on post failing to obtain any commercial finds in the wells dug up earlier.
Exxon Mobil is yet another oil producing firm which faces only disputes in the country invested. Recently Exxon Mobil representatives and a few Kurdish officials struck luck of finding an oilfield in the most disputed region of Northern Iraq. Kurdistan, an autonomous region, has signed an oil deal with Exxon Mobil but according to the Iraqi constitution, oil contracts found in Kurdistan has to be approved by the Iraqi Government. Since the recent find did not take the said route, Exxon Mobil is in trouble.
Shell signed a deal with TPAO recently for oil explorations further into the Western Black Sea region. Turkey, keen on reducing its import spends on energy reserves, has been inviting foreign companies to explore for oil reserves. So far, there has been no oil reserve found in the Black Sea and Shell is just testing the waters.
British Petroleum has been lucky to be a part of a not so controversial country. Adnoc, which holds a 60% stake in Abu Dhabi Co, recently invited foreign companies to bid for the renewal of operating some of the emirate's largest onshore oil fields. The remaining 40% of the stake is shared by BP, Exxon, Shell, Total and Partex Oil & Gas. Abu Dhabi has more than 90% of the crude reserves in the U.A.E and is one of the very few countries which are open to foreign investment.
At around $115 per share, Noble is one of the most pricey stocks to invest in. However, with a market cap of $20 billion and an enterprise value of $23 billion, it is also one of the largest oil companies in the world. The company has a very impressive price to sales ratio of 5.12 and a price to book ratio of 2.5. With a profit margin of 25.44%, you can expect long-term returns when you invest in Noble. Moreover, looking at the fate of its competitors, I believe investors should buy Noble today as it has planted itself in a business friendly country augmenting its long-term potential.
Disclosure: I have no positions in any stocks mentioned, and no plans to initiate any positions within the next 72 hours. I wrote this article myself, and it expresses my own opinions. I am not receiving compensation for it (other than from Seeking Alpha). I have no business relationship with any company whose stock is mentioned in this article.