This morning's "edition" of Seeking Alpha contained an article by The Swiss Trader on recent melanoma trial data and the impact these data have had on the stocks of Amgen (NASDAQ:AMGN) and OncoSec Medical (NASDAQ:ONCS). As well, Vical (NASDAQ:VICL) was mentioned. With specific reference to Amgen, the article noted that Amgen "…recently announced positive results from its phase 3 clinical trial of talimogene laherparepvec (TVEC), a cancer drug candidate that targets melanoma." TVEC was being studied for the treatment of unresected stage IIIB, IIIC or IV melanoma compared to treatment with subcutaneous granulocyte-macrophage colony-stimulating factor (GM-CSF).
Importantly, what triggered the announcement was a pre-planned interim analysis conducted to assess progress towards determining whether or not the study had achieved statistical significance regarding its primary endpoint: durable response rate (DRR)…the rate of complete or partial response lasting continuously for at least six months. Here, according to the company, a statistically significant difference was observed in DRR: 16% in the talimogene laherparepvec arm versus 2% percent in the GM-CSF arm.
The analysis of the secondary endpoint of the study - overall survival (OS) - is event driven. Put another way, a pre-determined number of deaths must occur before the study will be unblinded. At the time the pre-planned interim analysis to assess DRR was performed, Amgen determined the data evidenced an OS trend in favor of talimogene laherparepvec as compared to GM-CSF.
The drug met its primary endpoint in the trial which evaluated the drug's safety and efficacy in fighting later stages of melanoma against subcutaneous granulocyte-macrophage colony-stimulating factor (GM-CSF). TVEC was found to lead to a complete or partial response lasting for six months or more. The drug candidate had a "durable response rate" (DRR) of 16% in patients treated with TVEC, compared to a durable response rate of 2% in patients treated with GM-CSF. A separate interim analysis also favored TVEC over GM-CSF. That said, the company went on to say that the OS data were expected "to mature" in late 2013, in line with its previous guidance.
The price of Amgen's stock rose on the release of the study's news.
Interestingly, Vical finds itself in much the same position. As I previously reported, in a press release Wednesday morning, November 7, 2012, Vical Incorporated announced that a comprehensive sweep of all active clinical sites in its Phase 3 Allovectin melanoma trial - done to eliminate any time lag in death event reporting - confirmed the target number of events in its Phase 3 melanoma had not been reached. While the corporation would not reveal the target number of death events, the release did indicate a moving average study of the monthly event rate caused management to revise its projection for reaching the target number to mid-2013. The stock immediately sold off more than 10%, helped more than likely by the market's current focus on the US "fiscal cliff" and renewed concerns over the European debt crisis at the time (apparently a never-ending concern!).
One of the questions I repeatedly am asked is why Vical hasn't released the top-line results for their trial pertaining to the primary endpoint: DRR. After all, the company has been working for some time on the radiographic records needed to assess the data. The fact is, the Phase 3 Allovectin trial is a relatively small study designed with sufficient power for assumed final results. No provisions were made for an interim "look." Put another way, an interim analysis would be insufficiently powered and could lead to erroneous conclusions. That is the reason the company did not build any interim analyses into its trial design except for periodic safety checks.
That was not the case, however, in the Amgen trial. Which raises some interesting questions. Note that Amgen has not revealed how large a statistical penalty will be imposed on their final results as a result of the interim analysis. Note, also, that they claim only a trend on the overall survival secondary endpoint, strongly suggesting that they may not have met statistical significance yet. If that is the case, given the limited time remaining before the projected completion of the trial and the potential statistical penalty, their final results may be very close to the margin between significant and not. At this point, all we can do is wait ... for both the Amgen (expected late 2013) and the Vical (expected mid-2013) trial results.
Technical Analysis
The Daily chart, courtesy StockChart.com, shows Amgen's stock on a real tear. The stock gapped in late February (breakaway gap?) and now is approaching $100/share. The Relative Strength is overbought and the MACD is positive.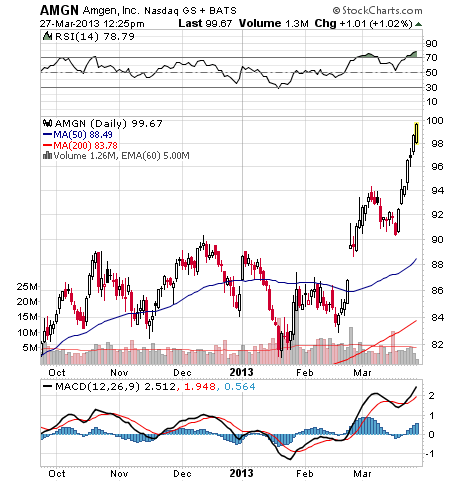 The daily chart for Vical shows the stock, after jumping in early March and correcting some, now rising again towards the early March high. Relative strength is high, and the MACD is neutral, though it appears to be turning positive.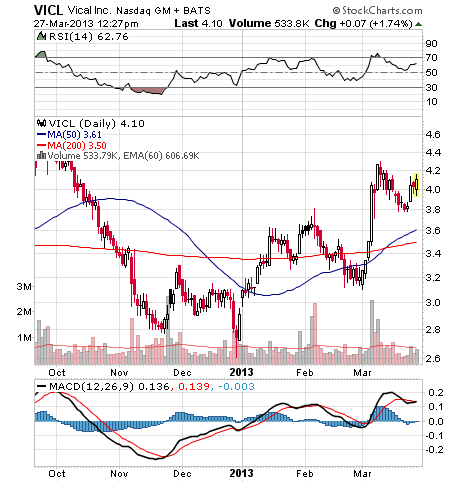 Disclosure: I am long VICL. I wrote this article myself, and it expresses my own opinions. I am not receiving compensation for it (other than from Seeking Alpha). I have no business relationship with any company whose stock is mentioned in this article.
Additional disclosure: I am long VICL. I am not a registered investment advisor and do not provide specific investment advice. The information contained herein is for informational purposes only. Nothing in this article should be taken as a solicitation to purchase or sell securities. Before buying or selling any stock you should do your own research and reach your own conclusion. It is up to investors to make the correct decision after necessary research. Investing includes risks, including loss of principal.