It is one of the many unsettling side effects of the Fed's zero interest rate policy. Low risk fixed income investors that might otherwise be allocated to FDIC insured bank CDs in a normal interest rate environment are being forced to reach well out on the risk curve in order to generate income. As a result, they may find themselves in securities that may seem rather safe and stable at first glance. But upon closer inspection it can be quickly determined that such investments are fraught with considerable risk. Preferred stocks are one such category where income thirsty investors have been flocking as of late. Unfortunately, these same investors are now sitting on what is effectively an unexploded bomb and they may not even know it.
The iShares U.S. Preferred Stock ETF (NYSEARCA:PFF) is by far the largest preferred stock exchange traded fund with over $11.8 billion in assets. The PowerShares Preferred Portfolio ETF (NYSEARCA:PGX) stands alone in second in the category at over $2.4 billion in assets. For the purpose of this analysis, we will draw upon information from both products to highlight the risks that low risk income oriented investors may unwittingly be taking by allocating to this area of the market.
At first glance, the preferred stock area of the market including their various brethren including fixed rate capital securities offer great appeal. Effectively, investors are offered the opportunity to take one step up the capital structure by owning a security that behaves a lot like a bond with relatively low price volatility, a fixed dividend payment but that also offers the liquidity and price transparency of trading on an exchange. Moreover, many of these higher yielding securities are provided by investment grade rated companies, implying an added level of comfort for the risk averse investor. What is not to love? Alas, quite a bit when it is all said and done.
First, the preferred stock market is highly concentrated in the financial sector. For example, a person that owns the PFF has 87% of their position allocated to financials. Of course, one might dismiss this weighting as nothing to worry about. After all, the U.S. Federal Reserve has repeatedly demonstrated that they will do literal handstands to rescue anything even remotely related to a U.S. financial institution. And this product is, of course, the iShares U.S. Preferred Stock ETF. But this leads to the next problem.
Second, your financial sector exposure is not limited to U.S. financials. What is surprising to many is that roughly 25% of the entire PFF allocation is to non-U.S. financial institutions including familiar names like ING Group, Deutsche Bank, Santander and Royal Bank of Scotland. So for those investors taking comfort in the fact that their U.S. preferred stock portfolio is more isolated from the turbulence that may be erupting across the Atlantic in places like Cyprus, Italy and Spain, perhaps it is more directly exposed than one might first believe.
Third, the preferred stock market is now quite expensive. Although 12-month yields of 5.97% and 6.36% on the PFF and the PGX, respectively, may seem rather attractive in the current environment where the local bank is offering 0.1% on savings and 0.5% for an 18-month CD, the actual yield that you may receive going forward may be less than meets the eye. This is due to the fact that preferred stocks, which are typically callable five years, are currently trading at a considerable premium to par. In the case of the PFF, for example, the weighted average security in this ETF is trading at a 3.52% premium to par. As a result, preferred stocks are currently trading at a price of par plus one-half of their annual coupon for securities that may be called at par in the next few years. And in the case of the PGX, the yield to worst is currently a scant 0.20%. In short, investors are taking on a considerable degree of principal risk for what could potentially be very disappointing results. But that's not the last of it.
Fourth, the preferred stock market is subject to considerable price volatility at times. Over the last four years in the aftermath of the financial crisis, the preferred stock market as measured by the PFF has experienced on three separate occasions sharp declines ranging from -10% to -15% over a matter of a few weeks if not days. In other words, an investor could see nearly three years worth of expected income associated with owning preferred shares completely offset by a decline in principal value that takes place in only a few days.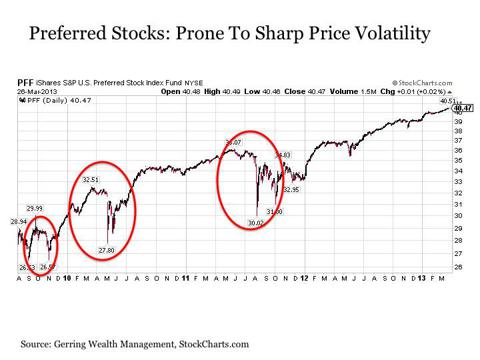 The last and perhaps most disturbing fact associated with the preferred stock market is the potential for a catastrophic decline in principal value. Of course, such an outcome would seem entirely unlikely in the current environment marked by endless central bank rescues. But given the fact that stock and bond investors in Europe are increasingly participating in the losses associated with failing financial institutions, this risk should not be simply dismissed as a non-issue, for there is no telling when the fallout effects from the next financial contagion is suddenly lapping up on U.S. shores.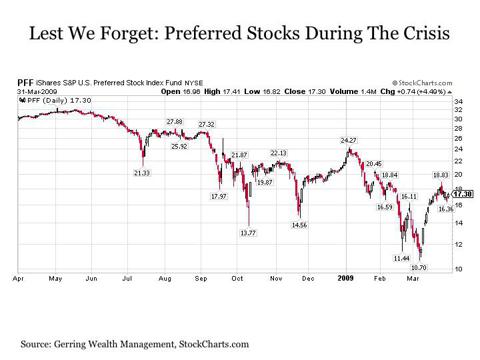 To highlight this point, it is worthwhile to revisit the depths of the financial crisis. As the stock market (NYSEARCA:SPY) tumbled toward the abyss in late 2008 and early 2009, the performance of the preferred stock market was actually worse, falling by roughly -70% as measured by the PFF before it was all said and done. For a low risk investor living on a fixed income, such an outcome is entirely unacceptable, even if such a price decline only proved temporary as prices eventually recovered. This is due to the fact that not only are risk averse investors are completely void of such confidence in a price recovery during the dramatic decline, but there is no telling that prices would actually recover again if such an event were to occur the next time around.
Exploring this point even further, the following is a recap of the prices of some leading preferred stock issuers during the depths of the crisis several years ago. Given the fact that the par value for most preferred stocks is $25.00 per share, the following is a list of prices for representative preferred stocks from late December 2008:
Citigroup Capital XVI: $4.54
Bank of America Capital Trust VIII: $6.57
Wells Fargo Capital XI: $9.69
JPMorgan Chase Capital XVI: $11.36
US Bancorp Capital VII: $10.78
In short, the preferred stocks from both the most relatively stable financial institutions as well as the most dubious were trading at discounts to par ranging from 55% to 85%. And this was not even the worst of it, as prices went on to decline by another 50% in many cases before the bottom was finally reached in the preferred stock market in early March 2009.
Like an unexploded ordinance, preferred stock allocations can exist for years with little notice in providing steady income and relatively low price volatility. But also like an unexploded ordinance, they also have the potential to explode into a violent episode of principal destruction in a matter of days. And while such an outcome is likely remote at present, the recent events in Cyprus serve as a reminder that we are but only one policy mistake away from the next major bout of extreme investment market volatility. And even without a downside risk event, the fact that current prices are at such a premium offers little appeal given the associated level of risk required to take on a broad preferred stock allocation. Instead, investors are better served to select individual names including those that are recommended by several of the preferred stock experts found on SA.
Overall, low risk fixed income investors holding positions in preferred stocks for additional yield are well served to exercise caution and keep a close eye out for unexpected events could suddenly explode onto investment markets with the most unpleasant of consequences for their long range financial plan.
This post is for information purposes only. There are risks involved with investing including loss of principal. Gerring Wealth Management (GWM) makes no explicit or implicit guarantee with respect to performance or the outcome of any investment or projections made by GWM. There is no guarantee that the goals of the strategies discussed by GWM will be met.
Disclosure: I have no positions in any stocks mentioned, and no plans to initiate any positions within the next 72 hours. I wrote this article myself, and it expresses my own opinions. I am not receiving compensation for it (other than from Seeking Alpha). I have no business relationship with any company whose stock is mentioned in this article.