In my last article on MoSys (NASDAQ:MOSY), "MoSys: A Pivotal Announcement During A Pivotal Year" I ended it with potential catalysts. One of the catalysts came true in an expected and an unexpected way. Expected was an initiation of coverage, unexpected was that the initiation and $6.50 price target came from Feltl & Co Securities, and not Roth Capital, nor Piper Jaffray.
Initiation of Coverage
Yesterday, the Feltl and Co technology analyst initiated coverage of MoSys with a Buy Rating and a $6.50 price target. The analyst, who also covers MoSys' potential partner EZ Chip (EZCH), highlighted the disruptive nature of MoSys' technology and believes that MoSys' Bandwidth Engine integrated chip could provide an alternative to current memory. While the report is not available to most investors, here's a brief summary provided by Briefing.com;
"Feltl & Co initiated MOSY with a Buy and $6.50 target. They believe MOSY's bandwidth engine could offer networking OEMs an alternative, overall bandwidth engine adoption has remained tepid to date. MOSY expects to recognize initial revenues from its first generation bandwidth engine during CY13. They believe by CY16 MOSY could generate ~$75- $80m in bandwidth engine revenues, or ~10% of projected SAM. They view MOSY's opportunities with its bandwidth engine as likely longer-term. Based upon their belief MOSY's bandwidth engine may offer an alternative to current memories, and potentially provide long-term growth opportunities which may not be reflected in current share price, they are initiating with a Buy."
The MoSys CEO, Len Perham is not the type to want analyst coverage and be put in the spotlight unless he believed that MoSys was ready to deliver and had something in the bag. I think that Feltl's initiation is a strong signal to investors that something is coming.
Further Coverage
Feltl's buy rating is very positive as it falls on the heels of Benchmark Capital's recent reiteration of its buy rating and price target of $7.50. I still believe that we will see Roth Capital and Piper Jaffray announce initiation of coverage in the near term, though I would not be surprised by another unexpected initiation. You have to remember that Len Perham has created billions of dollars in shareholder value throughout his 30 year career. As such, he has a huge following in the investment world and I believe that many analysts are on the sidelines waiting for the company to announce its first order before throwing their hats in the ring and initiating coverage of MoSys.
Venture Capital
MoSys with its new and disruptive technology, and a CEO experienced at turning small technology companies into multi-billion dollar companies, MoSys has the feel of a technology company pre IPO. If MoSys was going public in the next six months, I believe that it would be brought public by a top institutional bank and would be valued at $10 - $15 per share, or a valuation of $400 - $600 million. You have the opportunity of buying it here sub $200 million valuation.
Chart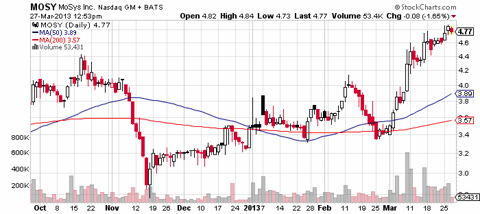 MoSys continues to be a market leader as it made another 52 week high yesterday. I expect to see a continuation of its recent trading action upwards and the next leg should take it to $6.50 which will be highs not seen since January, 2011. With the stock at 52 week highs all the shorts are losing money. We therefore have the potential for any positive announcement to cause a short term rally as the shorts who are natural buyers buy the stock to cover their positions. MoSys has 1.4 million shares short on a float I calculate to be 20 million. This means the short position is really 7%, and I see a short covering rally spiking the shares to $7 - $8.
Catalysts
· Initiation of Coverage - Roth Capital and Piper Jaffray
· Customer Wins - Benchmark Capital's analyst Gary Mobley said he saw a customer win from Cisco Systems (NASDAQ:CSCO), or Juniper Networks (NYSE:JNPR), or Alcatel-Lucent (ALU) as imminent.
· Potential Partners - MoSys has highlighted the following companies as potential partners: Cavium Networks (NASDAQ:CAVM), Broadcom (BRCM), Marvell (NASDAQ:MRVL) and LSI Corporation (NYSE:LSI).
· Second Sourcing - An announcement of a second source partner could be in the next 30 -60 days. Taiwan Semiconductor is the first source.
Conclusion
In all my years on Wall Street, I have found that the surest way to make money is to follow smart money. I invested alongside Steve Jobs, and now I'm investing alongside Len Perham who has delivered before. Let smart money tell you when to get in and out of the stock. That said, I see no reason why anyone that reads this or my other articles on MOSY doesn't add to the shares or initiate a position that is suitable to ones speculative allocation. To me, the smart money, Len Perham, has bought shares 3 times in the open market, brought 3 new chips to market and now has institutional awareness heating up which can only mean there's more reward than risk at this juncture. As a result, I added more shares today and yesterday on the high likelihood that another catalyst(s) comes in the near term.
Disclosure: I am long MOSY. I wrote this article myself, and it expresses my own opinions. I am not receiving compensation for it. I have no business relationship with any company whose stock is mentioned in this article.