For the past 4 months since mid November 2012, the markets have been on a tear, with the S&P 500 (NYSEARCA:SPY) up 14%, Dow Jones (NYSEARCA:DIA) up 16%, and Nasdaq (NASDAQ:QQQ) up 14%. Thirteen out of the past 16 weeks have been up for the stock markets. Is the market due for a correction? Below, let's look at a few early warning signs that could indicate that the markets may be due for a pullback.
Consumer Confidence
The Consumer Confidence Index fell sharply by 8.3 points in March 2013, down to 59.7 compared to 68.0 in February 2013. Lynn Franco, Director of Economic Indicators at The Conference Board, stated the following:
Consumer Confidence fell sharply in March, following February's uptick. This month's retreat was driven primarily by a sharp decline in expectations, although consumers were also more pessimistic in their assessment of current conditions. The loss of confidence, particularly expectations, mirrors the losses experienced this past December and January. The recent sequester has created uncertainty regarding the economic outlook and as a result, consumers are less confident.
How confident people feel about the economy and their personal financial situation determines their spending activity. When confidence is low, consumers tend to save more and spend less (or delay purchases). The significant fall in confidence in March is a concern.
Oil Demand
Total U.S. petroleum demand fell 4.1% in February 2013, compared to the same month a year ago. This is the lowest February level in 20 years (since 1993). This follows a decline of 1.7% in January 2013, which was the lowest January level in 18 years. API Chief Economist John Felmy said the following in the February report:
Declining numbers for most of the key products isn't consistent with a robust recovery. Although there's been some encouraging news on employment and manufacturing, fuel demand is an important indicator of where the economy is - and it's headed in a different direction.
Oil demand is an indicator of economic activity. When oil demand begins to slow, it could very well mean economic activity may be slowing as well. Note, some may argue slowing demand may also be due to higher fuel efficiency engines (cars, airplanes, etc.) and alternative energy substitutes (natural gas, solar, wind, etc.).
Construction Equipment Sales
On March 20th, Caterpillar (NYSE:CAT) reported global equipment sales fell 13% in the three-month rolling period ended February 2013, compared with a 4% decline in the period ended January. North America was down 12%, Europe was down 9% and Asia Pacific was down 26%.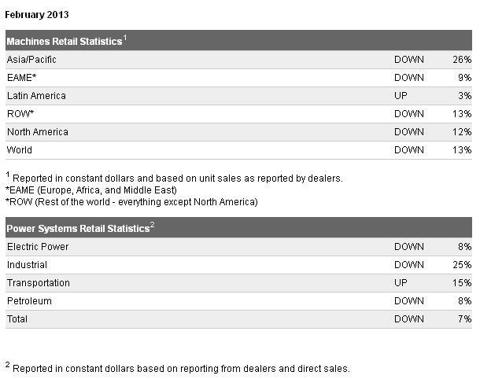 In January 2013, Caterpillar reported a 55% drop in fourth quarter profits compared to previous year quarter. Caterpillar is the world's largest maker of construction equipment. When their sales begin to slow, I tend to pay attention.
Transportation and Logistics
On March 20, FedEx (NYSE:FDX) reported its latest quarterly earnings that fell short of analysts' expectations due to weakness in international air freight market and consumers chose less expensive and slower services. FedEx reported third quarter earnings of $1.23 per share, compared to analysts' expectations of $1.38 per share. Frederick Smith, FedEx chairman, president and chief executive officer, said the following:
The third quarter was very challenging due to continued weakness in international air freight markets, pressure on yields due to industry overcapacity and customers selecting less expensive and slower-transit services.
Conclusion
The markets have had a great run in the past 4 months, overcoming various issues including ongoing U.S. debt issue, ongoing euro crisis, and the latest Cyprus issue. The recent warning signs listed above have me concerned that a pullback may be near. I have shifted 80% of my portfolio to cash, with just 20% in equities. This may be extremely conservative and extreme, but I'm happy with the recent gains provided by the markets in the past 4 months and am content to realize those gains. I can't be too greedy, pigs get slaughtered.
Disclosure: I have no positions in any stocks mentioned, and no plans to initiate any positions within the next 72 hours. I wrote this article myself, and it expresses my own opinions. I am not receiving compensation for it (other than from Seeking Alpha). I have no business relationship with any company whose stock is mentioned in this article.