One of my investor friends told me, "It's crazy … " And he was talking about the stock price rise of Nationstar Mortgage Holdings (NYSE:NSM) for the last year. It was reported at over 157%! Of course, it has been cited as one of the three top performing IPOs with around a 121% increase in shareholders' equity.
With a servicing unpaid principal balance (UPB) portfolio of $300 billion as a result of recent acquisition of $97 billion UPB servicing portfolio from Bank of America (NYSE:BAC), Nationstar is going pretty strong at the moment. Another remaining $120 billion would complete purchase from BofA by end of the second quarter.
Although Nationstar seems to be a "star" at the moment, should you bet on it?
Let us see what the analysts have to say.
Zacks lowered shares of Nationstar Mortgage Holdings from an outperform rating to a neutral rating in a research report released on March 13th this year, with a price target of $44.80 on the stock. FBR Capital analysts reiterated an outperform rating on shares of Nationstar in a research note to investors on March 8th, with a target price of $45.00 price target on the stock. Finally, Sterne Agee analysts reiterated their buy rating on Nationstar on January 24th, with a target price of $47.00 on the stock.
Nationstar is currently trading at $35.82 (at the time of writing this article). So you can still make money on the stock. However, Francis Gaskins of IPODesktop.com wrote that "So investors are going to bet that NSM can continue to make lots of money from holding mortgages for sale? That bet does not seem prudent in this troubled economic climate."
Okay, so how troubled is the climate?
The very first thing to note is the increasing single-family home sales since 2011. It goes to show that people are again onto buying real estate properties as their primary investment. Remember, Americans always held real estate far over stocks and funds as their preferred investment option. And that trend is up again.
And why should it not be? U.S. housing affordability, which depends on the current low mortgage rate, the rising median household income and cheap median house price, indicate that the real estate sector is in a nice position to be exploited by investors.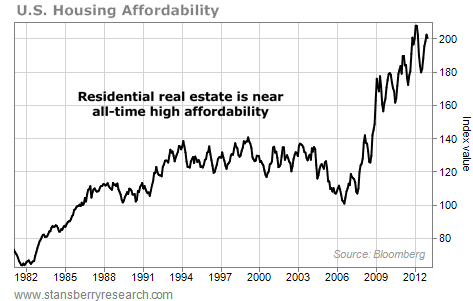 And these sales would continue as long as the median housing price does not match the housing fair value derived mathematically from the current economic variables. The median existing home price in America today is $180,000, far lower than the fair value of $265,000.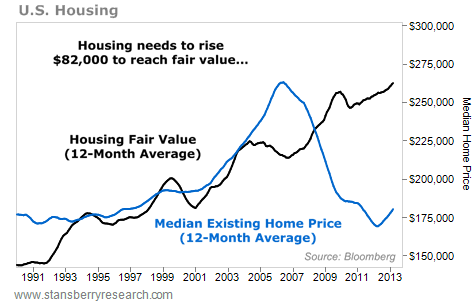 So, what do these stats have to do with Nationstar? More housing sales mean more mortgage applications. More mortgage applications equate to higher servicing fees. And that is where Nationstar comes in. If the current housing trend goes on in U.S., Nationstar's future revenue is expected to soar in the next couple of years.
It must be remembered though that there are still some risks attached to it.
Nationstar is a small player in a big industry with some real giants in there. Yet, as of Dec. 31, its delinquency and default rates on non-prime mortgages serviced on behalf of investors in asset-backed securities were each 40% lower than the peer group average, according to its prospectus. The company says its performance has helped it win major servicing and sub-servicing contracts from large financial institutions and government organizations, often on a repeat basis. This "high touch" service is what might take Nationstar forward.
Another reason why Nationstar might face a setback is due to the heavy government regulation of the foreclosures in recent times. Higher regulation means higher compliance costs and delays, resulting in lower revenue and lack of working capital. This is where the "big" factor plays a huge role. Not to mention the fact that the business in itself is risky, dealing with high-risk loans, leading to higher delinquency and default rates.
To offset these servicing runoffs, the company is focusing more on Solutionstar Settlement Services, which through its online real estate marketplace program will simplify and solve the total existing homes buying, selling and financing questions. The Solutionstar business' REO unit managed the sale of over 2,600 homes in Q4 2012. Solutionstar plans to significantly expand the REO management business in 2013, as REO properties under management are expected to significantly increase with the closing of the private-label MSR portfolio acquisitions from Bank of America.
The company announced the pricing of $400 million aggregate principal amount of 6.500% Senior Notes due 2021. The 6.500% note rate is lower than the financing cost of previous senior note pricings of 9.625% and 7.875% in April and September last year. The refinancing of debt by the company will probably decrease interest expense, leaving in room to absorb any future shock.
Another thing to note is that total originating fees were higher than total servicing fees by over $13 million in December, 2012. This makes me hope that the risk realized in the servicing business might be offset by the income from the originating business.
To sum it up, you must know that you are investing in a risky business when you are putting your money on Nationstar. But then again, loan servicing is a multi-billion dollar industry and with economic indicators pointing towards progress (even if little), this can still make you money.
Disclosure: I have no positions in any stocks mentioned, and no plans to initiate any positions within the next 72 hours. I wrote this article myself, and it expresses my own opinions. I am not receiving compensation for it (other than from Seeking Alpha). I have no business relationship with any company whose stock is mentioned in this article. Please consult your personal financial adviser before taking any investing decision.