Apple (NASDAQ:AAPL) faces a tough battle for its push to increase smartphone sales in the emerging markets. China, which is arguably the largest emerging markets country, hosts a majority of the companies that are pushing to compete against industry giants in the smartphones market. Generally, the emerging markets are very popular with feature phones, and low-end smartphones.
In a recent article, I discussed briefly, about Apple's rumored cheaper iPhone presumably meant for the emerging markets, with a keen focus on china. The world is rapidly migrating to adopting the use of smartphones, and China's Huawei Technology is scoring big in this paradigm shift. Samsung Electronics, ZTE, and Sony (NYSE:SNE), are all well positioned, but in terms of low-end smartphones and tablets, Huawei has the edge. This is a great advantage for the China-based company, as a majority of the world's population is within the middle and low income category.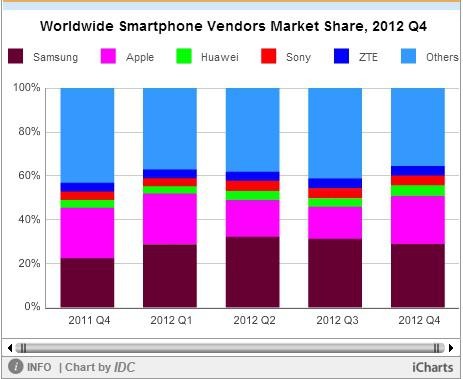 According to data from IDC, the most recent quarter ranking in terms of global smartphone shipments puts Huawei in the third place behind Apple and Samsung.
One point to note though is that a majority of Huawei's sales were driven by low-end smartphones. Contrary to its competitors, Huawei smartphones prices range from $60 to about $400, with a majority retailing below $200. The only expensive piece is Huawei Honor, which retails at about $880.
Apple needs Huawei for the battle in the emerging markets
This is unthinkable to some, but the result could yet prove the secret ingredient in Apple's plans for the emerging markets. Apple has been working tooth and nail to penetrate the Chinese market in full force. The company has done incredibly well with the iPad's business unit, but not as it would have liked with its iPhones.
Repeatedly, CEO, Tim Cook has expressed that China could become Apple's biggest revenue contributor in the coming years, and this is indeed, somewhat replicated by the amount of investment the iPhone maker has done in the country. Apple is building a huge research facility in China, which is seen as the foundation for its future innovations.
The government of China seems to be repellent to Apple's advancements towards launching the iPhone 5 with the country's largest carrier, China Mobile, the state owned telecommunications giant. China is known to be very rigid when it comes to approval of such deals. The likes of Google (NASDAQ:GOOG) and Facebook (NASDAQ:FB) have also received resistance in China, in their quest launching their businesses in various capacities.
Huawei will not cost much
With a market cap well below $2 billion, buying Huawei will be nothing much, but a rounding figure for Apple, which has approximately $137 billion worth of cash. The biggest question is likely to be associated with shareholder reaction. In another recent article, I did reveal that Apple could be planning to disburse some of its cash to shareholders, either by ticking the dividend or share buybacks, among other channels. Obviously, investors would be a little concerned about the way the company spends the cash hoards. But again, if Apple would like to maintain its brand as a developer of top notch products, then coming up with a cheaper iPhone might not be the right option. People talk of "coming down to earth", but sometimes this gesture is limited, especially when brand recognition comes into question.
Huawei has already established a niche as the preferred choice when it comes to low-end smartphones. It is Apple's avenue to wrapping up the elusive market segment in its portfolio. Recent statistics indicate that only 25% of global mobile phones are smartphones, with the rest being feature phones, and simple mobile phones. So, there is a 75% out there for everyone.
Why would Huawei sell?
The company's performance has been characterized by low margins, with recent results also suggesting a fall in revenues generated. According to data obtained from Reuters, Huawei's gross margins stand at about 21% compared to the industry average of 41%, while sector average is at 29%. The acquisition of the company by Apple would boost the overall gross margin without necessarily damaging Apple's margins, which are within the 40% mark, or thereabouts. Since the company is still small, its impact on Apple's margins would be minimal.
The Bottom Line
The reason why Apple should acquire this technology company is basically, the probable addressable market, which is bound to increase. There are no immediate significant benefits in terms of revenue, given that Huawei has yet to breach the $500 million in quarterly revenues.
In the most recent quarter rankings, Huawei shipped about 10.8 million smartphones or approximately 90% growth year-over-year, the highest rate by any company. This is a clear indication of the company's growth prospects, given the correct support.
Apple has all the facilities, whether it's cash, technology, patents and more, to support this growth, and indeed cement its place as the king of low-end smartphones. In return, Apple would be adding yet another business unit to its impressive portfolio and for the right reasons. Lowering the quality of the iPhone as we know it would sound like giving in to price competition, which has never been Apple's game. After all, the stock attracts a strong contingent of buy ratings, with price targets upwards of more than 35% of $460. So, why come up with a low quality iPhone?
Disclosure: I have no positions in any stocks mentioned, and no plans to initiate any positions within the next 72 hours. I wrote this article myself, and it expresses my own opinions. I am not receiving compensation for it (other than from Seeking Alpha). I have no business relationship with any company whose stock is mentioned in this article.