To become one of the largest energy MLPs by market cap, Williams Partners LP (NYSE:WPZ) has aggressively added assets to grow both it size and also the distributions to investors. In 2012, Williams Partners suffered a setback on the commodity price dependent side of its business, posting lower results for the year. In response, the company has redoubled its efforts to generate a larger portion of the fee based business.
Note: MLP companies such as Calumet Specialty Products have units and pay distributions. The words stock, shares and dividends may be used here with the understanding that the rules of MLP units apply including the tax consequences of investing in MLP units.
Business Overview
Williams Partners divides its operations into two main businesses:
The company owns three major interstate natural gas pipelines serving Florida, the Eastern seaboard and Northwest U.S. For 2012, the pipelines accounted for about 1/3 of what Williams calls consolidated segment profits. Pipeline revenues are 100% fee based.
The midstream business "provides natural gas gathering, treating, and processing; deepwater production handling and oil transportation; and NGL fractionation, storage and transportation services; and olefin production" (from the most recent earnings report). Revenues from the midstream are a combination of fee based and commodity sales. The commodity price results come from the sale of NGL fractionation products.
2012 Setbacks
In 2012, the prices for NGL products decreased significantly, and the cash flow for Williams Partners took a serious hit compared to both guidance and 2011 results. NGL margins for the year were down $229 million or 23%. The fourth quarter margins were 46% lower than the year earlier quarter. Although fee income in the midstream gas and liquids segment was up 18% year over year, the segment still ended up producing $227 million less operating profit. Pipeline segment profits were up by $4 million for the year. After undefined adjustments, total consolidated profits in 2012 were $1.849 billion, off $197 million from 2011.
Distributable cash flow for 2012 was $1.49 billion, which provide a 95% coverage on the distributions, which increased every quarter throughout the year.
Growth in Fee Based Business
Williams Partners and general partner Williams Companies, Inc. (NYSE:WMB) have for a while been discussing the company's goal of increasing the portion of fee based revenue compared to commodity based results. 2012 was a graphic demonstration of what can happen to revenues when the formerly high-value NGLs shifted to an over-supplied market and prices fell significantly.
While 2012 was a tough your for the Williams companies, investors should note and management likes to point out that the company has $12 billion of growth capital expenditures for 2012 through 2014. The expansion and new project spending is expected to start hitting the bottom line in 2014, with projected EBITDA 36% or roughly $1 billion higher that the flat earnings posted in 2010 through 2012. The company believes that their NGL margins should be flat for 2013 compared to 2012 and grow in 2014 on expanded capacity.
Investment Value Analysis
Using the midrange numbers for the 2013 and 2014 guidance, Williams Partners expects to increase the dividend by 9% for each of these two years. With flat distributable cash flow for 2013, coverage will drop to 89% this year and climb up to 101% in 2014.
It is interesting to compare Williams Partners to Kinder Morgan Energy Partners LP (NYSE:KMP). Both companies are of relatively similar size and major natural gas pipeline players with Kinder Morgan Partners holding a more diversified business mix. Kinder Morgan is a much more popular stock with investors, and on Seeking Alpha KMP sports 5 times the number of email subscribers as does Williams Partners. Another similarity is both companies' records of steady and strong distribution growth. As a result, the share value of KMP and WMZ both show a 50% gain for the last 5 years.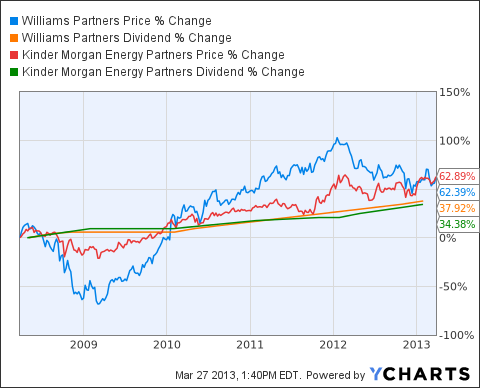 As a rough estimate of total return potential I like to add together the current dividend yield plus the projected dividend growth rate. Williams Partners yields 6.5%, and with a projected 9% growth in that dividend, the total is 15.5% of potential annual return for the next two years. Kinder Morgan Energy Partners has a yield of 5.8% and has projected 7% dividend growth for a total of 13.8%.
The trade-off is that Kinder Morgan is such a well-run company that is it probable the company will exceed the published expectations and reward investor expectations. In contrast, Williams Partners has been able to reward investors with a nicely growing dividend, but in the next few years the cash flow needs to meet and exceed that dividend growth in the near future to build a higher level of investor confidence. I think that right now Williams Partners provides some potential return advantage over Kinder Morgan Energy Partners, but no one should be dumping KMP shares to buy WPZ. Put some additional cash looking for a home into Williams Partners.
Disclosure: I have no positions in any stocks mentioned, and no plans to initiate any positions within the next 72 hours. I wrote this article myself, and it expresses my own opinions. I am not receiving compensation for it (other than from Seeking Alpha). I have no business relationship with any company whose stock is mentioned in this article.