Various political risk analysis providers and credit rating agencies generate assessments and ratings for risk exposure in countries around the world. These ratings serve a variety of purposes and are compiled using a host of different methods. In a recent article, we reported on freely available sources that provide such measures for country risk. Using these sources, we proceeded to compile a table that summarized country risk ratings for jurisdictions frequented by U.S.-listed precious metal mining companies.
Since this initial publication of our table, some sources have updated their country risk assessments, and the Canadian Fraser Institute has published the latest edition of its Mining Survey. We would therefore like to provide the present update on our summary country risk table.
For the present edition, we considered jurisdictions with mines operated by the following companies: Barrick Gold (NYSE:ABX), GoldCorp (NYSE:GG), Newmont Mining (NYSE:NEM), Yamana Gold (NYSE:AUY), Agnico Eagle (NYSE:AEM), Kinross Gold (NYSE:KGC), IAMGOLD (NYSE:IAG), Panamerican Silver (NASDAQ:PAAS), and Coeur D'Alene Silver (NYSE:CDE). Additionally, we considered countries with mines that have streaming arrangements with Silver Wheaton (SLW) and Sandstorm Gold (NYSEMKT:SAND). Collectively, these companies have operations, reserves or resources in 29 different countries. Sweden, Greece, Turkey, Mongolia and Portugal were added to the table for the present update. A minimum of five ratings was available for each considered country, which represents an improvement from the first edition. We also modified the rule for computing the compounded rating, which averages all country risk ratings into one final "compounded" score. This compounded rating now reflects the level of risk with values between 0 and 100, with low numbers representing low risk and high numbers representing high risk.
The updated table is shown below. The most recent ratings from the eight sources as referenced in our last article are given for each country, as well as our compounded country risk rating. The countries are ranked from the lowest to the highest risk rating.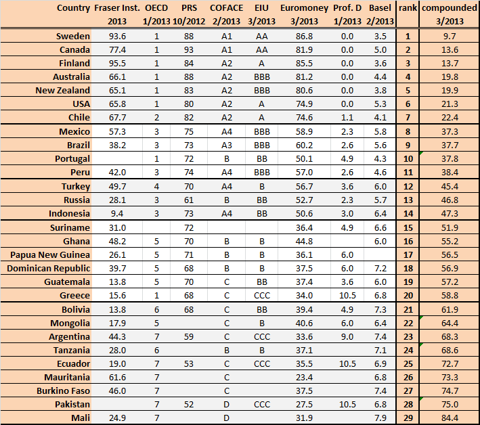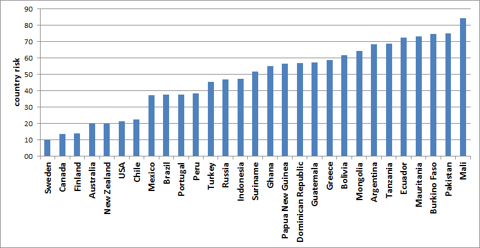 Observations
Sweden was considered for the first time and took first place ahead of Canada and Finland. Other new entries were Portugal (rating 37.8, comparable to Brazil), Turkey (rating 45.4, comparable to Russia), Greece (rating 58.8, comparable to Guatemala) and Mongolia (rating 64.4, comparable to Bolivia).
The greatest increase in country risk rating since the last edition of our table was registered for Mali (+6.8), presumably a reflection of the ongoing military actions in this country. Chile (+2.8) and Burkino Faso (+3.0) also recorded relatively large respective increases in country risk.
Mauritania (-9.7), the Dominican Republic (-6.0) and Bolivia (-4.3) recorded the largest reductions in their country risk rating since the last edition of our table.
Disclosure: I am long AEM. I wrote this article myself, and it expresses my own opinions. I am not receiving compensation for it (other than from Seeking Alpha). I have no business relationship with any company whose stock is mentioned in this article.