Investments go up and down in value. Everyone knows that. But after two years of more or less continuous increasing prices for municipal bonds and municipal CEFs, it is easy for investors in these categories to be "shocked" that these investments have come down so much in price lately. While most muni investors think of themselves as buy and hold investors who are primarily focused on yield, there is still something troubling about watching your investments' values fall day after day. While no one has the "true" answer for why these investments have been declining in value recently, there are surely several factors that have contributed.
First and probably foremost, muni prices have been coming down because investors are pulling money out of munis and putting it to work in other areas. In the last 3 weeks, investors have pulled roughly $550 million out of muni CEFs and other funds and put it into cash, equities, and other bonds. Now there are two important caveats that go with this point. First, the muni CEF market is roughly $600 billion, so $500 million being pulled out is truly a drop in the bucket. However, this withdrawal of funds has come at the same time as an increase in municipal bond issuance. As the diagram below illustrates, this increase in supply, combined with a drop in demand has led municipal bond prices to fall. (This may actually be a good thing for muni CEFs in the medium term, but that is a subject for another article altogether.) This withdrawal of funds is probably prompted in part by the gains in the stock market, and by the fact that municipals usually see outflows in the spring as wealthy individuals (the primary holders of muni bonds) sell stable assets to pay taxes. This withdrawal is a little stronger than the normal seasonal withdrawal, but that may be driven by the strong gains in the stock market last year, leading to larger tax bills.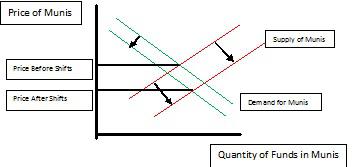 Second, there has been a lot of has been a lot of talk about a "Great Rotation" out of bonds and into equities. Many, many analysts and market commentators are quite convinced that the 30 year rise in bond prices (fall in yields) is now finally over, and that enormous numbers of investors are about to abandon the fixed income markets and begin investing in equities. Thus far, there has been limited evidence of that in the broader bond markets. Taxable bond funds have taken in more than $16 billion in funds during the month of March, suggesting that investors in bonds in general are not exactly running for the exits. At most, the argument could be made that so far, investors may be putting a little less into bonds in general than they used to invest monthly. That said, municipals have definitely seen outflows, as I mentioned above. While it's possible that the Great Rotation is limited to munis and not other bonds, this seems unlikely. I know I will get some comments from readers crying out earnestly that inflation is about to spike any day and the Fed is bound to begin raising rates next month, but frankly, neither of those risks looks imminent. While rates and inflation will probably go up eventually, its likely to be a couple of years before they do (and if Europe blows up, it may be longer -- see my article on the Cyprus debacle for more on this). That said, some investors may be trying to get ahead of the curve and take their money out now. If so, then this should help offset any eventual price declines around future rate increases since yields will be more competitive. However, since even variable rate funds like (NYSEARCA:VRD) and (NYSEARCA:PVI) have seen small outflows, it is unlikely that the broader outflow trend is driven entirely by concern over future rate increases. (Obviously variable rate funds will benefit from increases in rates.)
Third, current events may be driving some of the market concerns. Detroit and the ongoing debacle there has been in the news a lot lately, and some investors may be concerned that there are other Detroit-type issuers out there just waiting to explode. Historically, defaults on munis have been very, very low (see my blog for more on this), but it's always possible that we are about to enter a very unique phase in the history of munis.
The other current event of some concern is the possibility that municipal bonds lose some or all of their tax exempt status. Obama was purportedly interested last year in capping the tax deduction for munis at the 28% tax bracket (according to the WSJ and Bloomberg) as a way to raise more in tax revenue, but the proposal went no further than being an idea. It is possible that Congress could decide in the future to make this kind of tax exemption cap part of future tax reform legislation. If they did, it would be a complete and total disaster for muni bonds. That kind of action would almost certainly cause prices to plummet overnight, and it would probably effectively cripple the ability of towns and cities to issue new bonds going forward. Given the impacts it would have at the local and state levels, Congress would literally have to be dumber than a bag of rocks to push a proposal like that through, but then again, Congress is rarely accused of being intelligent or logical. Again, legislative changes on municipals seem unlikely (and would surely be challenged in court), but some investors may be worried nonetheless.
The following funds all saw significant outflows (greater than 0.1% of assets) in February and March. Thus, for those interested in new muni investments, these funds may offer better opportunities than some others. Prices on most of these have come down between 2 to 10% over the last month, which has made most yields on the securities higher than they have been in months. Muni CEFs include: (NYSE:BFZ), (NYSE:BJZ), (NYSE:MUC), MYC), (NYSE:MCA), (NYSE:BFO), (NYSEMKT:BZM), (NYSE:MNE), (NMO), (NMA), (NYSE:NMZ), (NYSE:MHN), (NYSE:MYN), (NYSE:BLH), (NYSE:BSE), (NYSE:BQH), (NYSE:BNY), (NYSEMKT:BFY),(NYSE:MYJ), (MJI), (NYSEMKT:BLJ), (NYSE:BNJ), (NYSEMKT:MZA), (MYM), (NYSE:MIY), (NYSE:MPA), (BPS), (NYSEMKT:BHV), (NYSEMKT:MHE), (NYSE:NUV), (NIO), (NYSE:NAD), (NYSEMKT:NZF), (NPM), (NQM), (NPP), (NQU), (NYSE:PML), (NYSE:PMX), (NYSE:BFK), (NYSE:BTT), (NYSE:IQI), (NYSE:IIM), (NYSE:VMO), (NYSEMKT:VKI), (NYSE:VGM), (NYSE:VKQ), (NYSE:BYM), (NYSEARCA:SUB), (NYSEARCA:SMB), (NYSEARCA:SMMU), (NYSEARCA:MUB), (NYSEARCA:MUNI), (NYSE:KTF), (NYSE:IMC), , and (NYSE:MMU).
Disclosure: I am long NMO, NMZ, NMA, VMO. I wrote this article myself, and it expresses my own opinions. I am not receiving compensation for it (other than from Seeking Alpha). I have no business relationship with any company whose stock is mentioned in this article.
Additional disclosure: I am also long a variety of individual municipal bonds as well as various leveraged variable rate ETFs to hedge myself against future interest rate risk.