Dynex Capital (NYSE:DX) is a mortgage real estate investment trust (mREIT), that invests using leverage to boost returns. The company has both agency and non-agency assets, with the majority of its portfolio (90%) in AAA-rated and or agency MBS. The current quarterly dividend is about $0.29 per share, and like nearly all its mREIT peers, Dynex has a large double-digit dividend yield of about 11%.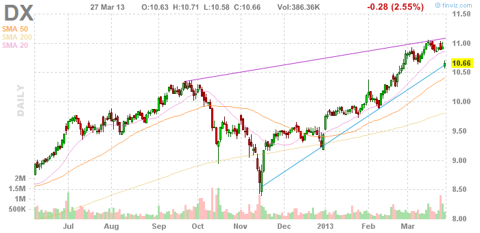 One of the unique aspects of Dynex is in where it chooses to invest. Dynex has a large commercial MBS exposure, with 58% of its equity in CMBS. The company uses interest rates swaps and other hedging tools to manage its risks. In terms of credit risk, Dynex has about 90% of its portfolio in agency MBS. Dynex seeks to only purchase well-seasoned, higher quality non-agency MBS with low LTV. As of year-end 2012, Dynex had a 5.9 leverage ratio on invested equity.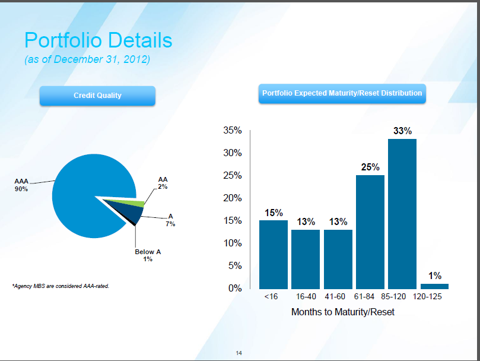 Since 2008, Dynex has provided its shareholders with a stellar total return of over 80%. This total return includes dividends and book value increases. During 2012, Dynex was able to increase its book value 11%, from $9.20 to $10.30 per share. Including the dividend, Dynex provided a total return of over 20% last year. As of January 2013, Dynex had an estimated book value per share of about $10.30.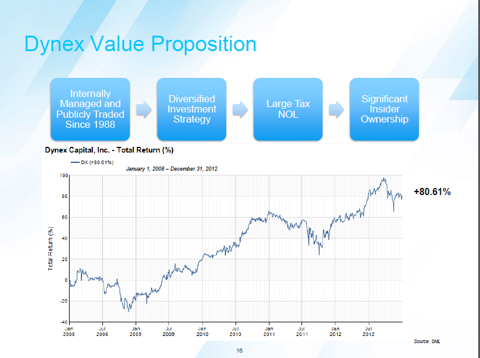 Dynex has seen its total portfolio net interest rate spread contract in 2012. As of year-end 2012, Dynex had a net spread of about 1.93%, with its agency holdings spread at 1.70% and the non-agency holdings spread at 2.95%. Due to the choppy nature of this spread and leverage deployed, Dynex has seen its return on equity ("ROE") fluctuate, ranging from 13.0% to 15.6%.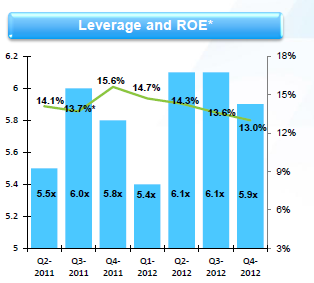 However, even with the lower ROE, Dynex has still generated more in EPS than it has paid in dividends. During 2012, Dynex has seen its EPS range from $0.33 to $0.35 per share while paying out about $0.29 per share in dividends.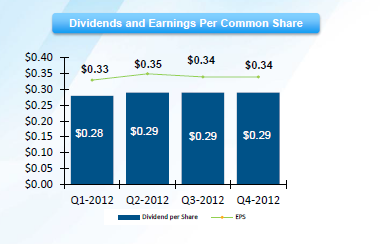 One area of concern I have seen in Dynex is its rather high portfolio CPR. As of Q4 2012, Dynex had a CPR of about 19%. Due to these prepayments, Dynex anticipates that it will need monthly reinvestments of between $40 to $80M. This total is actually less than in previous months, where reinvestments ranged from $700M to $1B. Below are the relevant quotes from the Q4 CC:
If you note on the left, Dynex portfolio CPRs have been relatively steady over the last two years. Here is what's really important. The top line happens to be our hybrid ARM portfolio. We would expect those to be faster than our total agency portfolio, which is the second line, which includes our CMBS product. What's really important, if you want to really think about it, the third line is our total portfolio, which includes agency, non-agency, and gives a reflection of the amount of cash that we get back in any given month. We are happy to say that - we have only been getting back between $40 million to $80 million per month in cash, which limits our overall reinvestment risk. So, we just simply have less dollars than need to reinvest in any given month.

If you move to slide 12, let me give you some reasons why we have limited prepayment risk. First and foremost, we mentioned diversity. In other words, we have not put all of our capital in the residential single family sector. Secondarily to that, where we have diversified, we are very concerned with the amount of prepayment protection we have on those assets. Most of that protection for us has been found in the CMBS sector. As you can see on the left as of December 31, 2012, 83% of our overall premium on the balance sheet is exposed to the CMBS sector with only 17% exposed to the RMBS.
and
We have anticipated monthly reinvestment needs of a very manageable amount. We are not having to reinvest $700 million to $1 billion a month, we've got $40 million to $80 million a month. It's very small, very manageable. That means that we can be picky about the bonds we want to buy and that means that we can get into specific areas that most of our competition can't. We have a current investment portfolio that supports the dividend policy and as owner operators we are focused on long-term shareholder value, we always have and we always will.
Conclusion
Dynex's dividend yield is rather low compared with some of the alternative investments available, such as American Capital Agency (NASDAQ:AGNC), American Capital Mortgage (NASDAQ:MTGE), and Apollo Residential Mortgage (NYSE:AMTG). Except for Apollo, Dynex offers its yield with a lower leverage ratio, which is a function of its net interest spread:
| | | | |
| --- | --- | --- | --- |
| Ticker | Yield | Leverage Ratio | Net Interest Spread |
| DX | 10.9% | 5.9X | 1.93% |
| AGNC | 15.4% | 6.7X | 1.63% |
| MTGE | 14.1% | 6.4X | 2.07% |
| AMTG | 12.7% | 5.1X | 2.70% |
Dynex is an interesting mREIT as it has a much lower leverage ratio than most of its peers and that it heavily invests in commercial, rather than residential MBS. In terms of risk/reward, I would categorize as medium risk with medium returns. Dynex had to increase its leverage during Q4 to maintain a decent ROE, though I suspect the recent rise in interest rates will cause its interest rate spread to improve for Q1 2013. I think Dynex offers a decent risk adjusted return and would buy shares in it if it starts trading at a discount (5-10%) to book value. At current prices however, I would not start a position due to the lower yield compared with other alternatives out there, namely AGNC.
Disclaimer: The opinions in this article are for informational purposes only and should not be construed as a recommendation to buy or sell the stocks mentioned. Please do your own due diligence before making any investment decision.
Disclosure: I am long AGNC, CYS. I wrote this article myself, and it expresses my own opinions. I am not receiving compensation for it (other than from Seeking Alpha). I have no business relationship with any company whose stock is mentioned in this article.
Additional disclosure: I may also buy shares of MTGE over the next 72 hours.