It seems that the lines are becoming blurred these days when it comes to non-listed REITs and publicly-traded REITs. As a matter of evolution, the smaller non-traded REITs have been comparable to "kissing cousins" when it comes to the favored publicly-listed REIT attributes of liquidity and full value transparency.
As part of that evolution, the non-listed REITs - driven by the financial advisors and broker dealers who have embraced the product offerings - have become more focused on "best practices", taking steps to address valuation and liquidity shortcomings. In recent months, several non-listed REITs have created more transparency with "daily-NAV" offerings.
As part of what I call a "forced evolution", non-listed REITs have begun to align with investors and deal openly with the risks associated with the alternative income products. Subsequently, we are now seeing a more recent trend of full-cycle liquidity. Many publicly-listed REITs have "bulked up" over the last few months, thanks in large part to the strong demand in the less volatile non-listed REIT space.
For example, Realty Income (NYSE:O), with a market cap of around $8.83 billion is now around $3 billion larger due to the recent acquisition of American Realty Capital Trust (formerly ARCT). In addition, American Realty Capital Properties (ARCP) with a market cap of around $2.24 billion is considerably larger thanks to a more recent merger with its related non-listed REIT, American Realty Capital Trust III ($2.3 billion in assets). In addition, Spirit Realty (NYSE:SRC) recently announced that it will soon become larger when it absorbs (merges) with Cole Credit Property Trust II (CCPTII), a non-listed REIT with assets of around $3.4 billion.
The Latest Non-Traded Mega Deal
In a recent Seeking Alpha article, Regardless Of The Non-Traded REIT Noise, Defense Always Wins, I wrote about the most recent non-listed REIT "mega deal" in which Cole Credit Property Trust III (CCPTIII) has proposed to merge its related fee-based platform, Cole Holdings Corporation. In a battle for non-listed REIT supremacy, Cole's arch-competitor, American Realty Capital Properties has filed a subsequent counter offer to acquire Cole's 43.1 million square foot diversified property empire. As I explained in the previous article:
Cole has invested considerable time and capital into the proposed merger and now (Nicholas) Schorsch has fired a major torpedo into the base of Cole's operations.
As I wrote (in my previous article), the wave of non-traded REIT liquidity events has been a boom for the sponsors and the latest battle between the two arch-rivals seems to be a tsunami in the making:
It's clear to see that the non-traded REITs have been extraordinary triple-net "asset aggregators." Starting with CCPT III, the company has acquired a diverse portfolio of 1,074 leases. Meanwhile Cole Capital Property Trust II (CCPT II) has acquired around $3.43 billion in assets (2% acquisition fee = $68 million) utilizing debt of around $1.77 billion. CCPT II has announced that it is merging this portfolio with Spirit Realty Capital.
It's true that there has been an encouraging overall trend of full-cycle liquidity; however, there are continued incentivization risks that should be cited. As I explained in the above referenced article:
I have learned that to be an effective writer, I must expose risk. After all, most companies already have advertising agencies to promote their own businesses and therefore it's not my job to provide corporate brochures and make CEOs happy.
Lessons from Charlie Munger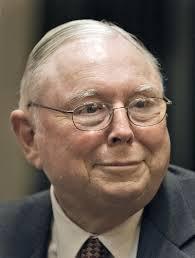 Charlie Munger once said:
A man does not deserve huge amounts of pay for creating tiny spreads on huge amounts of money. Any idiot can do it. And, as a matter of fact, many idiots do do it.
What a simple but true paradigm. The facts are that there are many people today making millions of dollars by simply buying low and selling high. In fact, as investors, we should all have some of that instinct as Sir John Templeton explained:
To buy when others are despondently selling and sell when others are greedily buying requires the greatest fortitude and pays the greatest ultimate rewards.
So how does a non-listed REIT "buy low and sell high?" What are the incentives for managers to create these "idiotic" spreads?
Charlie (Munger) also believes in the presence of the right incentives for managers, an essential and critical element. As he explained:
I think I've been in the top 5 percent of my age cohort all my life in understanding the power of incentives, and all my life I've underestimated it. And never a year passes but I get some surprise that pushes my limit a little farther.
I think Munger has incredible insight when it comes to incentives as he said:
If you want good behavior, don't pay on a commission basis. Our judges aren't paid so much a case. We keep them pretty well isolated with a fixed salary. Judges in this whole thing have come out pretty well - there have been relatively few scandals.
So what's the incentive for American Realty Capital Properties to acquire CCPTIII? There has to be a good reason. To answer that question, let's take a look at Healthcare Trust of America (NYSE:HTA).
Healthcare Trust of America - A Perfectly-Aligned Value Proposition
One of my favorite health care REITs is Healthcare Trust of America. I recommended the pure play medical office building (or MOB) REIT back in June 2012 when the company listed on the New York Stock Exchange. Over the last few months we have seen shares begin to accelerate.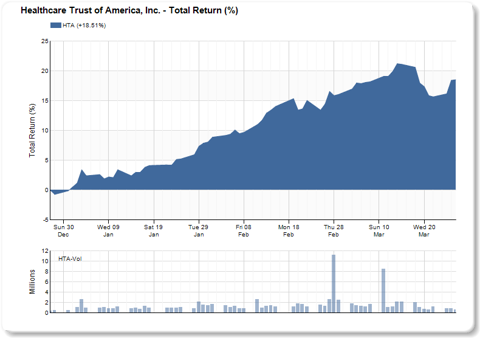 Not only is the company investing in a defensive and growing asset class, but they have a strong and experienced management team that has been aligned with shareholders, despite its history as a non-traded REIT. In fact, they have helped change many of the practices in the non-traded REIT industry.
Like most non-traded REITs, HTA was originally managed by an external sponsor. The sponsor had an incentive to raise capital, put it to work, and eventually sell - earning significant fees along the way. This is an efficient way to manage a young company starting out, but eventually results in conflicts between the company's shareholders and its sponsor (as in the case now with Commonwealth, Cole, and American Realty).
In 2009, HTA became the first non-traded REIT to leave its external advisor and create an internal management team before an IPO or listing event. It did this without paying the sponsor an internalization fee, which could run into the hundreds of millions of dollars (see Cole III's 9 digit proposed payment for Cole Holdings). It also allowed HTA to significantly reduce the excessive fees that were being paid to the sponsor for management services. Note that sponsors do not like to see their fees reduced, unless it helps them raise even more money on which to earn fees!
These monetary fee savings were important to investors, but not as important as the alignment it brought between HTA's shareholders and its management team. HTA's management team was now able to make the tough decisions to buy low (2008-2010), slow down when pricing got higher (2011), and list (2012) when markets improved even more. This would have been difficult to do with a sponsor that was focused on raising as much capital as possible, and putting it to work at once, regardless of market conditions.
As one of the first non-listed REITs to internalize management, HTA has become a prime example of a REIT with aligned shareholder interests. Unlike the other "self-dealing" REITs, HTA has NO such distractions and that is clearly beneficial for shareholders and investors.
On the other extreme, REIT Management and Research (or RMR) is a great example of an unaligned externally managed model that has created an extraordinarily disruptive platform. Shareholders in CommonWealth REIT (NYSE:CWH) are continuing to fight for control as RMR's self-dealing management team destroys the value at the mercy of the Commonwealth owners.
Unlike HTA, CommonWealth management's compensation is tied to unaligned shareholder interests and RMR's external management team has clear conflicts as the advisor is paid a fee to acquire assets. Furthermore, the advisor's conflict is magnified since RMR receives a recurring asset management fee.
Likewise, American Realty Capital Properties is externally managed. Although the management fees are more aligned with shareholders, the incentives for compensation are not. ARCP has considerable conflicts of interest as it directs acquisitions and dispositions along "Chinese walls" where potential assets are aggregated by the same advisor.
It's important to recognize the incentives of a REIT's management team. That could be the difference between "an investment operation that promises safety of principal and satisfactory return". It's also important to recognize the risk-aligned incentive structures as "operations not meeting these requirements" that could be deemed "speculative". As Charlie Munger explained:
When you mix raisins with turds, they are still turds.
At the end of the day, I like raisins but I certainly don't want to eat turds. Likewise, non-traded REITs are not meant for all investors. It's especially important to consider the incentives of the management teams and consider the enormous wealth created at the mercy of the unaligned management teams. This sums up Charlie Munger's thoughts on incentivization:
If a foundation, or other investor, wastes 3% of assets per year in unnecessary, nonproductive investment costs in managing a strongly rising stock portfolio, it still feels richer, despite the waste, while the people getting the wasted 3%, "febezzelers" though they are, think they are virtuously earning income. The situation is functioning like undisclosed embezzlement without being self-limited. Indeed, the process can expand for a long while by feeding on itself. And all the while what looks like spending from earned income of the receivers of the wasted 3% is, in substance, spending from a disguised "wealth effect" from rising stock prices.
In summary, Healthcare Trust of America is incentivized for success. The "pure play" MOB REIT has a focused health care model with an experienced and seasoned management team. Shares are trading at $11.60 per share with a current dividend yield of 4.96%. I expect to see continued growth as the company continues to carve out an impressive value proposition that separates the best from the rest.
Watch out for the other febezzelers (pronounced: fee-bezlers).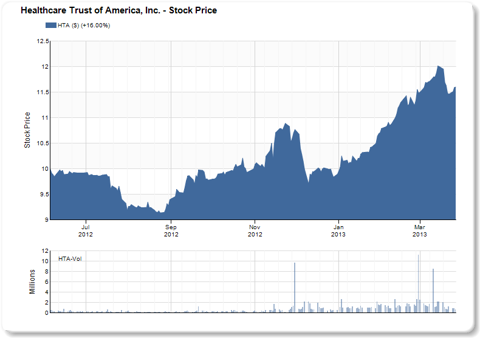 Source: SNL Financial
Disclosure: I have no positions in any stocks mentioned, and no plans to initiate any positions within the next 72 hours. I wrote this article myself, and it expresses my own opinions. I am not receiving compensation for it (other than from Seeking Alpha). I have no business relationship with any company whose stock is mentioned in this article.