Kohlberg Kravis Roberts & Co. (NYSE:KKR) is a global leader in alternative asset management. As of December 31, 2012 KKR had $49B in AUM in the private markets. These private equity investments included natural resources, infrastructure, and real estate. It had $26B in AUM in the public markets. These leveraged credit investments included mezzanine financing, special situations, direct lending, equity strategies, and fund of funds. KKR had $4.8B in AUM in capital markets and principal activities.
For FY2012 KKR generated $2.1B of ENI (economic net income) or $2.90 per unit. This was almost four times the ENI KKR reported for FY2011 of $0.73 per unit. This is fairly straightforward. However, KKR's accounting is very hard to follow as it has huge off balance sheet items. For instance, KKR reported $348 million in net economic income for Q4 2012. This was 45% higher than the ENI in Q4 2011. Still the $348 million figure pales in comparison to KKR's record $546 million in total distributable earnings for the quarter. The explanation for the huge discrepancy is apparently off balance sheet items.
Many investors worry that off balance sheet income means shady accounting. Enron was a company that was famous for its shady off balance sheet accounting. However, that does not have to be the case. In many cases complex structures can simply be imposed in order to shelter the parent company from possible losses in risky, less than 50% owned companies. If you consider that KKR's management is among the best in the world, you may find it easier to accept the risk of these effective subsidiaries. They are often run by management from KKR.
KKR's private equity funds testify more directly to KKR's out performance. They were up 24% in 2012. This was substantially ahead of the S&P 500 return of 16%.
All told, KKR had total distributed earnings of $1.4B for FY2012. This result was an 80% rise over the FY2011 figure. This was clear out performance by KKR management as AUM at the end of Q4 were $76B and fee paying AUM were $61B. These figures were up only 28% and 31% respectively year over year. Be aware that KKR already has an additional $8B in committed capital for 2013 that is not reflected in the above figures. It is off to a good start in capital raising for FY2013.
The following table summarizes KKR's earnings streams: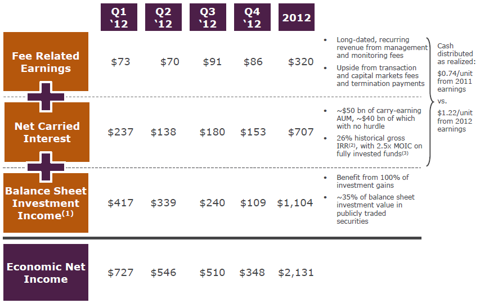 Perhaps of significant importance to investors is that KKR had about $50B of carry-earning AUM. Of this about $40B had no hurdle. Carry funds are usually invested over long periods. The first 4-5 years are usually the investment years. During this period KKR only collects a fee for managing the money. The next few years are the harvesting years. During this period KKR collects a lesser fee; but it also collects about 20% of the profits as the investments are harvested (and the fund eventually closed). Often investors simply move their profits from a closing fund into a new fund, so KKR doesn't automatically lose AUM on a fund closing.
An important point concerning the prospects of future results is that virtually all markets have had huge price rises since the nadir of the last recession in 2009. This means that KKR will likely be harvesting increasingly profitable growth over the next several years. What's great about this is that you as an investor did not have to get into the funds years earlier to reap a part of the growth of those years in profits. You can just buy the stock now to take advantage of the harvesting of those great gains over the next few years. The KKR management likely outperformed the market in those great growth years. When you realize that the odds greatly favor fantastic performance for KKR growth during that time, it is easy to see that harvesting such growth over the next few years (if not longer) will be highly profitable.
I cited a 14.5% dividend in the title. This is a great income incentive on top of the likely stock appreciation. However, the cited figure is not strictly true. That figure is based on the $2.80 annual dividend posted on Yahoo Finance. Yahoo Finance's figure was obviously calculated by annualizing the Q4 dividend of $0.70 per unit. The FY2012 dividend payout was only $1.22 per unit. This is only a 6.31% dividend rate at the current stock price.
The good news is that KKR's dividend has grown dramatically each of the last three years. The distributions for 2010 from Q1-Q4 were: $0.08, $0.08, $0.15, and $0.29 (for a total of $0.60). The distributions for 2011 were: $0.21, $0.11, $0.10, and $0.32 (for a total of $0.74 -- 23.3% growth). The distributions for 2012 were: $0.15, $0.13, $0.24, and $0.70 (for a total of $1.22 -- 64.9% growth). If you ballpark estimate that KKR will grow its distribution by 30%+ in FY2013, you get a likely distribution of about 8.2%, which is quite good, especially considering the stock price appreciation that is also likely to occur. The above is only a ballpark estimate. KKR could easily grow its distribution by much more (or possibly by less).
The two-year chart of KKR provides some technical direction for this trade.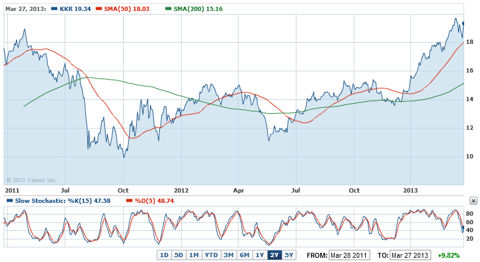 The slow stochastic sub chart shows that KKR is neither overbought nor oversold. The main chart shows that KKR is in a strong uptrend. Currently this uptrend seems a bit overextended. The overall market is overbought. With this in mind, waiting for a pullback in the overall market to present a better buying opportunity for KKR may be a good idea.
Investors also want to consider that the possibility of a US recession in 2013. KKR should still have good profits, but they might be lessened. Plus the stock price would likely be dragged down by an overall market fall. Averaging in over the course of 2013 seems a good strategy. That way investors should end up with an overall good entry price. Since the profit uptrend at KKR promises to be a multi-year event, this shouldn't seriously impair investors' ability to profit from the trend.
KKR's P/E of 8.75 and FPE of 8.16 tend to substantiate that it is a good bargain. The analysts' mean recommendation of 1.9 (a buy) and the CAPS rating of four stars (a buy) do too. The fact that KKR has beaten analysts EPS estimates by more than 30% in each of the last four quarters tells you analysts are likely underestimating KKR's profit potential. KKR is a buy. If you are looking for a comparable company, look at this review of recent Carlyle Group (NASDAQ:CG) performance. This alternative asset manager also has been doing well for many of the same reasons.
NOTE: Some of the fundamental financial data above is from Yahoo Finance.
Good Luck Trading.
Disclosure: I have no positions in any stocks mentioned, but may initiate a long position in KKR over the next 72 hours. I wrote this article myself, and it expresses my own opinions. I am not receiving compensation for it (other than from Seeking Alpha). I have no business relationship with any company whose stock is mentioned in this article.