The table below includes statistics for the 40 companies in the ETF Innovators Emerging Cancer Diagnostic and Therapeutic Stock Index, which is featured at BioMedReports.com in the health indexes section of the site. The index will track the performance of stocks with market caps below $200M at the inception date of 4/12/09 from a starting value of 2,632.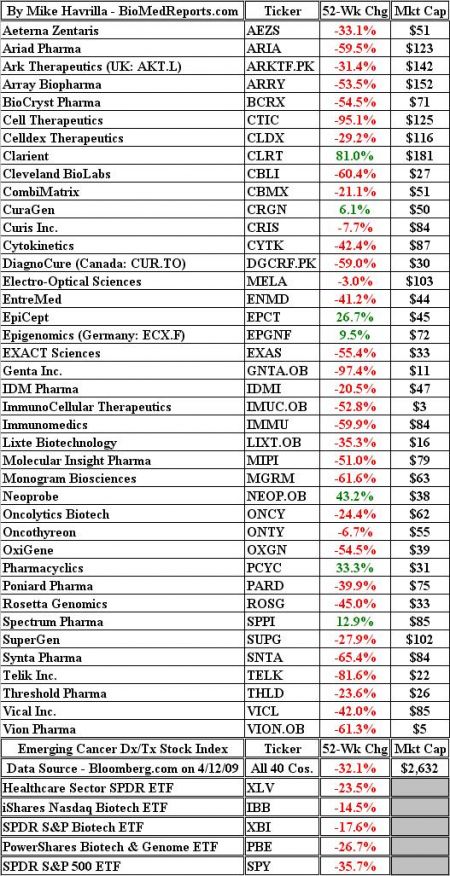 A World Health Organization report released last year estimates that cancer will overtake heart disease as the top cause of death in the world by 2010, which is part of an overall trend that predicts global cancer cases and deaths will more than double by 2030. In addition to the urgent need for safer and more effective cancer treatments; advances in genetic testing and screening have the potential to diagnosis the disease at much earlier stages and can also be used to monitor and guide the treatment process.
The index constituents reflect a cross-section of emerging cancer companies, including (1) diagnostics (molecular diagnostics and device-based diagnostics), (2) lab services (personalized medicine applications to guide and track the effectiveness of cancer treatments), (3) drug discovery (screening and modifying compounds to achieve anti-cancer effects during the early stages of preclinical and Phase 1 clinical studies), (4) immunotherapy (a.k.a. cancer vaccines which are designed to stimulate the immune system to eradicate cancer), and (5) commercial or late-stage (Phase 2-3) clinical development.
While none of these companies may become the next Celgene (NASDAQ:
CELG
) (which looks like a buy trading well off its highs around 40 bucks for less speculative investors in the cancer biotech space); if a company discovers a more effective and/or safer treatment or a better diagnostic screening test the commercial potential is enormous due to the growing, global market and medical need for better treatments and diagnostic tests for cancer.
Below is a breakdown of the index components by category, including links to my most recent articles for the companies which are profiled at BioMedReports.com.
Diagnostics
CombiMatrix
(NASDAQ:
CBMX
) develops DNA MicroArrays for lab-based personalized medicine applications. CBMX already has 12 products on the market (including a test to categorize and guide the treatment for prostate cancer, a breast cancer test, and three blood-based cancer tests). However, the biggest potential for CBMX lies in the development of a comprehensive cancer array, which is designed to be a broad-based, blood screening test for the early detection of a wide variety of commonly occurring cancers.
Electro-Optical Sciences
(MELA) reported pivotal Phase 3 results for MelaFind earlier this year which achieved statistically significant results for the pre-specified clinical outcomes agreed upon with the FDA as part of the largest prospective study ever conducted for melanoma screening. MELA expects to file for FDA approval of MelaFind as a new medical device once the final statistical report is prepared and integrated into a PMA filing. The PMA filing will be given a priority, expedited 180-day review and a FDA Advisory Panel meeting is expected to occur around the mid-point of the review cycle.
While
EXACT Sciences
(NASDAQ:
EXAS
) has proceeded in a backwards fashion in the development of its stool DNA (sDNA) based non-invasive colorectal cancer (NYSEMKT:
CRC
) screening technology; a major cash infusion and deal with Genzyme (GENZ) along with a new management team with a proven track record in clinical diagnostics from Third Wave promise better times ahead for the company.
Third Wave was acquired by Hologic (NASDAQ:
HOLX
) last year for $582M, and the management team now at EXAS led the development through FDA approval for two human papillomavirus (HPV) molecular diagnostic tests in addition to a test for cystic fibrosis. The new team should bring back investor confidence and perhaps analyst coverage of EXAS once their strategic plan is communicated to correct the backwards development of the Company's promising sDNA technology for the average risk population in the detection of CRC.
EXAS managed to gain inclusion in the American Cancer Society guidelines for CRC screening test options before developing a FDA-approved, automated test to fully capitalize on this major commercial opportunity. Thus, LabCorp (NYSE:
LH
) currently markets ColoSure on a homebrew basis with little in the way of sales and this is unlikely to change until FDA approval is secured for the Company's V3 technology.
However, the
deal with GENZ
in February resulted in a $24.5M cash infusion while EXAS retained the rights to a FDA-approved version of its sDNA test for CRC screening. Terms of the deal call for GENZ to acquire select intellectual property of EXAS related to prenatal diagnostics and reproductive health, which were not even accounted for in Sequenom's (NASDAQ:
SQNM
) hostile $1.50 per share tender offer.
With EXAS trading at about 1.3X cash, zero debt, and a bare minimum operating cost structure; the future looks bright for the Company with a new management team experienced in developing FDA-approved molecular diagnostics tests and access to Genzyme's regulatory and clinical development expertise.
Lab Services
Clarient (
CLRT
) is the biggest stock price gainer in the index (up 81% in the past year) and represents a play on personalized medicine through its diagnostic and clinical lab services, which are focused on monitoring and guiding the treatment of cancer to produce better clinical outcomes for cancer therapeutics. By characterizing cancer at the cellular level, CLRT provides vital information to oncologists and pathologists so they can make more informed treatment decisions for a complex disease. CLRT has posted 18 consecutive quarters of sequential revenue growth and recently entered a private placement agreement for the sale of $50M in convertible preferred stock.
Therapeutic Cancer Vaccines (Immunotherapy)
Oncothyreon
(ONTY) is partnered with Merck KGaA (
OTCPK:MKGAY
) for its lead cancer therapeutic vaccine, Stimuvax, which is currently being evaluated in a 1300-patient Phase 3 clinical trial for non-small cell lung cancer (NSCLC) with completed enrollment expected later this year and results in 2011. However, Merck KGaA is expected to initiate another Phase 3 clinical trial for the treatment of another type of cancer, demonstrating their confidence in the compound well before any results for NSCLC are known.
ImmunoCellular Therapeutics
(NYSEMKT:
IMUC
) is developing cellular immunotherapies for the treatment of brain cancer and monoclonal antibodies to diagnose and treat several different cancers. The Company is developing a stem cell cancer vaccine (ICT-121) which targets a protein marker called CD133 which is typically expressed only on cancer stem cells and not on normal cells.
Early Stage Cancer Drug Discovery
Lixte Biotechnology
(
OTCQB:LIXT
) engages in the discovery of anti-cancer compounds to improve the treatment of malignancies with few effective treatment options, such as certain types of brain cancer. Other areas of early-stage, preclinical drug discovery include: (1) improved anti-fungal treatments for patients with compromised immunity (e.g. HIV/AIDS, bone marrow transplantation); (2) neurodegenerative conditions such as Alzheimer's and Parkinson's disease; and (3) biomarker assays for diagnostic and prognostic applications in the detection of disease and monitoring of treatment effectiveness.

Marketed and Late-Stage Clinical Cancer Compounds
Cell Therapeutics
(NASDAQ:
CTIC
) is a cancer biotech with two late-stage compounds in development, pixantrone and Opaxio, which recently sold its stake in a joint venture with Spectrum Pharma (NASDAQ:
SPPI
) to market the cancer drug Zevalin. CTIC is cutting costs and streamlining its operations with the potential for major regulatory approval milestones for pixantrone and Opaxio during 2009, which could result in up to $42.5M in milestone payments from Novartis (NYSE:
NVS
).
Poniard Pharma
(NASDAQ:
PARD
) recently announced cost-cutting measures to focus on the late-stage development of its lead anti-cancer compound picoplatin, which is a novel cytotoxic platinum compound for the treatment of solid tumors. The lead trial is the Phase 3 SPEAR trial in patients with small cell lung cancer, and topline data is expected by mid-year which could result in a NDA filing by year-end if results are positive.
Ark Therapeutics [UK: AKT.L] (
OTC:ARKTF
) recently updated the status of its Cerepro Phase 3 clinical trial, which is being evaluated as a novel gene-based medicine for the treatment of operable malignant glioma (a type of malignant brain tumor). The full description of Cerepro is
available at the Company's website
, but it basically works as a follow-up treatment to surgical removal of the tumor by recruiting healthy cells to produce substances which destroy newly growing cancer cells.
Significance levels associated with the main data have improved in the update analyses and 29 patients have yet to reach a primary endpoint event (versus 53 previously), of which 18 have been treated with Cerepro and 11 received standard of care treatment. Data suggests improved overall survival in patients receiving Cerepro after about 500 days with 56 patients in the trial still alive.
Disclosure: I own shares of EXAS.