Share price of Walt Disney (NYSE:DIS) has risen by 28% over the past 12 months. Although the stock has recently achieved its 52-week high at $57.82, I believe investors should still consider buying given the following 4 reasons:
1. The shares' 16.9x trailing P/E multiple is currently trading in line with its 3-year historical average, and I believe the trend suggests an inexpensive valuation provided that (see chart below):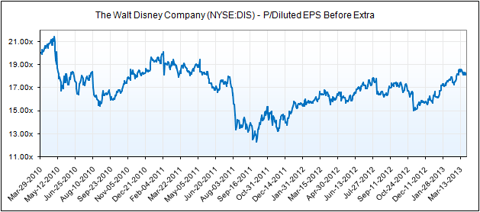 1) Market's consensus estimated revenue, EBITDA, and EPS growth rates for the current and next fiscal years are almost consistent with their average rates throughout 2011 and 2012 (see chart below);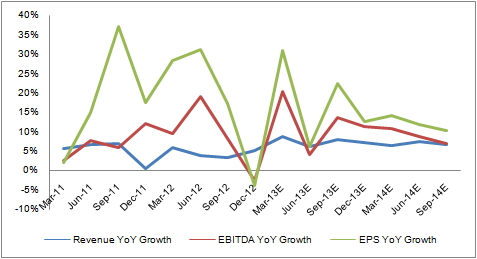 2) Disney has been able to produce a higher return on investments as reflected by its rising ROA, ROE, and ROIC metrics (see chart below);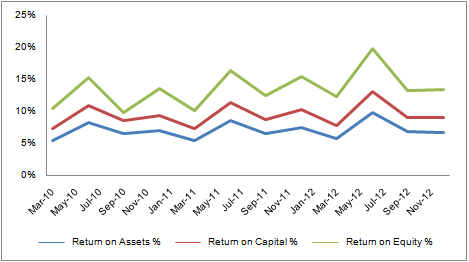 3) The company has also seen a slight improvement in its various profitability margins over the past 3 years (see chart below); and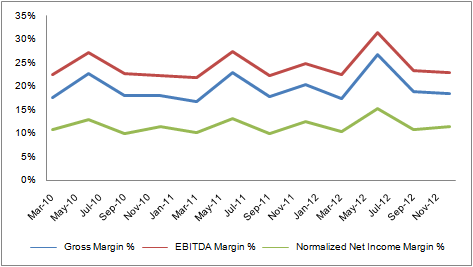 4) Although Disney has taken slightly more debt, the company has managed to lift the interest coverage ratio aided by the solid profitability and lower interest expense (see chart below).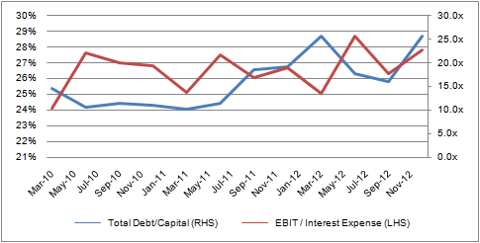 2. Disney's forward P/E multiple of 15.9x is currently trading at a 9% premium over the same multiple of S&P 500 Index, which stands at 14.6x. In my view, this relative valuation appears to be reasonable given the fact that Disney's long-term estimated earnings growth rate at 10.9% is markedly above the average estimate of 8.2% for the S&P 500 companies and that the share price is supported by a 1.3% dividend yield and an aggressive share repurchase program (see chart below).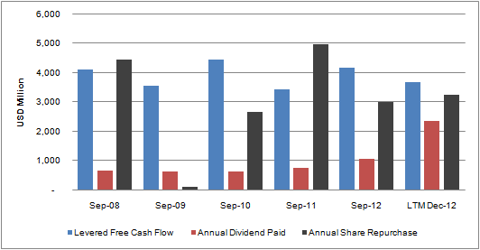 3. Market sentiment on Disney shares has been very positive over the past 12 months. The company's consensus revenue, EBITDA, and EPS estimates for fiscal 2013 and 2014 have all experienced multiple upward revisions over the period and the current figures are notably above their historical levels a year before (see charts below).



4. Sell-side analysts are generally bullish on the stock. Of the total 29 ratings compiled by Thomson One, there are 6 strong buys and 10 buys. In a research note released in March, Michael Corty at Morningstar commented on Disney's growth prospects, which I tend to agree on (sourced from Thomson One, Equity Research):
"We expect ESPN and Disney Channel to maintain dominant positions over the next decade, as live sports and quality children's programming are unique offerings that most pay TV households value greatly. We also believe Disney's brand power is as strong as ever, which allows the company to exploit its characters and franchises through box office and home video sales, theme park attendance, and merchandising. These branded businesses will get a boost from the recent acquisition of Lucasfilms, which owns the valuable Star Wars franchise that will generate at least three more films... Several long-term catalysts should emerge beyond 2015. Its joint venture for a Shanghai theme park, a series of Star Wars related films, and additional money from Netflix for its films in the pay TV window."
Bottom line, in the light of Disney's solid fundamentals, promising growth prospects, and inexpensive stock valuation, the stock remains a solid buy at the current level.
All charts are sourced from Capital IQ except for the consensus estimate tables which are sourced from S&P Capital IQ, and all financial data used in the article and the charts is sourced from S&P Capital IQ unless otherwise specified.
Disclosure: I am long DIS. I wrote this article myself, and it expresses my own opinions. I am not receiving compensation for it (other than from Seeking Alpha). I have no business relationship with any company whose stock is mentioned in this article.