Business
When it comes to house pets no one loves their furry little friends more than Americans. In 2012, pet lovers spent a record $53 billion (that's billion with a "b") on everything from food, vet visits, and kennel stays to chewy toys, pet beds and day spas. Noteworthy is the fact that the new record sales figure beat the previous record of $50 billion, which was set in 2011, by 5%. Also noteworthy is that these records were set during one of the worst economic periods in the history of our nation. Moreover, the growth story would not appear to end there. According to Bob Vetere, the President and CEO of the American Pet Products Association, a trade group based in Greenwich, Conn, we should see another 4% gain this year.
One of the biggest beneficiaries of this trend is PetSmart (NASDAQ:PETM). PETM is a powerhouse in the world of pets. PETM is one of the largest pet supply and pet services operators in the country. As of the end of January 2012 the company operated 1,232 retail stores, 192 PetsHotels, 791 veterinary hospitals under the trade name of Banfield, The Pet Hospital, and 8 hospitals in Canada under third party arrangements. The company also offers its products online at PetSmart.com. The retail outlets sell all things pet related (including grooming services) and the veterinary hospitals offer services ranging from routine exams, vaccinations and dental cleanings to major surgical procedures. The company's PetHotels offer boarding for dogs and cats, personalized pet care, an on-call veterinarian, temperature controlled rooms and suites, daily specialty treats and play time, and day camp services for dogs.
Fundamentals/Technicals
Though in its most recent report, PETM showed some signs of slowing sales, all of the important metrics continue to show signs of expansion. Management's forward growth projections, however, scared off some investors who had come to rely on PETM's outsized annual growth rate of 6%-7%. After fourth quarter results were announced, PETM's shares dropped 8% in premarket trading and, at one point, were trading at approximately a 17% discount to Morningstar's $74 fair value estimate.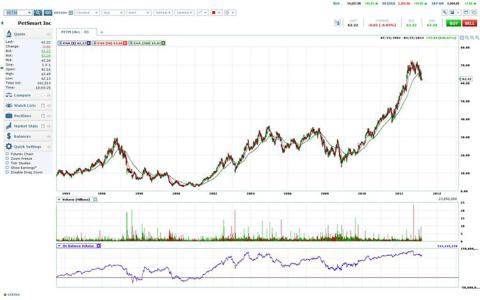 Given the decline in sales, there is a very good chance that sales forecasts will need to be adjusted downward (at least for the near term). That said, however, the decline in the company's stock price may actually represent a very good buying opportunity. As can be seen in the above chart, PETM's shares have been on a tear since the third week in November of 2008, and the recent pull-back could be viewed as a healthy respite in the stock's advance in price. Keep in mind, too, that the stock's run-up in price took place during a very sluggish economy - a truly good sign surrounding its outlook for future advancement.
According to an IBISWorld data report entitled "Pet Stores in the US," PETM currently dominates the market with a 43.1% market share whereas PETCO, PETM's largest competitor, only holds 20.7% of the market. (Note: the complete report can be found here.)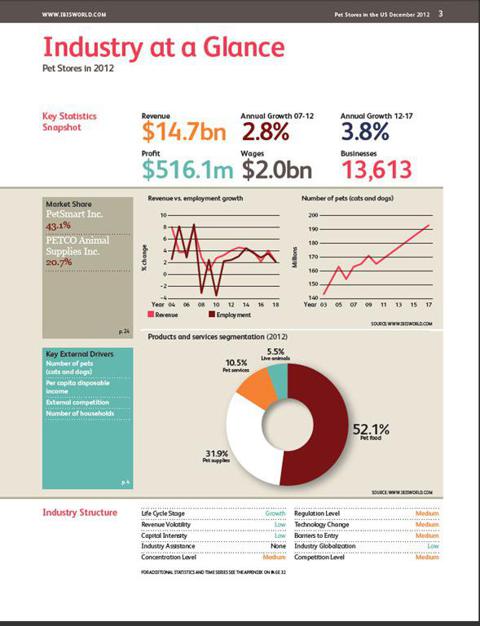 And the company's financials are no less impressive: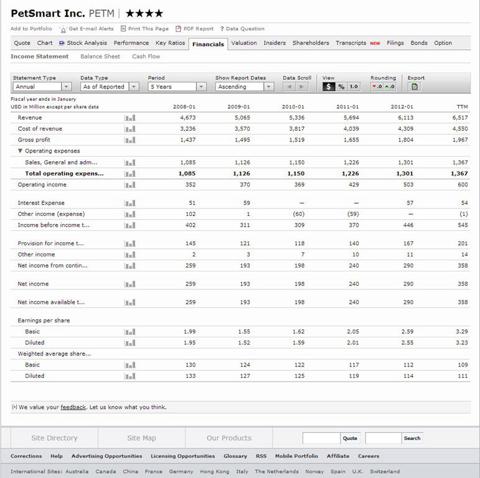 Revenue grew 7.36% over the previous year, net income rose 20.83% over the previous year and diluted EPS grew a very healthy 26.87% YOY. Looking forward, analysts are predicting a decline in growth from the current 7% rate to around 4% by the latter half of the decade. Company management is anticipating opening 50 new stores per year, many of which will be smaller (12,000 - 15,000 sq. feet) and more efficient to operate than the company's traditional stores which have a footprint of up to 27,000 sq. feet. Furthermore, the company plans to open the stores in new, undeveloped markets.
Positive Catalysts
The company's sales proved to be resilient during a very sluggish economy.
According to company management, approximately one third of the company's clients are higher wage earners who are willing to spend more on their pets than the average pet owner.
PetSmart's range of products and services is vast and unmatched by its closest competitors.
Because of the company's size and scale, PetSmart is able to leverage better pricing with its vendors and suppliers, thus giving it a more competitive advantage.
PetSmart is considered a premium provider of pet supply products and services, which gives it a bit of a competitive edge against large discount retailers such as Wal-Mart (NYSE:WMT) and Target (NYSE:TGT) (companies that are now trying to enter the pet supply market more aggressively).
The company currently offers an annual dividend of $0.55, which equates to a dividend yield of 1.2%. The current payout ratio is a very healthy 21.4%, which means there is a considerable amount of room available for management to comfortably raise the dividend in the future.

Negative Catalysts
Large discount retailers, such as Costco (NASDAQ:COST), Wal-Mart and Target, hold substantial scale advantages and could pose a threat to PetSmart now that they are more aggressively targeting the pet supply/pet services industry segment.
Sales growth has slowed and is projected to slow further, a sign which could portend further declines in the company's stock price. If, in coming quarters, the company were to experience a blip or some type of sales shock investors could get spooked and decide to unload their shares.
Store expansion (i.e. new store openings) has slowed and acquisition costs have risen, leading some analysts to be concerned over the company's future growth prospects. Also, the smaller, albeit more efficient, stores will not be able to offer the same level of variety as the larger, traditional stores, prompting some to believe that they will not do as well.
PetSmart has been the subject of public criticism in recent years for its bird breeding practices and for some questionable animal treatment issues. Most of the issues appear to be the direct result of rogue employee behavior and third party breeders. The company appears to be taking steps to correct the problems; however, ultimately, public opinion over the handling of such matters will dictate future prospects for the company.
Conclusion
PetSmart has done well during a very challenging economic period, and, in many cases, the company has better survived the sluggish economy when compared to other retailers. Management is committed to expanding the company's reach by opening stores in new, undeveloped locations, and the management team continues to look for additional ways to reduce operating costs, such as though smaller stores and though online sales. Though sales have slowed, the company continues to grow and do well, especially when considering the challenging economic conditions in which the company now finds itself. The company offers a modest dividend, and it has a comfortable amount of room to expand the dividend in the future.
Note: Chart courtesy of optionsXpress. Financial data courtesy of Morningstar.com.
Disclosure: I have no positions in any stocks mentioned, and no plans to initiate any positions within the next 72 hours. I wrote this article myself, and it expresses my own opinions. I am not receiving compensation for it (other than from Seeking Alpha). I have no business relationship with any company whose stock is mentioned in this article.