Is Netflix A Good Buy At Current Prices?
Netflix (NASDAQ:NFLX) has been on fire since late 2012, more than tripling in price from around $60 to $190. The company has benefited from strong quarterly earnings, an investment from Carl Icahn, and distribution rights from Disney (NYSE:DIS). Bears and bulls will continue arguing over this stock, and without a crystal ball that tells the future we simply don't know where this stock is heading. Both sides present compelling arguments but I will focus on the bull case.
Introduction
Netflix is the clear global leader in subscription streaming video and the company's position will provide it with substantial opportunities to create value beyond current expectations. Strong international subscriber growth or margin expansion have the most potential to drive upside.
Competition
Netflix maintains a competitive advantage over their closest competitors, Amazon's (NASDAQ:AMZN) Prime, and HBO.
Netflix vs Amazon: At the quality level, Netflix is the clear winner as they are the only company that offers 1080p streams (super HD), 3D streams, Dolby Digital 5.1 encoding on the majority of content in addition to 7.1 encoding on select content. Netflix's library is easily double if not triple the size of Amazon's. While Amazon will also release original content in the future, the verdict is in that Kevin Spacey's House of Cards is a winner and so will be the other original content in the pipeline, not to mention the much anticipated Arrested Development that will be streaming their new season beginning in May. In addition, Netflix users are charged on a month by month basis and cancel at anytime, while Amazon's subscribers will have to fork up around $80 up front with no possibility of canceling.
Netflix vs. HBO: I view HBO as the closest comparison to Netflix for the purpose of determining long-term subscriber potential. HBO has nearly 30 million subscribers (compared to Netflix's ~33 million) who typically pay around $15 a month. At current prices Netflix is the clear winner (around $8 a month), however in a previous article I explored the possibility that Netflix will have to raise their prices. Even a 50 cent price increase per year for 8 years will still make Netflix the cheaper alternative down the road.
Information Technology
Netflix's massive database of viewing history should allow the company to drive strong returns on incremental content spending in the form of further subscriber growth. Netflix has to have more data on viewing behavior than their competitors. Netflix can use this information to their advantage to invest in high quality original content where it will have the highest impact on users' perception of the total service, while exploiting opportunities in third-party and niche content that can broaden the total addressable market. The company will be able to improve the perceived quality of its offering as well as expand its consumer reach, which should allow it to draw a much wider audience than their competitors.
Happy subscribers
Netflix compares extremely positively in the minds of consumers. Pacific Crest Securities consumer technology survey showed that almost 90% of those surveyed would recommend Netflix to a friend. In second place with barely a 20% score is Verizon's (VZ) FiOS. Netflix's high customer satisfaction coupled with continuously improving content will continue producing many happy customers, myself included.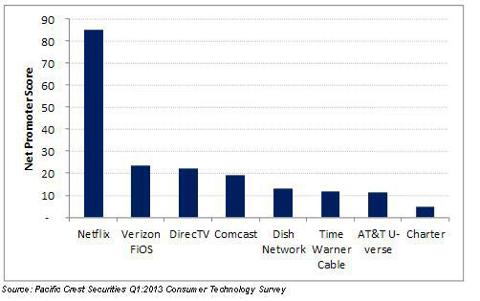 International operation is weak, domestic is strong
Netflix's domestic streaming business has generated incremental contribution margin of approximately 50% over the last year and is expected to generate a contribution of 20% moving forward. International margins can in theory come close to matching incremental margins in the United States if subscriber growth is on par with growth in the U.S business relative to the size of each country. The international model is substantially the same as the model in the U.S, so at the very least it is theoretically possible for international operations to play a large part in the company's profits.
Based on a short sample of close friends and family all of which are happy Netflix subscribers, we watch Netflix content daily for at least an hour. My fiancée and I watch an episode or two of Rules of Engagement, and if time permits I watch The West Wing, a TV show I passed on when it was airing a decade ago. I mention this because it is estimated that the average cost per subscriber is less than $0.20 per viewing hour, which compares extremely well with cable, costing more than double and around $0.50 per hour. This large and growing advantage is key to Netflix's future.
So what's next?
In my previous Netflix article I presented three scenarios for Netflix: A bear case, bull case and neutral case. My best case scenario had a price target of up to $220, which is a realistic possibility if Netflix continues adding subscribers at a consistent basis. Netflix will need the remainder of 2013 to prove to investors that the company is on the right track, so a $220 price target is at least a year away.
If Netflix is able to raise domestic subscribers to 45 million and increase contribution margin to 35% we will definitely see new all time highs for the stock and break the $30 barrier. Will this happen? It is certainly possible in the next few years as long as new original content continues to be released that appeals to a diverse viewers.
Add $15 to the price target if people start throwing out projections of 50 million subscribers, and add at least an extra $50 if the company is looking at 60 million subscribers over the next decade. The industry is still in its infant stages and there is likely to be significant changes over the next few years. Depending on the dynamics of these changes, Netflix's subscriber potential could develop to be closer to the total cable market than the total premium channel market.
Conclusion
Netflix is establishing the future paradigm for non-live video viewing and believe the company retains a competitive advantages in its user base, recommendation engine, data on viewing habits, broad hardware distribution, relationships with content creators and history of execution in these categories. What other technology company around can boast the same?
IP-delivered, on demand and available on pretty much any wifi capable device is the future of video viewing for TV and movies that do not have a live component like sports do. Netflix is the leader in on demand streaming video, and is changing the entire industry the same way Apple (NASDAQ:AAPL) did to music. The future is here today and Netflix has substantial advantages over current and future competitors.
Risks:
At the end of it all, Netflix is just a content distributor, and offers the same products that BBC offers for free when I tweek my smart TV to think it is in England. I have access to free on demand streaming of British TV shows and movies (my fiancée is British) in the form of a free app that comes preloaded on the TV. This industry is the future. However, free services like BBC and many others can hamper long term performance of Netflix, putting added pressure on the company.
Disclosure: I have no positions in any stocks mentioned, and no plans to initiate any positions within the next 72 hours. I wrote this article myself, and it expresses my own opinions. I am not receiving compensation for it (other than from Seeking Alpha). I have no business relationship with any company whose stock is mentioned in this article.