Cisco Systems, Inc. (NASDAQ:CSCO) shares have jumped from about $15 in July of last year, to a recent $22 per share. Like many stocks in this market, Cisco shares are now overbought and this could be an ideal time to take profits and wait for a pullback. Just take a look at the chart below to see how far this stock has come.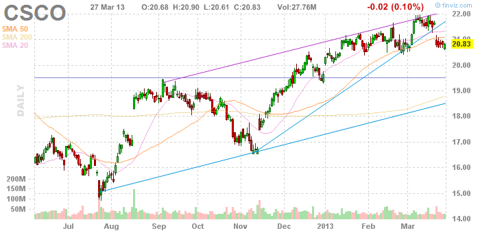 As the chart above shows, Cisco has been trending higher for many months, although it has recently started to weaken even as the S&P 500 Index (NYSEARCA:SPY) trades near all-time highs. There are a number of reasons why this could just be the start of a more significant pullback in Cisco. As the light brown line on the chart indicates, the 200-day moving average for Cisco is about $18.77 and that might be where the stock will find major support in a correction. However, at least one analyst believes the stock could go much lower and they have set a $17 price target.
On March 21, analysts at FBR Capital downgraded Cisco shares from market perform to underperform. The price target was lowered from $22 to just $17 per share over concerns that routers and switchers were seeing reduced demand. While the price target of $17 seems a bit low considering the current share price, that would be right around where Cisco was trading in November 2012. The FBR Capital analysts make a strong case for the $17 price target and stated:
"We believe Cisco will become increasingly more challenged to offset
weaker-than-expected routing and switching demand as it works to
transition to a more software- and service-centric business model,"
the analyst said in its downgrade report. "Looking ahead, we see the
potential for additional negative technological trends that could
significantly blur the lines between routers, switches AND servers."
They continued:
As a result, we expect: (1) a slow, but meaningful, reduction in the number of routers and switches deployed into networks; (2) the adoption of an increasingly larger mix of white box, lower-margin product; (3) the announcement of new competitive products and vendors that could negatively affect gross margins at both companies and across the space. We encourage investors to take profits, and we move to the sidelines as we work to better understand the significant changes occurring across the networking landscape.
Some recent announcements from companies like Oracle (NYSE:ORCL) and Tibco Software (NASDAQ:TIBX) sent both of those stocks down sharply and that could be a sign of weak IT spending. For example, Tibco announced disappointing earnings and guidance and that stock dropped from about $24 to around $20. Oracle also announced disappointing earnings that missed analyst expectations for both revenues and profits. Those results took Oracle shares down to about $31.50, which was a significant drop from the $36 level it was trading at before the earnings release. The recent budget sequester is likely to lead to reduced IT spending from the government in the coming quarters and that could be another negative for Cisco this year. Information technology spending is also likely to be weak in Europe since that region is suffering from high unemployment and government spending cuts.
It is also worth noting that Juniper Networks, Inc. (NYSE:JNPR) shares have recently dropped from about $22 to below $19. This is significant since it is also a leading maker of networking equipment, which could also be impacted by profit margin pressure as router and switcher prices decline. As a major Cisco competitor, the price action in this stock could be another sign that investors should take profits in this sector now.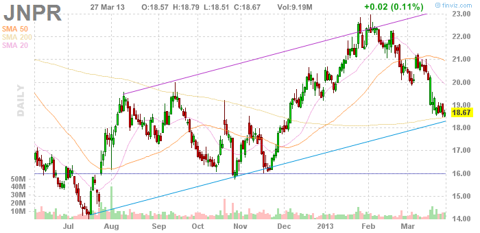 Whether or not Cisco shares hit $17 remains to be seen, but even if it doesn't go that low, investors who don't take the recent downgrade and signs of weak IT spending from other companies seriously, will have plenty to lose if Cisco reports disappointing earnings or guidance.
With Cisco shares still near the high end of the recent trading range, taking profits now might payoff big in the future.
Here are some key points for CSCO:
Current share price: $20.73
The 52-week range is $14.96 to $21.98
Earnings estimates for 2013: $1.99 per share
Earnings estimates for 2014: $2.11 per share
Annual dividend: 56 cents per share, which yields 2.7%
Here are some key points for JNPR:
Current share price: $18.75
The 52-week range is $14.01 to $23.06
Earnings estimates for 2013: $1.16 per share
Earnings estimates for 2014: $1.32 per share
Annual dividend: none
Data sourced from Yahoo Finance. No guarantees or representations are made.

Disclosure: I have no positions in any stocks mentioned, and no plans to initiate any positions within the next 72 hours. I wrote this article myself, and it expresses my own opinions. I am not receiving compensation for it (other than from Seeking Alpha). I have no business relationship with any company whose stock is mentioned in this article.
Disclaimer: Hawkinvest is not a registered investment advisor and does not provide specific investment advice. The information is for informational purposes only. You should always consult a financial advisor.