Shares of Vera Bradley (NASDAQ:VRA) traded down over 9% on heavy volume (2.1 million shares compared with average volume of 550,000 shares) following its fiscal fourth-quarter earnings release. Revenue and earnings grew 17% and 19% respectively, year over year. While these numbers appear to be strong from the surface, digging deeper into the financial statements reveals somewhat artificially inflated results.
I have mentioned in my two prior articles on this company, "Vera Bradley Struggles to Impress Shareholders" and "What Is Going On With Vera Bradley?" that management utilizes some aggressive accounting practices in order to meet quarterly expectations. While I am not claiming any fraudulent activity on behalf of Vera Bradley's management team, I think the quality of earnings reported should be alarming to investors. Throughout this article I will point out some red flags I observed during the company's recent quarter and what the upcoming fiscal year may look like.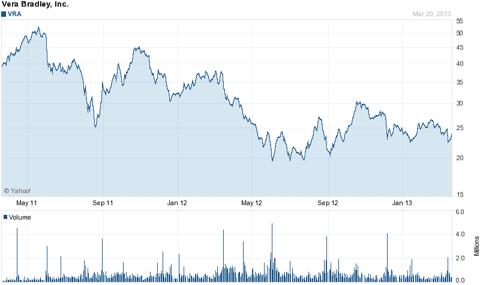 Inventory
The first concern I came across with this company was the massive increase in inventory. Inventory jumped 23% year over year and is expected to grow by an additional $7-$11 million in the upcoming quarter. If a company is selling products at a rapid pace, then growing inventory levels makes sense (you need to pre-order in order to meet anticipated customer demand). This is a trend we typically see in retailers as they prepare for the holiday shopping season. Unfortunately I don't think Vera Bradley is growing rapidly enough to support its excessive inventory expansion. In the table below you can see the revenue growth rate peaking in FY11 and falling the two following years. Management is currently projecting FY14 net revenues to be in the range of $585 million to $590 million. If we take the high-end estimate, revenue is expected to grow just 9%. Compare this with inventory growth rates, which outpaced revenue growth rates in FY11 and FY13, and you can see a potential problem in the near future.
| | | | | |
| --- | --- | --- | --- | --- |
| | FY10 | FY11 | FY12 | FY13 |
| Revenue | $288,940,000 | $366,057,000 | $460,843,000 | $541,148,000 |
| Revenue Growth Rate | 21.11% | 26.69% | 25.89% | 17.43% |
| Inventory | $66,535,000 | $96,717,000 | $106,967,000 | $131,562,000 |
| Inventory Growth Rate | | 45.36% | 10.60% | 22.99% |
Source: Vera Bradley SEC Filings
CFO Kevin Sierks tried to calm investors about this growing pile of goods with the following statement:
"In addition, as noted on our third quarter call, we placed purchase orders for more inventory than we currently need. As we stated before, because these orders were in our best-selling patterns and styles, we expect the vast majority will be sold during the fiscal year through our normal channels."
While this may sound reassuring, if you believe everything management says, I suspect you will wind up losing money. The statement above is a great way to avoid the problem and push it into future quarters. An overstocking of goods without the demand generally leads to one outcome, heavy discounting. I would anticipate margin compression in the future as a result.
Revenue Recognition
My other concern with Vera Bradley is how it seems to "push" product out the door towards the end of the quarter in order to meet quarterly targets. This is a common theme with the company and it has been observed in various forms: extending credit to customers (increase in accounts receivable), markdown sales during the last month of the quarter, or as we witnessed in the recent quarter, shipping goods ahead of schedule.
Vera Bradley was proud to announce its indirect segment finishing the quarter with 11% growth over the prior year. How was this accomplished? CEO Michael Ray provided the answer, "we shipped approximately $2.8 million in sales that we anticipated would be received by our retail partners in the first quarter of fiscal 2014." It makes you wonder why the company pushed product out the door ahead of schedule. It could have been to boost returns or potentially to reduce the inventory balance. Unfortunately we will never know the real answer, but the main takeaway is that earnings quality is not as high as it appears. Additionally, as a result of this first quarter FY14 gross margin is expected to be down approximately 30 basis points from the prior year.
Positive News
Not everything inside the Fort Wayne, Indiana, office of Vera Bradley is going poorly. The company had some commendable accomplishments during the last fiscal year. New stores continue to open, 20 in the past year and 23 expected this year. Nearly 62 million people visited the Vera Bradley website, a 45% increase year over year.
International expansion is still moving in the right direction and management sees similar customer characteristics in Japanese consumers as it does in the United States. If the brand catches on overseas, we could see sales begin to boom. During the next few months more details are expected to be released regarding this opportunity. The recent move into Dillard's (NYSE:DDS) locations has been successful thus far and a new partnership with Disney (NYSE:DIS) could provide a boost to sales in the back half of FY14.
Conclusion
While I would consider being a shareholder of Vera Bradley in the future, I think management has to overcome some credibility issues first in addition to boosting sales. This is a possible outcome if the company can capitalize on some upcoming opportunities. It appears I am not the only investor who feels this way as the market now has a "show me" attitude toward the stock before it earns a higher price.
Although shares of VRA currently trade at an inexpensive 15x trailing twelve month earnings, in my opinion you have more alternative ways to play the handbag market. Coach (COH), which trades under 14x TTM earnings is a company generating tremendous cash flow, increasing its dividend payment, repurchasing shares, and has what I think is a credible management team. If you are looking at Vera Bradley for a "value play" I would consider evaluating Coach as well. Fast growing Michael Kors (NYSE:KORS) may be another option if you want to ride this company's recent wave of success. Although more volatile and higher priced than Vera Bradley or Coach, the company has quickly gained market share from competitors (as of Michael Kors earnings announcement 12/29/12).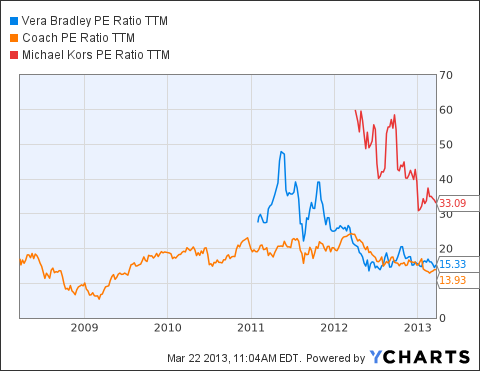 VRA PE Ratio TTM data by YCharts
Consider your investment goals and objectives before initiating a position in Vera Bradley and please remember that the value of investments in equity securities, like VRA, will fluctuate in response to general economic conditions and to changes in the prospects of particular companies and/or sectors in the economy.
Note: All data reported and graphed is pulled directly from Vera Bradley's SEC Filings, press releases, earnings calls and investor presentations.
Disclosure: I have no positions in any stocks mentioned, and no plans to initiate any positions within the next 72 hours. I wrote this article myself, and it expresses my own opinions. I am not receiving compensation for it (other than from Seeking Alpha). I have no business relationship with any company whose stock is mentioned in this article.