Part of the beauty of investing in blue-chip dividend growth stocks is knowing when your dividends will be raised. Companies with long streaks of dividend increases tend to raise their dividends around the same time every year. The following companies are expected to announce dividend increases in the next month, with the expected date of the announcement listed.
Procter & Gamble Co. (NYSE:PG) - April 12
Procter & Gamble has been the definition of consistency, as it has raised its dividend annually in each of the past 56 years. PG is a consumer goods behemoth, with multiple huge brands that generate billions of dollars in sales. Procter & Gamble raised its dividend by 7% last year and now yields 2.92%. I expect PG to increase its quarterly dividend to $0.60, an increase of about 6.7%. This would give the stock a new yield of 3.12% at current prices.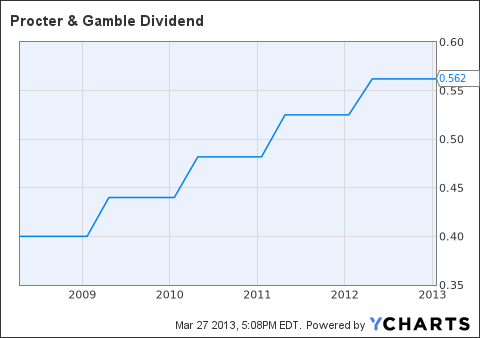 Coach Inc. (NYSE:COH) - April 24
The smallest company of this list, Coach has increased its dividend annually for the past 4 years. The stock has dropped over 35% during the past year, as concerns arise that it is losing market share to other firms. Coach currently pays out a dividend yield of 2.42%. Last year, the company raised its quarterly dividend from $0.225 to $0.30, an increase of 33%. I predict that Coach will again raise its dividend on April 24th, this time by 20% to $0.36 quarterly for a yield of 2.90%.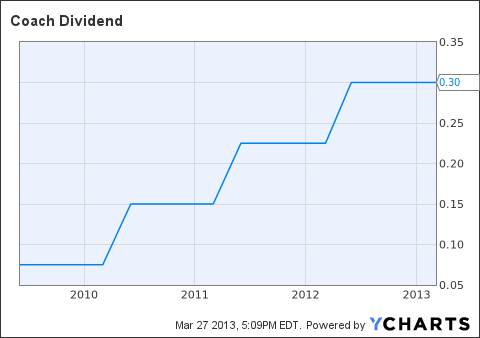 International Business Machines Corporation (NYSE:IBM) - April 24
IBM provides IT products and services worldwide across many different segments. Although the current yield is only 1.6%, the recent dividend growth leads me to believe that there is potential for some big increases going forward. IBM hiked its dividend by 13% last year from $0.75 quarterly to $0.85. My prediction is that IBM will increase the quarterly dividend 10.5% to $0.94, making the current yield 1.8%.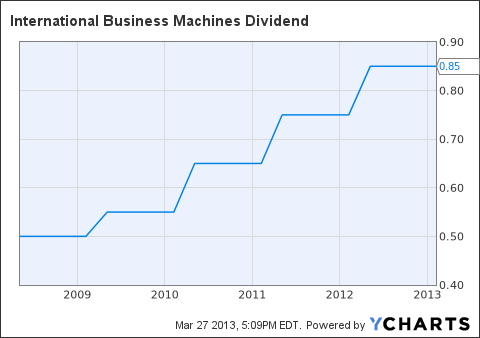 Exxon Mobil Corporation (NYSE:XOM) - April 23
Exxon Mobil is one of the world's largest integrated energy companies, focusing mostly on the production of oil. Last year marked the 30th consecutive year that the company raised its dividend when XOM boosted it by over 20% to $0.57 quarterly. This was a much bigger increase than the previous few years, and I would expect it to slow back to normal growth rates as XOM focuses on buying back shares. $0.62 seems like a reasonable estimate of the quarterly dividend for the upcoming year, representing an 8.8% increase. This would give Exxon a yield of 2.75% at the current price.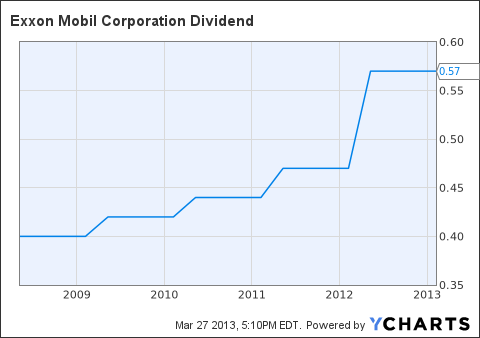 Disclosure: I am long COH, XOM. I wrote this article myself, and it expresses my own opinions. I am not receiving compensation for it (other than from Seeking Alpha). I have no business relationship with any company whose stock is mentioned in this article.