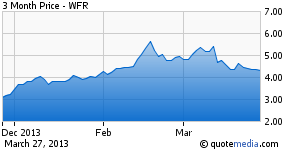 MEMC Electronic Materials Inc. (WFR) is a semiconductor company that produces silicon wafers and other materials that are used for microelectronic applications in the semiconductor as well as the solar industry.
The company's stock slid sharply after they gave a weaker outlook for the first half of 2013 during their earnings call on February 13, 2013. If you sold on this day, it was probably the right call in the short term if you are a trader who looks at and relies heavily on technical charts. Buit as an investor, I think this stock is worth the wait for the long term. Let us discuss why.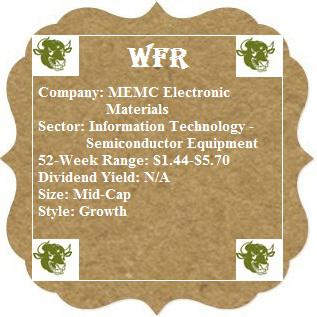 Huge Opportunities in Solar
According to a recent report, the annual opportunity in providing electricity to rural areas globally is around $40 billion and there is a $200 billion market of solar pumps that could be used for irrigation purposes in emerging countries. This report sized the market for improved energy services at the household level, and highlighted that the opportunity in the energy access business is huge: $37 billion is spent today on an annual basis on low-quality energy solutions at the household level for fulfilling lighting and cooking needs.
Rural parts of many developing countries are in need of affordable sources of energy for irrigation and basic necessities. In a recent investor meet, MEMC showcased how it was contracted to put a 14 kilo-watt rooftop micro-grid on a community center based in a remote village in India, which ended up providing electricity to that rural area. There are thousands of such rural areas where these kinds of projects are yet to reach, and efficient players in the solar space will benefit from this need. MEMC secured the first project in India in 2010 (they now operate in 8 Indian states), and have grown to other Asian regions such as Thailand and Malaysia since then.
Semiconductor Market: Recovery Expected
The semiconductor market works cyclically. Factors such as PC shipments and growth in mobile devices have a large effect on semiconductors companies. Stocks of Intel (NASDAQ:INTC) and AMD (NASDAQ:AMD) have not enjoyed the rally in the past six months mainly because of weaker than expected PC shipments. So far, pricing has been lower than MEMC expected as well, but the company is projecting an industry recovery in the second half of 2013, according to its earnings release. Its FY 2013 outlook is $940-$990 million compared to $918 million in FY 2012.
Other Catalysts
MEMC is globally deployed and has an established position as a market share leader in the United States in areas of utility services and distributed generation - it is the third largest solar developer in the region. Distribution generation happens to be a faster growing, higher margin business for the company. MEMC is also growing in the residential and small commercial space in this region. About 70% of the company's 2012 revenues came from the solar segment with an impressive 17% EBITDA margin (2012 annual, non-GAAP).
MEMC has strategically used joint ventures to innovate and improve technologies. It has been able to work with leading companies in both semiconductor and solar space, such as Samsung (OTC:SSNLF), Bosch, Panasonic (PC), SK Hynix and Toshiba (OTCPK:TOSBF). This alignment with leading technology companies helps the company in establishing a competitive advantage as well as brand recognition in the industry. The company plans to make low cost materials in a joint venture with Samsung with an ambitious goal of $15/kg all-in manufacturing cost.
|
In the past year, MEMC has shown more efficient capital planning and execution, and its cost of capital has declined.
In the North American region, MEMC is expecting a compounded annual growth rate of 25%. The company targets 12% market growth in its Distribution Generation business, and is exploring acquisition opportunities in the utility space.
So far in 2012 and 2013, MEMC has registered some big contracts in Bulgaria, Mexico, Chile, Jordan and Brazil and they are hopeful of bagging big contracts in Europe's subsidy driven markets in 2013.
There is a huge opportunity in the solar pumps space, especially in the emerging markets where irrigation is a big problem. Grid-based electrification in these regions is also an excellent opportunity for MEMC.
Competitive Landscape
MEMC has its focus on the North American solar equipment market that is expected to grow substantially in the next two to three years. The company's customers include most of the micro-electronics companies, and it is already the leading solar energy installer in North America.
The company's biggest competitors include SUMCO, Siltronic and Shin-Etsu Handotai in the wafer business, and LDK Solar, First Solar (NASDAQ:FSLR), SunPower (NASDAQ:SPWR) as well as Renesola in the solar business. Most companies in the solar space have seen their stocks suffer the past two years due to a huge oversupply of modules, partly thanks to China-based module producers that were able to mass produce solar materials with large capacities.
Revenues And EPS Outlook
Analysts at Credit Suisse have rated the stock as outperform with an $8.00 price target, and they call this price target "conservative."
This is understandable, considering that the company has provided solid outlooks for the years of 2013, 2014 and 2015. The EPS estimates for MEMC are $0.11, $0.25 and $.50 respectively in these three years. Operating revenue is expected to rise in 2013 and 2014 as well.
Market Forecasts Solid In All Emerging Regions
Industry forecasts in all regions other than the U.S. where MEMC is very well positioned and already growing indicate that there are tremendous growth and demand opportunities in the coming years (see below).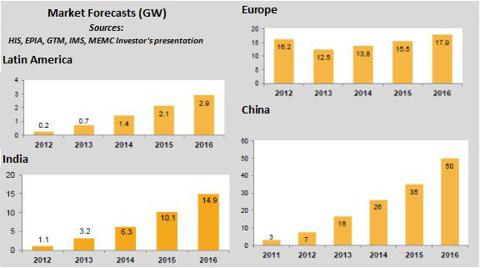 Risks and Challenges
Like all investments, investing in MEMC has its risks as well. The company also faces many operational and strategic challenges that investors should consider.
Businesses involved in the solar and other alternative energy sources usually have and need the blessing of the governments with policies or subsidies that help foster growth. This dependence on government has to be viewed as both a risk and a challenge.
A big challenge for MEMC's solar business is the oversupply and hence low prices of natural gas. Industries and governments are always in more need of low cost energy options, and for a long time now, natural gas has been a viable alternative.
MEMC will always face increased competition against other alternative energy sources such as wind, especially in regions where these forms of energy are heavily utilized.
MEMC is well positioned to grow in developing markets, but a caveat to that is that many of these regions have their geopolitical risks. If in the future the company's strong expected outlook becomes heavily focused on a particular state or region, investors must weigh the opportunity against the corresponding sovereign or political risks. Another important risk to be considered is lack of or low quality infrastructure in developing countries - that could hamper execution and risk meeting expected growth rates.
Conclusion
In March 2013, MEMC proposed a name change to SunEdison to build a brand that best leverages their business synergies and the final decision should be made in a few months. I think this is a good step forward considering that the bulk of its revenues are coming from the solar business which is poised to enjoy a much higher growth rate in the next few years.
One may argue that the stock's price of $4.37 (as of 3/26/2013 when I wrote this article) is still too high considering the massive run it has had in the past six months, but I believe there is credence to this rally. I own this stock and unless the company announces any negative outlook adjustments or regulatory and geopolitical risks increase substantially, I believe it is a great stock to accumulate in the long run.
Disclosure: I am long WFR. I wrote this article myself, and it expresses my own opinions. I am not receiving compensation for it (other than from Seeking Alpha). I have no business relationship with any company whose stock is mentioned in this article.