Whilst everyone has been focused on the US housing recovery, the best opportunities may now be in the UK. Both the economy and the housing market have been slow to recover from the financial crisis so far. However that may all change in the near future after last week's budget.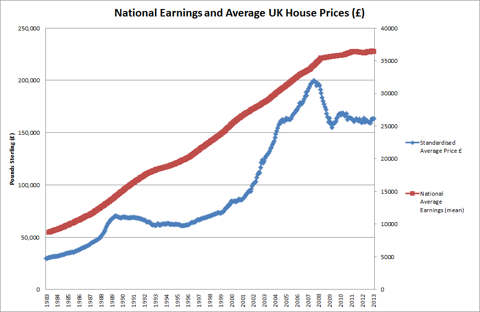 The government has gone all in on housing in a desperate attempt to boost the economy before the 2015 election. There are 3 major points.
The £3.5bn 'Help to Buy Scheme' will allow buyers to buy any new build property with just a 5% deposit. Buyers of all types and incomes will be eligible for a government loan worth up to 20% of the value of the property. The loan is interest free for five years and 1.25% in the sixth year. This gives buyers a much bigger government guaranteed deposit with which to take to a bank to get a mortgage.
The government will offer £12bn of mortgage guarantees covering mortgages worth £120 billion. In chancellor George Osborne's own words, 'higher loan to value mortgages will be backed using the government's own balance sheet'.
Planning laws will continue to be relaxed to make it easier to build new properties.
In my opinion these are very dangerous policies. British politicians are obsessed with artificially boosting the housing market instead of trying to fix the rest of the economy. These policies store up tremendous problems for the British economy in the future. We are likely to see another housing boom and bust, possibly even bigger than the last one, only this time it will be tax payers and not the banks that pay the bill.
Nevertheless the bust is a much longer term problem, at least five to ten years away and it doesn't mean a savvy investor can't profit from the boom in the meantime. In the short term I think this policy will send house prices soaring. Virtually anyone in a job will be able to buy their own home.
A Bit of Background to the British Attitude towards Home Ownership
For those who don't already know we Brits take owning a home very seriously. We believe that renting is wasting money (probably a foolish view but that is how people think). People think you haven't really grown up until you own your own home. The most recent English Housing Survey suggests that 20% of people in social housing and 59% of those renting privately expect to be able to buy their own home in the future.
The government scheme is also designed to help people trapped in their existing homes. It is now open to all buyers, not just first time buyers. There is tremendous pent up demand from people who have been stuck in their homes for the last six years and are desperate to move. It also seems, for now at least, that people will be able to use the scheme to buy second homes for investments. (Although there has been some controversy on this and this may change.)
Fundamentals
Despite my long term worries, fundamentals are currently strong and getting stronger. The UK is not the US. There is not the same huge housing bank of vacant new builds. In fact there is a supply shortage for properties in the UK at the moment caused by the low number of housing starts over the last few years. UK house prices have so far been tempered by a lack of demand due to poor wage growth and unwillingness by the banks to lend. These policies will change all that. The banks will be highly incentivised to offer more mortgages with the government guarantees and larger deposits. Their risks will be greatly reduced.
The Bank of England funding for lending scheme, introduced in the middle of last year, has helped push mortgages to record lows, and is in itself already starting to have a major impact. The scheme provides banks with very cheap funding. Mortgages are incredibly cheap. A 2 year fixed mortgage from Chelsea building society is just 1.74% and that is by no means a one-off. There are many very cheap mortgages available. The biggest thing holding the market back has been people struggling to save up for a deposit and the new government scheme will change this.
Mark Carney, the current governor of the bank of Canada, is set to take over as governor of the Bank of England in the middle of this year. Carney has historically been very dovish and questions have already been raised as to whether the inflation target should be upped. Any higher inflation, already currently running above the BoE's target, will only spur the housing market up faster.
All these factors could compound to create a huge positive cycle wealth effect leading to a huge (unsustainable) boom. This is what happened between 2000 and 2006 when house prices doubled.
House Prices to Earnings Ratio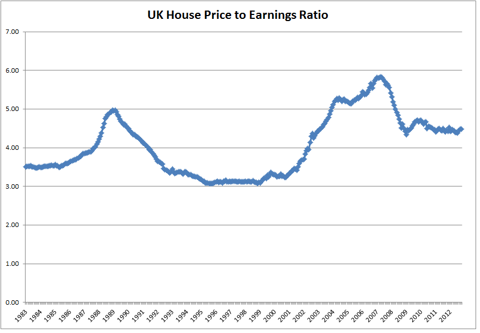 Stagnant wage growth has certainly been one of the factors hurting a housing recovery. The current house price to earnings ratio is now 4.5 (According to the latest February Halifax estimate). That's above the long term average of 4 but well below the peak of 5.8 in 2007. Whilst ideally this ratio would be lower I still think there is plenty of scope for it to rise higher. If interest rates remain low when combined with these new government policies I expect the house price to earnings ratio to go beyond the previous peak before correcting to the norm at some point in the distant future.
Overcrowding
Space is limited in the UK and there are often very strict planning laws (although many of these are being eased somewhat). The UK is a relatively small island with over 62 million people living in it (this is partly why British houses tend to be so small compared to other countries). There is also net migration of over 100,000 new people each year.
A huge number of Brits are now living in cramped or overcrowded conditions. According to homeless charity Shelter around 1.06m households, or 5% of the population, were classed as overcrowded. That's about double the 500,000 overcrowded homes in 2001. Overcrowding is particularly bad in London. The UK has no minimum standards for housing, unlike most other Western countries.
There are about 1.7 million families on long term waiting lists for social housing and house building rates are the lowest they have been since the 1920s.
Empty Homes
According to 'Empty Homes' there are about 260,000 homes in the UK which have been unoccupied for longer than six months. This number has stayed very constant for the last five years, coming down slightly (The last five years are the only years I have data for).
Many of these unoccupied homes are second homes. Some are in undesirable areas or need renovating. Those homes make up about just 1% of all UK dwellings. The total including properties unoccupied in the short term (less than six months) is about 3%.
This compares to 14 million vacant homes in the USA, around 10% of the total housing stock.
Regardless of the US situation, overall a very small percentage of UK homes are unoccupied. It is clear to me that there is a supply shortage in UK housing.
Why the Builders?
New build properties are going to benefit by far the most from the government scheme as it has been specifically designed to kick start the construction industry. The shared equity loans scheme applies to new builds only and means they will sell at an even greater premium than they already do, which will be of huge benefit to the home builders.
The scheme will make it much easier for home builders to sell their houses.
Builders are levered to the price of houses. A small rise in house prices can translate into much higher gross profits as costs remain relatively stable. For example in Persimmon's latest full year results, a 12% increase in revenue for 2012 translated into a 52% increase in profits before tax.
There is currently a supply shortage of homes in the UK. The builders will benefit as more homes are built.
Changes to the planning laws are going to make it easier and less costly to build new homes which is yet another factor which will benefit house builders.
Which home builder to go for?
My preferred home builder is currently Barratt (OTCPK:BTDPF) which I picked up before the budget. After a very difficult period Barratt has really turned itself around and is set to do well. The stock fell 95% from peak to trough during the great housing crash. It is already up 300% since it bottomed. So is it too late to own? No I still think there is a lot of upside. The stock is still 80% below its peak. The company has invested in a huge amount of land whilst prices were low and this should set it up extremely well for the coming house price rise. By the end of 2013 the company expects to have purchased about £1.6bn in land since July 2009. The company currently holds about £2bn of land.
Despite the bright outlook Barratt trades below book value. Book value is £3bn compared to a market cap of around £2.6bn. Admittedly Barratt does carry about £800mn of goodwill but it still looks good value.
There are a number of catalysts which could drive the stock higher. Firstly Barratt is likely to soon re-introduce its dividend this year. It also has a plan to be debt free by June 2015 and it is on track to accomplishing this.
According to Barratt's website for the fourth year running, Barratt homes is officially the highest quality major national housebuilder, having been awarded an exclusive "5 star housebuilder award". Barratt was also named housebuilder of the year at the home builder's federation awards.
I'm avoiding Taylor Wimpey (OTCPK:TWODF) because of its exposure to Spain (which has had the most disastrous housing crash and has much worse fundamentals to the UK with a huge number of unfinished and unoccupied homes). I worked in detail on the housing market in Spain a year ago. The housing market and the economy still have huge problems.
I also like and own Persimmon (OTCPK:PSMMF) which has a strong balance sheet and a plan to return any surplus capital to shareholders over the next ten years. Starting with a special dividend this year in June (subject to shareholder approval).
Although these are companies with billion dollar market caps they are very thinly traded in the US. You will find much better volumes, smaller spreads and better prices on the London stock exchange.
The catch
I must add that reviews on the internet for all the major house builders are very poor, including Barratt. British house builders generally seem to have an extremely poor reputation. Barratt is probably the best of a very bad bunch. A quick search on the internet will reveal very poor reviews for Barratt, Taylor Wimpey (who were also featured on consumer television program watchdog last year), Perssimon, Belway (OTCPK:BLWYY), Bovis Homes and Redrow to name but a few.
I usually make a point of never investing in companies which treat their customers poorly. However in this case I am prepared to make an exception and take the risk for a couple of reasons.
Whilst I do think the industry could do much better, the people who've had bad experiences tend to shout the loudest. There are probably a lot more people who are satisfied but not heard.
This is not intended as a long term buy and hold investment. It is a shorter term investment to specifically take advantage of government policy.
People have no alternative; most will have to buy their new build house from one of these providers.
Other Ways to Play the Coming Housing Boom
At the moment there is only one UK property ETF. The iShares FTSE EPRA/NAREIT UK Property fund (IUKP). I like iShares but I'm not a fan of this ETF. Almost 50% of its holdings are in just three companies and it has very little exposure to the home builders.
Unfortunately almost all the British REITs, including the major ones, British Land (OTCPK:BRLAF), Land Securities Group (OTCPK:LSGOF), Hammerson (OTCPK:HMSNF) and INTU properties primarily invest in retail parks, offices and shopping centres.
Whilst they should all do well, the greatest impact will be on the price of residential properties and particularly new builds. Therefore by far the best way to play this is through the home builders.
Conclusion
The crazy budget policies of the UK government and low mortgage rate environment will cause a big rise in UK house prices as it becomes very easy to buy a house. British builders are in a prime position to gain the most as the scheme focuses on new build properties. These policies will probably cause another boom and bust in the housing market. However the bust won't occur for a number of years. In the meantime British builders should do extremely well. This is not an investment to buy and hold forever. It should be monitored closely.
Disclaimer: This article is intended as general information only, and is not intended to provide specific advice, or due diligence to be relied on. As such, the information presented in any article does not consider any reader's personal investment objectives or financial situation; therefore, no article makes any personalized recommendations. See full disclaimer here.
Disclosure: I am long OTCPK:BTDPF, OTCPK:PSMMF, BCS. I wrote this article myself, and it expresses my own opinions. I am not receiving compensation for it (other than from Seeking Alpha). I have no business relationship with any company whose stock is mentioned in this article.
Additional disclosure: I am long the British versions of Barratt and Persimmon LON:PSN and LON:BDEV