Affymax (NASDAQ:AFFY) plummeted badly on February 25, when the company announced the voluntarily recall of its sole drug, Omontys, which is an FDA-approved peginesatide injection used for the treatment of anemia. The stock took another blow on March 18, when it reported that it will fire 75% of its employees.
These negative events caused a great panic among investors. With a relative strength index (RSI) of 19, the stock is deep in oversold territory. While some investors are still holding on to their stock, a major bounce at this point is unlikely in the midst of the above mentioned events. Investors are losing patience with the company. Is it possible for Affymax's management to turn the company around? The chances are slim for a full recovery, but I think the stock offers some potential at the current valuation.
Earnings Profile
Affymax does not have any cash flow issues at the moment, but its future is dim. Omontys, its primary source of revenue, is out of the market. Until safety issues are addressed the drug will no longer bring in any revenues. It is unfortunate that the company had to recall its product barely a year after it was launched.
Affymax did not report its full year report for 2012 yet. Its latest financial report for the third quarter performance was released on November 8, 2012. As expected, the company reported quarter losses due to high cost of sales and low revenues.
In the third quarter of 2012, it incurred a net loss of $24.6 million. This is a bit higher than its losses compared to the same period of the previous year. However, there is a slight improvement compared to the second quarter of 2012. The company reported losses of $32 million in the second quarter.
In the second quarter, the EPS significantly dropped to -$0.89 per share, but it slightly recovered to -$0.68 per share in the third quarter. Affymax is yet to announce its last quarter report, but no one is likely to care about the figures at this point, where the company needs to take immediate action to cope with Omontys's recall.
Affymax received the FDA approval and initiated the market launch of Omontys in 2012, but the company's earnings per share were generally negative. The only exception was the first quarter, where it was able to generate earnings of $0.87 per share. This was largely due to a milestone payment from Takeda Pharmaceuticals (OTCPK:TKPHF), Affymax's marketing partner for Omontys.
Cash Situation
In spite of its quarter-over-quarter losses, Affymax managed to have positive cash balance in every quarter end. Affymax ended the fiscal year 2011 with $99.6 million cash. This slightly decreased to $93.5 million at the end of the first quarter, but it bounced back to $119 million in the second quarter.
In its last financial report, the company was holding on to cash and equivalents worth $100 million at the end of the third quarter. Probably, the company still has about the same level of cash on hand, which can be used to finance the investigation process. With the costs and expenses already notably reduced due to the massive layoff, it should be able to finance the investigation process for several months to find out what really happened.
However, the company should get the results as soon as possible since its resources are running low. Time is a ticking time bomb, and if it is unable to prove that Omontys is not safe to use, then it is definitely the end of the road for Affymax.
Stock Overview
Affymax had a good ride in 2012. In fact, it was among the best performing stocks of the year. It started the year with a closing price of $6.50 per share on January 3, 2012 and peaked to $27.46 on October 17; an astounding 322.46% surge within just 10 months. But it eventually settled down to close the year at $18.99, which was still a pleasing 192% return over the year.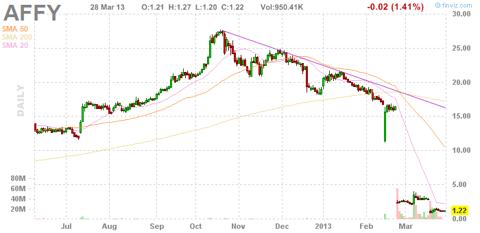 The stock entered the first trading day of 2013 with a closing price of $20.65. It was able to successfully maintain its position at the $20 level until January 22, before it started to make a downtrend journey towards $16.52.
On February 23, Affymax announced the withdrawal of Omontys. On the following trading day, its stock price crashed to an all-time low at $2.42, a horrendous 85.35% plunge. It slightly recovered and traded around $3 in the ensuing days before it took another dive on March 19 from $2.92 to $1.05 per share. The stock lost 64% after it announced the 75% cut in workforce.
What Happened?
It is uncertain at this point to judge that the market recall of Omontys was an inept management decision or a wise choice. While there were reported problems, there is no evidence to prove that Omontys was responsible for serious side effects. There could be other factors beyond the company's control such as improper administration of the drug, non-observance of protocol, hypersensitivity issues, manufacturing problems, and drug interactions, among others.
The Reuters report suggested that the lethal issues happened on only 0.02% of all patients under treatment. That is about 5 cases out of a total 25,000 patients. This rate is probably lower than the fatality rate of some products that are still available in the market. Perhaps the management has quickly concluded a recall way too early. There are more than 25,000 patients that received treatment and 99.98% have benefited from the drug without major health problems.
There are still many questions that must be answered. Was Omontys administered properly? Was the patient checked thoroughly before giving Omontys? Was a hypersensitivity test conducted prior to the injection? Was the follow up patient care properly observed? Was epinephrine administered within 30 minutes? These are just a few of the many questions that must be answered. Since Omontys is not the only culprit of the mortality incidence, there is hope for Omontys to go back in the market.
What Future Lies Ahead of Affymax?
The future of Affymax lies heavily on the outcome of the investigation. With depleting resources, the management is even unsure if it is able to survive long enough to complete the study. All eyes are now on Takeda which is a relatively safer company with numerous products on its line.
If Takeda comes in to the rescue, then Affymax may survive this fall. It might eventually recover if Omontys gets back on track. A buy out by Takeda or by another company is another possibility that could help as a positive stock catalyst. While most financial firms are recommending neutral or negative ratings, I think there is some potential in the stock. After all, the company has about $100 million of cash, which is twice its current market cap.
Disclosure: I have no positions in any stocks mentioned, and no plans to initiate any positions within the next 72 hours.
Business relationship disclosure: EfsInvestment is a team of analysts. This article was written by one of our equity researchers. We did not receive compensation for this article (other than from Seeking Alpha), and we have no business relationship with any company whose stock is mentioned in this article.