The current stock market environment is basically the opposite of what we saw in the late 1990's for better or for worse. Consumer staples companies with reasonable dividends trade at rich multiples relative to historical valuations, while companies that are dependent on a buoyant economy trade at depressed multiples. Logically this makes sense because we have anything but a buoyant global economy, but great investors acquire quality businesses when perceptions are overly pessimistic. The market almost always overshoots in both directions and large-cap technology stocks that actually boast durable competitive advantages seem to be trading at prices that assume no growth, and it is my contention that for several of these companies, long-term growth will resume, positioning investors at current prices for sizeable profits. Further, the strong balance sheets and leading market share in key functions of the technology industry, reduce the downside risks materially. Intel (NASDAQ:INTC) is arguably the finest manufacturer and engineering firm in the technology industry, and while there is no doubt the company is in a transformational stage, I believe the value and business prospects are very attractive moving forward.
Media coverage about Intel seems to be centered on the decline of the PC industry, Intel's lack of market share in the mobile chip market, and a belief that Intel is being overly aggressive in its capex plans for 2013. While the proliferation of mobile smartphones and tablets has pressured the saturated PC market where Intel is dominant, I believe that the long-term potential outweighs the short-term risks. Chip and processor design firms such as ARM Holdings (NASDAQ:ARMH) and Qualcomm (NASDAQ:QCOM) beat Intel to market with energy efficient chips, which are ideal for mobile form-factors and many market participants seem to believe that Intel won't make material headway into this robust market. Chips power the increasingly electronic world and as we become more mobile with innovations like Google (NASDAQ:GOOG) glasses, or smartphone-like watches, the demand for chips is only likely to increase. The first-mover advantage can go a long way, but because semiconductor cycles evolve so rapidly, I'd argue that the best capitalized and sophisticated companies should ultimately end up on top. The disruptive presence of design firms, which use foundries to actually manufacture the chips, and that have lower capex costs than a design/manufacturer such as Intel, does even out the playing-field more so than when Intel was competing primarily with the likes of Advanced Micro Devices (NASDAQ:AMD) or Nvidia (NASDAQ:NVDA). Intel is bridging the gap with its Atom processors in terms of efficiency and the Atom already has better performance. In 2013, Intel is announcing the Haswell architecture, which is supposed to deliver the largest generation-to-generation battery life improvement in Intel's history. Ultimately, I'd expect Intel to win a reasonable market share and we are seeing the beginnings of this with recent deals with Motorola Mobility and Lenovo. What is important is that Intel isn't being valued for any potential gains in mobility, so I believe if the company's earnings on these ventures can exceed the cost of capital, mobility could be highly accretive to the stock and business values, respectively.
Intel also is entering an interesting foray into providing web-based TV services. The service is supposed to launch later in the year, and will utilize a set-top box featuring a camera. The service will have both video on demand and DVR capabilities, in addition to Web apps. While Intel certainly isn't the only company looking to capitalize on the shift towards Internet connected television platforms, the market is quite large, and the technological requirements are right in Intel's wheelhouse. With semiconductors being projected to grow robustly over the next several years, it is no surprise that Intel is spending aggressively to position itself for long-term growth. Intel is increasing its capex plans by $2 billion from 2012, to an estimated $13 billion in 2013. Intel has been a strong allocator of capital, particularly when it comes to manufacturing and engineering, so I truly believe the next several years could set the stage for a decade of strong growth.
Intel closed its 2012 fiscal year with 5.097 billion diluted shares outstanding, which was down from 6.621 billion in 2003. Based on a recent price of $21.74, the market capitalization is roughly $111 billion. The company ended the year with $13.136 billion of long-term debt and $18.162 billion of cash and investments, which equates to an enterprise value of roughly $106 billion. Intel pays a $0.225 quarterly dividend, or $0.90 annually, which is roughly a 4.1% yield at current prices. Intel's returns on invested capital and equity bottomed in 2009 at just over 10%, but both measures have generally hovered in the high-teens, to the low-twenties over the last decade. Return on assets has averaged in the mid-teens, bottoming just below 10% in 2008-2009. The company has accomplished these returns while spending an industry leading 15.4% of revenues on R&D. R&D expenditures are expensed and not capitalized, so the balance sheet will never fully demonstrate the intrinsic value of the business, which has certainly been increased dramatically through Intel's innovations.
Intel has about 83% market-share in the PC market, which still generates the bulk of Intel's profits. Intel also has a very strong position in the data center where revenue is growing in the mid-single-digits with upside potential beyond that. On January 17th, Intel reported full-year revenue of $53.3 billion, operating income of $14.6 billion, net income of $11 billion and EPS of $2.13. Intel's cash flow from operations was approximately $18.9 billion, and the company paid $4.4 billion of dividends, and used $4.8 billion to repurchase 191 million shares of stock. For the full-year, the PC Client Group had revenue of $34.3 billion, down 3% from 2011. The Data Center Group had revenue of $10.7 billion, which was up 6% from 2011. The Other Intel architecture group had revenue of $4.4 billion, down 13% from 2011.
In the 4th quarter, Intel generated revenue of $13.5 billion, operating income of $3.2 billion, net income of $2.5 billion and EPS of $0.48. The company generated $6 billion in cash from operations, paid dividends of $1.1 billion and used $1 billion to repurchase 47 million shares of stock. In the 4th quarter, the PC Client Group produced $8.5 billion of revenue, down 1.5% sequentially and down 6% YoY. Data Center Group revenue was $2.8 billion, up 7% sequentially and up 4% YoY. The other Intel architecture group had revenue of $1 billion, down 14% sequentially and down 7% YoY. Gross margin was 58% and R&D plus MG&A spending was $4.6 billion. For the full-year 2013, Intel expects revenue to grow in the low single-digits. Gross margins should be around 60%, plus or minus a few percentage points. Full-year capital spending is estimated to be around $13 billion, plus or minus $500MM. In Q1 2013, the company expects revenue of $12.7 billion, plus or minus $500MM, and gross margins are expected to be around 58%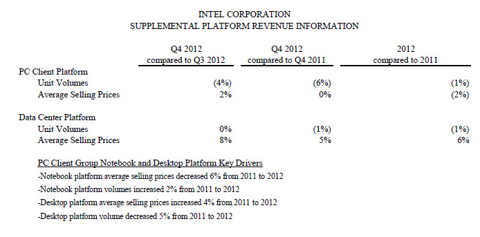 Source: Intel 4th quarter earnings press release
On February 26th, Altera (NASDAQ:ALTR) announced its plans to use Intel to manufacture future versions of its chips or so-called field programmable gate arrays (FPGAs), when the two chipmakers move to 14-nanometer production technology. This and other future deals represent the opportunity for Intel to optimize its best-in-class infrastructure and technologies for other highly profitable and non-competitive chipmakers. It is very unlikely that Intel would manufacture chips for ARM Holdings designed chips, which pose the biggest challenge to Intel garnering a reasonable market share in smartphones and tablets, or weak companies where Intel wouldn't be able to generate sufficient margins working in a foundry capacity. This type of business can produce incremental revenues and profits, and could further enhance the company's durable competitive advantages by enabling the company to invest significantly greater sums to have the best technological and engineering capabilities in the industry. Taiwan Semiconductors (NYSE:TSM) is the world's largest contract chip manufacturer with nearly 50% market share, and the company posts returns on equity and invested capital in excess of 20%, so Intel could certainly benefit by becoming a bigger player on high-design technologies.
I believe Intel can be a $30 stock within three years as earnings grow with cyclicality, and due to a slight increase in the multiple based on an improving competitive position in mobility, which will ultimately increase long-term growth estimates. The company is not investing $13 billion in capex to swim-in-place but instead it is positioning itself to continue as the leading chip design/manufacturing firm in the world. Intel has been very efficient with its capital allocation and the company is intelligently maintaining flexibility so that it can continue to make strategic acquisitions, as it did in 2011 with the acquisition of the wireless chip business of Infineon (OTCQX:IFNNY). In the current low-yield environment, a 4% plus dividend is exceptionally attractive when you factor in a 10 multiple with high mid-single digit revenue growth prospects. Intel generates considerable surplus cash, which will be used to improve the business, buy back stock and increase the dividend moving forward. I'd suggest accumulating Intel's stock on dips so that you can own a very good business at a below average price.
Disclosure: I am long INTC. I wrote this article myself, and it expresses my own opinions. I am not receiving compensation for it (other than from Seeking Alpha). I have no business relationship with any company whose stock is mentioned in this article.