The ETF Innovators Highly Defensive Index contains 32 market cap leading companies from the defensive industry groups (A-K) specified below in addition to one position reserved for the SPDR Gold Trust (NYSEARCA:GLD) as a hedge against long-term inflation and global currency devaluation. Since I last wrote about the index two months ago, Genentech has been acquired by Roche (OTCQX:RHHBY) and the number of securities has been reduced from 40 to 33.
Table with Highly Defensive Index stats and benchmark funds: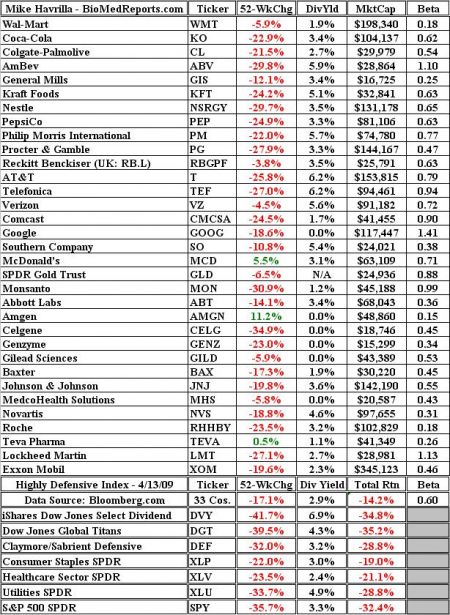 Over the past year, the index has outpaced the overall market and all of its benchmark defensive ETFs on a total return basis through 4/13/09 with a loss of 14.2% compared to losses of 28.8% for the Sabrient Claymore Defensive ETF (NYSEARCA:
DEF
), 19% for the Consumer Staples Sector SPDR (NYSEARCA:
XLP
), 21.1% for the Healthcare Sector SPDR (NYSEARCA:
XLV
), 28.8% for the Utilities Sector SPDR (NYSEARCA:
XLU
), 35.2% for the Dow Jones Global Titans (NYSEARCA:
DGT
), 34.8% for the iShares Dow Jones Select Dividend (NYSEARCA:
DVY
), and 32.4% for the S&P 500 SPDR (NYSEARCA:
SPY
).
This equally-weighted, highly defensive index is 60% as volatile as the overall market with an average market cap of $76B and an average dividend yield of 2.9%. The goal of this index is to provide a composite blend of traditional safe havens represented by the benchmark funds outlined above, rather than choosing a single sector (i.e. healthcare or consumer staples) or a specific strategy (i.e. high dividend yields or Dogs of the Dow).
Among the Highly Defensive Index constituents, Genzyme, JNJ, and Celgene are trading at compelling valuations since moving well of their highs along with the pullback in the healthcare sector and biotech space so far this year.
Stocks managing to post a gain on a total return basis over the past year include Amgen, McDonalds, Teva Pharma, and Verizon. Seven stocks have dividend yields over 5%, including AT&T, Telefonica, Verizon, Philip Morris, AmBev, Southern Company, and Kraft Foods.
Disclosure: No positions.