You're tired of safe investments. You've built your investment-grade core stock portfolio of dividend growers. You have the high-yielding, double-digit yielders. You have some of the 8-10% yielders among the quasi-private equity plays. You even disregarded all the 'bond bubble' nonsense and bought some quality bond funds for portfolio ballast - just in case.
But now you have a little "play money" and want to speculate. You don't trust the Revel coming out of bankruptcy in Atlantic City, Las Vegas is too far away (or maybe AC is too far away), and some other guy in New Jersey just won the Mega-Millions jackpot. What's a gambler, er, speculator to do?
I always caution that a speculation - either betting on a risky company or betting against time (as with options) - is qualitatively different than investing. The only thing you can do to control your risk is limit the amounts that you play with; even normal diversification by buying a basket of such stocks could prove fruitless since each company's specific risks will not be diminished with normal portfolio diversification techniques.
With those precautions out of the way, let me present 5 different speculative plays that I believe can each double within the next 18 months. Price targets are based on a combination of fundamental and technical symbiosis; many of the stocks have been crushed from their multi-year highs. All have market capitalizations that would not preclude takeovers by a larger company but none require a takeover as the primary catalyst for price appreciation. All 5 are in different sectors, which would normally provide a degree of diversification but as I indicated above, consider them individually and as a group a highly-aggressive means of deploying your gambling capital.
With that out of the way, let's check out what is in the casino:
Synovus (NYSE:SNV): Synovus is the 47th largest bank in the United States, with a geographic reach concentrated in the Southeast. Synovus operates in 5 states under 30 different local bank names in Florida, Georgia, South Carolina, Tennessee, and Alabama.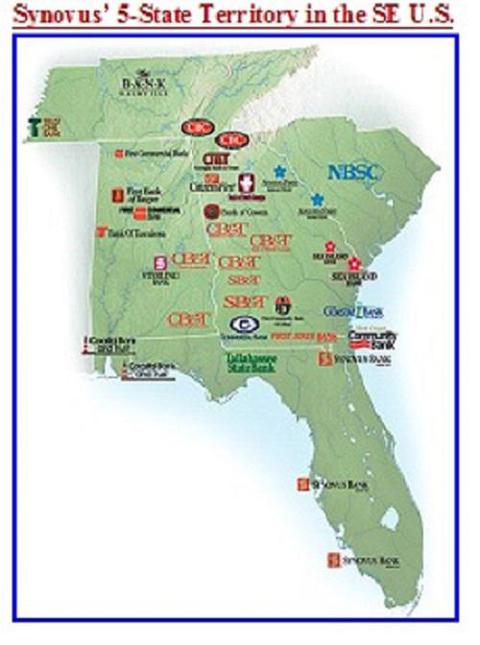 (Click to enlarge)
In the 2000's, Synovus was a strong regional bank grower, taking advantage of the strong demographic and economic trends in the Southeast. But the bank got sloppy with underwriting on both residential and commercial loans. The bank needed TARP funds and has been in a slash-and-burn mode most of the past 5 years. Having right-sized the cost structure of the bank, they are now in a position to show operating and financial leverage when top-line growth resumes. SNV has a number of catalysts in 2013 and 2014 that make an acquisition increasingly likely if they cannot accelerate earnings growth.
Catalysts for SNV in 2013-14:
Continued cost cutting and right-sizing the employment/branch situations
Improvement on non-performing assets (NPAs) and credit issues
Revaluation higher on a P/B basis
Repayment of TARP proceeds in Q3/Q4 2013
Above-average economic and population growth in SNV's territory
Bank consolidation for a larger entrant into the Southeast
Right now, SNV is forecasted to earn only $0.02 - $0.04 a quarter run-rate, which means the stock is selling at close to 18x forward earnings. But if the company can accelerate cost savings and continue bulk sales of NPAs, the company could be smaller but more profitable. Right now, SNV is earning well-below peer levels on key bank metrics like ROA and ROE. ROA is expected to rise from the recent 0.30-0.35% range and climb closer to 0.75-0.85% in 2013 and 1.25% in 2014. This alone will accompany accelerating earnings and an upward tangible price-to-book revaluation. These targets are pretty much locked-in from existing cost-cutting and improved credit trends.
With a trajectory to a higher tangible price-to-book (TBV) - from the current 90% TBV to 130-150% TBV - already baked in based on existing trends, SNV would reap an additional bounty if interest rates rise or loan demand accelerates. TARP repayment is expected later this year; most bank stocks have seen their shares rise into and after the repayment of those funds. Synovus does business in old-line manufacturing states that will benefit from the 'in-sourcing' that is taking place because of the collapse in U.S. energy prices (especially natural gas). In addition, the presence of several oil and gas shale basins in Alabama and Tennessee can be expected to provide accelerating economic activity and population growth. All 5 states that SNV operates in are close to transportation hubs that connect to the prolific Eagle Ford (crude oil) and Marcellus (natural gas) shales.
SNV has had a big run-up alongside credit-sensitive products since mid-2012. The time to pounce would be on any market-wide falloff that impacts the financial sector (Cyprus fallout?) when bank shares get hit harder. The stock has no chance of getting back to the $30's where it traded last decade but continued improvement in NPA disposals, improving credit trends, more cost improvements, and top-line revenue growth could justify a 175% P/B valuation for an acquirer who wants access to an under-banked region with accelerating economic and population growth. A $6 price target is not unrealistic, but buying the shares in the $2.25-$2.50 range on any market selloff would make for an easier layup double to a $5 price target. SNV would cost an acquirer under $5 billion at the higher price, easily digestible for a regional or foreign bank, which wants access to the Southeast.
SNV currently is one of the few large banks trading under tangible book value. SNV has had a strong run in recent quarters and it may have been in anticipation of the recent deferred tax asset reversal, which boosted capital and book value metrics. Finally, only 5 out of 20 analysts covering SNV rate it a 'Buy' so any acceleration of positive news could propel the stock significantly higher as analysts - and investors - hop on board.
Sirius XM Satellite Radio (NASDAQ:SIRI): Like SNV, Sirius is another bombed-out stock from the previous decade, which survived a near-death experience. The shares actually got down to the teens - pennies, that is! -- during the dark days of March 2009. It quickly stabilized, thanks to being able to secure an investment from John Malone's Liberty Media (LMCA) in exchange for 40% of the company. It was a great deal for Malone (as usual) and a high price to pay for Sirius, but they had no choice.
Catalysts for SIRI in 2013-14 include:
Continued stock buybacks and equity shrinkage
Recapitalization or takeover under the control of Liberty Media
Accelerating new and used car sales with OEM installations
Telematics and global expansion
Morris Trust spin-out beyond 2015
Fast-forward 4 years from the depths of March 2009. Sirius has now merged with the other satellite provider and is essentially a monopoly. While Internet options like Pandora and technical gizmos like iPods can always provide an in-car experience, Sirius subscribers have increased their 'stickiness' as churn has decreased in recent quarters. Sirius has paid top-dollar for unique and appointment-listening entertainment, from Howard Stern to the various NFL and sports talk shows. Sports programming in particular is a very strong grab and tends to attract the lucrative male 21-45 age demographic. These sports talk shows - especially football - are increasingly a year-round passion, no longer just during the actual playing season. On the corporate front, Malone and Liberty Media now have effective control of Sirius and are contemplating the most tax-efficient means of monetizing their investment (spin-off, Morris Trust, or a 100% takeover of SIRI). Former CEO Mel Karmazin has left Sirius.
Sirius is extremely cyclical, tied to auto sales, where the bulk of revenues are derived from OEM installation in most of the leading car manufacturers including GM, Ford, BMW, and Mercedes. SIRI is OEM in 68% of all new-cars sold, and there are 50 million satellite-equipped cars on the roads, up from 40 million a year ago. Five years from now, that figure will likely double to 100 million cars and 10 years from now there may be 130-150 million satellite-enabled vehicles on the road. As the number of OEM-equipped cars increases, modest declines in churn and modest increases in penetration can drive accelerating EBITDA growth.
Financially, even with the increased shares given to Liberty/Malone, Sirius has now turned the corner. The company is generating free cash flow and is looking at buying back close to $3 billion in shares over the next 18 months, according to SIRI's most recent call with investors and analysts. SIRI leverage is forecast to be in the low-2's the next few years, and John Malone has always been aggressive in his use of leverage; with his vast personal and corporate financial resources as a backstop, short-term financial or liquidity problems are not as worrisome for Malone-backed ventures. Back at the SIRI Investor Day in November 2012, Malone himself said that he would be comfortable taking leverage up to 3.5-4x on any recapitalization. Even taking into account 300 million additional shares from a convertible bond that matures in 2014, equity shrinkage is likely during 2013-15. An expanding multiple for a subscription-based service that is seeing rising penetration and market share would not be an outlier. That is what happened to the cable companies as they made the transition from heavy CAPX spending entities in the 1980's and 1990's to free-cash flow generators in recent years.
Global expansion has been something contemplated by investors for a long time; the concept caught fire again when Malone brought it up a few months ago. Since the appeal of Sirius is its local-programming appeal, partnerships would appear to be in order if SIRI is going to go global (SIRI Canada has had marginal success) and it would also help reduce needed CAPX spending. Near-term, as more and more cars have Sirius as OEM, that means more used cars are potential clients when sell-throughs happen. And unlike new cars where Sirius XM has to subsidize the receiver, acquisition costs for subscribers buying used cars with receivers already installed are substantially less.
Finally, Telematics is a significant and important area of growth for Sirius XM. Telematics is a $4 billion market growing at 10-12% a year. GM and Ford have existing products factory-installed (OnStar and Sync), but Sirius XM can easily gain market share by exploiting its existing car penetration. The company has an agreement with Nissan to provide telematics and future deals should be forthcoming. As with Netflix (NASDAQ:NFLX), Sirius has a leg-up on the competition for telematics since they are in so many cars, have existing OEM relationships, and can bundle with a desirable content platform. If only 10% of subscribers take up telematics, EBITDA is higher by almost 15% assuming pricing under SIRI's existing platform remains about the same.
The recent stake taken by Liberty in Charter Communications (NASDAQ:CHTR) also increases the odds that either or both will eventually be spun out of Liberty and merged with its publicly traded twin. Since CHTR was just acquired, the more likely candidate is SIRI. A Morris Trust arrangement would be most tax-efficient; Malone has built his reputation on tax-efficient deal-making. An acquisition of SIRI to gain advantage of her NOLs would not be out of the question. Rising EBITDA, a reduced share count, and increased leverage could see the shares at $6 by late-2014 as share buybacks will be strongly in place, early results from telematics and global expansion will have visibility, and the intention of majority-holder Liberty Media/Malone becomes clearer.
I've followed John Malone ever since the original QVC spin-off from Telecommunications back in the early-1990's. The lesson then is the same today: never bet against John Malone.
Melco Crown Entertainment (MPEL): Melco Crown is one of the six licensed gaming operators in Macau. It operates two casinos, a mass-market casino called City of Dreams in Cotai, and Altira, a VIP-focused casino. They also own a chain of slot lounges called Mocha Clubs. MPEL also owns 60% of another casino project in Cotai, which is scheduled to open in 2015. Melco International and Crown Ltd. each own 34% of the company's shares so the float is somewhat restricted (most of the Macau pure-plays have large insider ownership from U.S. casinos or their Asian partners).
Catalysts for MPEL:
JV with Philippines casino opens in mid-2014
JV in Cotai opens in mid-2015
Refinancing of high-cost debt improves cash flow and saves tens of millions annually.
Payment of dividends likely in 2014-15 time frame
Macau was once the Las Vegas of the Orient. But that was in 2007, when the revenues for Las Vegas and Macau were pretty much equal. Since then Macau has taken off while Vegas has stagnated and now Macau's gambling revenues are 6x that of Vegas. In fact, Macau did more in revenues in 2012 ($35.6 billion) than the entire U.S. gaming industry - Vegas, Atlantic City, and Indian casinos - combined (about $33.5 billion).
Exposure to Macau gaming companies is a bet on economic growth in China and the Far East: Singapore, Hong Kong, Thailand, Malaysia, the Philippines, Indonesia, etc. It is a play not only on rising GDP growth but rising per-capita incomes and the surging middle class of those countries and their neighbors. Rising affluence for the middle class translates into increased time - and money - spent on leisure activities. The new generation who are highly-educated and saw their parents or grandparents work 12- and 14-hour days most of their lives are now into smartphones, wealth accumulation, and gambling.
MPEL is trading at 11x 2013 EBITDA, but that elevated multiple is actually a discount to the Macau-exposed gamers including Wynn, Sands, and MGM. On 2014 and 2015 multiples, Melco trades at a steep discount. As the operator with the most optionality and upside, MPEL remains the most leveraged to the Macau gaming for China and the surrounding Asian countries that frequent the gambling Mecca.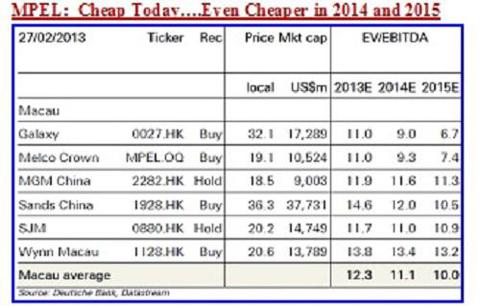 (Click to enlarge)
MPEL has had a fantastic run since 2011. The stock could easily be a 5 or even 10-bagger from lower levels if the Chinese stock market and economy continue to improve. Macau gaming stocks are hyper-sensitive to global and Chinese GDP trends. A price of $50 in 2014 is not out of the question, but $40 would seem more achievable based on accelerating cash flows and new projects. Buying in the high-teens would make for an easier double to the $35-$40 range once any 'China Panic' subsided, but even at current elevated levels the stock offers nice upside. All gaming stocks are high-beta stocks, and more so the Macau-focused gamers so don't think you need to buy whatever position you ultimately want on Day 1 - these stocks are super-volatile.
Dendreon (NASDAQ:DNDN): Dendreon is a high-risk play on essentially one drug, Provenge, a treatment for prostate cancer. Prostate cancer is one of the most difficult cancers to treat if not caught early in its progression. 2013 is an important year for Provenge, as 2 competing drugs will enter pre-chemotherapy treatment regimen and could impact Provenge's stalled and stagnating sales. Dendreon is also evaluating a second cancer product candidate in a Phase II trial for bladder cancer. All other products are in pre-clinical examination or Phase I and are years away from commercialization.
Catalysts for DNDN:
A new CEO, new management team, and new sales structure (50% new within the last year) are all in place.
Cost reductions to improve margins and accelerate break-even to cash flow
Provenge approval in EU in mid-to-late 2013
Sale to a larger pharmaceutical or biotech company
Dendreon booked $82 million in Q4 2012 Provenge sales, and guided for lower sequential sales in Q1 2013. This capped a series of much-subdued sales figures since Provenge was approved for treatment to much fanfare in April 2010. Originally expected to be a billion-dollar bonanza for DNDN (the stock traded above $50), sales were hit by the high cost of the drug, slow rollout, questions regarding ultimate benefits, and slow take-up by doctors. Quarterly revenue needs to grow to about $100 million to reach cash-flow breakeven. Expansion in the community clinic setting and direct sales to urology practices is key to arresting the disappointing slide in sales to date. The drop-off has been arrested and reversed; now DNDN needs to grow the product and accelerate that growth.
Last July, DNDN said it would eliminate 600 jobs, close a manufacturing plant, and reorganize some administrative work as part of a plan to eliminate $150 million in annual spending. This should help accelerate break-even cash flows. Reductions in manufacturing costs and a scale-up of Provenge on a larger base - a year's treatment currently costs about $90,000 - would also help with 3rd party payers and overseas marketability. DNDN has been able to tap the oncologist market fairly well but has lagged in grabbing the more natural base of urologists to ramp sales of Provenge.
The shares have discounted the sharp revenue falloff from initial expectations and the bar has been re-set low enough so that DNDN should be able to move the share price back higher. With biotechnology stocks strong - Celgene (NASDAQ:CELG), Biogen (NASDAQ:BIIB), and Amgen (NASDAQ:AMGN) have all had a string of great quarters - a rising tide should lift even the little boat of DNDN. The ultimate kicker would be a takeover of DNDN which would not help buyers of the stock in 2010 and 2011, but should reward current buyers nicely. With a market capitalization of under $750 million, a buyer could extract even greater cost synergies and utilize a much larger sales force to ramp up sales. Dendreon has about 100 sales reps; most of the large pharmaceutical firms have several thousand.
If DNDN can reduce the cash burn, ramp up sales, and execute on the cost savings, the company would be in position to earn close to $1.00 in EPS by 2016 according to the bulls on Wall Street. But long before that, the stock would be revalued upward, probably trading at 20x heavily discounted future earnings later this year or early-2014. That should still produce a stock price of $8-$10/share, which would mean investors at the current level would see substantial upside.
Kodiak Oil & Gas (NYSE:KOG): Kodiak Oil & Gas Corp. is an independent energy company that engages in the exploration, development, and production of oil and natural gas properties. The company primarily operates in the Rocky Mountain region, specifically in the Greater Green River and Williston Basins. Kodiak is a small-cap E&P company, with a core asset base and accelerated drilling activity located right in the heart of the prolific Bakken Shale territory.
Catalysts for KOG in 2013-14:
Downspacing leading to more production has significant potential given KOG's solid acreage position.
Three Forks formation adjacent to Bakken has major upside
KOG increasing production approximately 90% this year
Ability to narrow cash flow deficit
Narrower Bakken oil differentials to WTI crude price
Kodiak has plenty of acreage to drill in the Bakken, with over 155,000 acres in total. Year-end 2012 reserves were up 138% to 94.8 mmboe, up from 39.8 mmboe at YE 2011. Reserves are 85% oil, 15% gas; 46% proved developed producing and 54% proved undeveloped.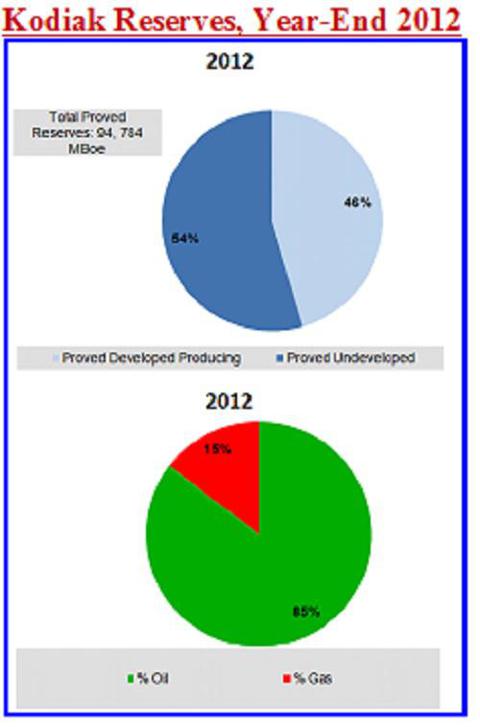 (Click to enlarge)
Continental and Hess have been aggressively working on their marketing and logistics in order to improve their delivery and price of Bakken crude and other operators including Kodiak are benefiting from the changing price differentials. Three Forks is being aggressively explored by Continental and if upside for CLR is realized, it should flow back to KOG once her results are also released later in the year. Well costs are still well-above $9 million; with CLR now doing completions for under $8 million, there should be room to improve here, too.
Downspace drilling began to accelerate production growth in 2H 2013. KOG is testing various drill-spacing formats at the Polar and Smokey regions. Like most operators except CLR who have over-promised and under-delivered, KOG has missed recent production guidelines and costs have been higher than initially forecast. 85% of KOG's wells are connected to gas pipelines but only 65% of natural gas is being captured. This represents potential upside. With the Polar and Smokey project expansions on-track, the amount of oil shipped by pipeline should increase from 50% closer to 80%. With the savings on pipeline transport, this windfall should flow right through to the bottom line.
KOG's share price is currently being held back by balance sheet issues, not production or reserve issues. KOG will spend $270 MM on CAPX over and above cash flows, a big improvement from the nearly-$1 billion shortfall last year from CAPX, acquisitions, accelerated spending, etc. KOG is at 48% net debt/cap, which could improve but remains below her peers.
I believe there is a better than 50-50 chance that 2 of these 5 stocks double in the next 18 months or so before year-end 2014. I think SNV is most likely for a takeover, SIRI most likely for raw price appreciation based on fundamentals and equity shrinkage, MPEL the most volatile (sensitive to Chinese economic AND gaming data), DNDN a stock with the most downside if the overall market is flattish (the cash-burn must be arrested or else), and KOG most likely to be dragged upwards by competitors who will revalue the Bakken area for the entire group as pricing improves, costs come down, and more oil is found.
Jim Cramer calls them "lottery tickets" and says that buying a basket of speculative stocks improves your chances of winning, just like buying a few more scratch-offs rather than just one ticket. I agree, but remember this basket is HIGHLY uncorrelated given the 5 different sectors the companies operate in. Some people might prefer to speculate on 5 biotech stocks or 5 small-cap E&P companies. Whatever your passion, just remember what they tell you at the casino: if you can't afford to lose, walk away from the table.
Disclosure: I am long SIRI. I wrote this article myself, and it expresses my own opinions. I am not receiving compensation for it (other than from Seeking Alpha). I have no business relationship with any company whose stock is mentioned in this article.