Testing is one of the critical steps in the chip making process. Chip makers such as Intel (NASDAQ:INTC), AMD, and Samsung (OTC:SSNLF) utilize automated test equipment (ATE) to test their chips in many areas of the fabs including before and after the assembly process and prior to shipping the products. Chip makers use the testers to test various products from DRAM memory, NAND memory, wireless chips, to system-on-a-chip (SOC).
The SOC test was supposed to have a very good year in 2008, but the second half of the year turned out to be very challenging and SOC test sales declined 12%. At the same time 2008 was not a good year for Memory ATE, as sales declined 65%. These trends, as well as the acquisition of Nextest and Eagle Test helped Teradyne (NYSE:TER) wrestle into the top position in overall ATE rankings.
The most notable difference from previous years is that the number of large ATE suppliers has dwindled to three: Advantest (NYSE:ATE), Teradyne and Verigy (NASDAQ:VRGY). There is no longer a need to argue about consolidation in ATE. It's over and all three major players can easily cover any ATE segment, if they choose to. Meanwhile, since it costs between $100M and $150M to develop a new platform, it's unlikely that the other players can compete with a platform strategy.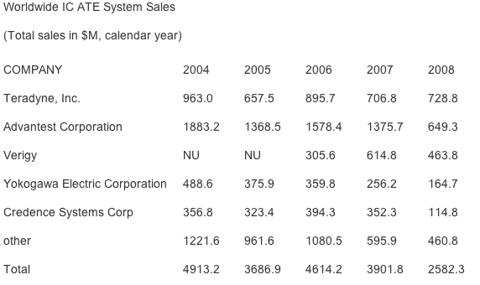 Click here (.pdf) for more detail on ATE definition.